Do you want to visit Seville, but don't have a lot of time? Read this guide to discover how to spend 3 days in Seville including what to do, where to find the best tapas, and the best time to visit.
Seville is one of the most popular cities in all of Andalusia, Spain and rightfully so. It is the birthplace of tapas, a small plate serving Spanish cuisine, and the city's colorful history has left behind palaces and architecture which remain beautiful to this day.
For example, Seville had been under Moorish rule centuries ago which significantly impacted how buildings were designed and how neighborhoods were drawn – very narrow and maze-like. And in the 1500s, Seville was the richest and most prosperous city in Spain. This is mainly due to the fact that Seville was at the center of the exploitation of America and its natural resources.
In more recent history, Seville was also home to several filming locations such as the famed Plaza de España for Star Wars and Real Alcázar de Seville for Game of Thrones.
In my opinion, Seville is the food capital of Spain. Not only do tapas reign here, but it's a city where chefs feel inspired to experiment with dishes through creating tasty fusions and finding ways to turn everyday dishes, such as seafood, into delicious eats.
Looking for the best tapas in Seville? Not only will you find a step-by-step city guide in this article, but I also highlight some delicious restaurants to eat at in the city!
Keep reading to find out what to do and where to eat on a trip to Seville in 3 days.
Day 1: Real Alcázar de Seville and Jewish Quarter
Real Alcázar de Seville
Alright, it's time to start big!
No trip to Seville is complete without a visit to the Real Alcázar de Seville. It is famously known as being the home of the Moorish rulers hundreds of years ago and, as of a few years ago, as being Dorne in Game of Thrones.
Tickets to the palace and gardens cost about €10. Although you can purchase it at the ticket booth on the day of your visit, I highly recommend buying it in advance online.
Pro tip: if you plan to be in Seville on a Monday, you can visit the palace for just €1!
Eat lunch

at Bodeguita Casablanca
Since tapas traditionally originated from Seville, there is no better city to be in to enjoy them.
If you don't want to go to a restaurant that is a bit far from the Real Alcázar, then you will be glad to know that there are a lot of restaurants located nearby (within a 10-minute walk). Many of these restaurants are a bit touristic, but good nonetheless.
One restaurant I do recommend is Bodeguita Casablanca, located just 3 minutes away on foot from Real Alcázar de Seville.
Walk through the Jewish Quarter
Seville's Jewish Quarter starts around the Real Alcazar Palace and includes the narrow allied streets behind it.
Give yourself time to just wander through the neighborhoods. Get a bit lost. Admire the wall tiles and traditional courtyards.
You can also participate in a free walking tour through the Jewish Quarter. This is a great opportunity to learn about its history and understand why, for example, some of the streets are so narrow that just one person is able to walk through.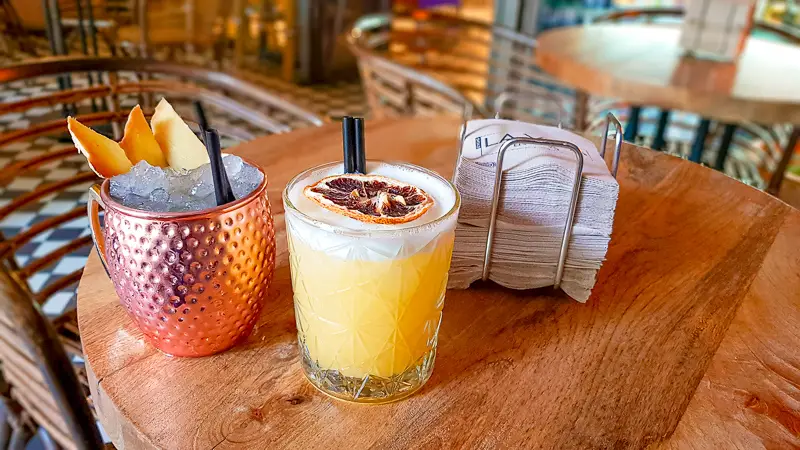 Gigante Bar
Gigante Bar is your neighborhood café and cake shop which also specializes in delicious cocktails! It's open all day, starting with breakfast and closing after midnight as a late-night cocktail bar. Though they serve light tapas, Gigante is known for their variety of desserts such as cakes and brownies.
If you have time to spare between lunch and dinner, consider a visit to Gigante Bar to grab an espresso, dessert, or a drink.
Eat dinner

at Dúo Tapas Bar
Restaurants in Spain open for dinner at 8PM, and Seville is no exception!
After your long day of exploring the Alcazar and walking through the Jewish Quarter, you deserve to treat yourself to a tasty dinner.
I recommend eating at Dúo Tapas Bar. The tapas are well priced and portions are just the right amount! I had several tapas at Dúo and they were just delicious. I would definitely go back!
Day 2: Italica and Triana
You've successfully made it through day 1 in Seville! With dinner starting at 8PM, you likely will have had a late night the day before. Regardless, don't oversleep and skip out on breakfast!
Breakfast at La Cacharreria de Seville
This is one of the most sought out breakfast and brunch spots in Seville. Although they're open all day, there's no better time to visit La Cacharreria then in the morning. So freshen up, get ready for the day, and head over to La Cacharreria de Seville!
They have two locations so pick the one most convenient for you.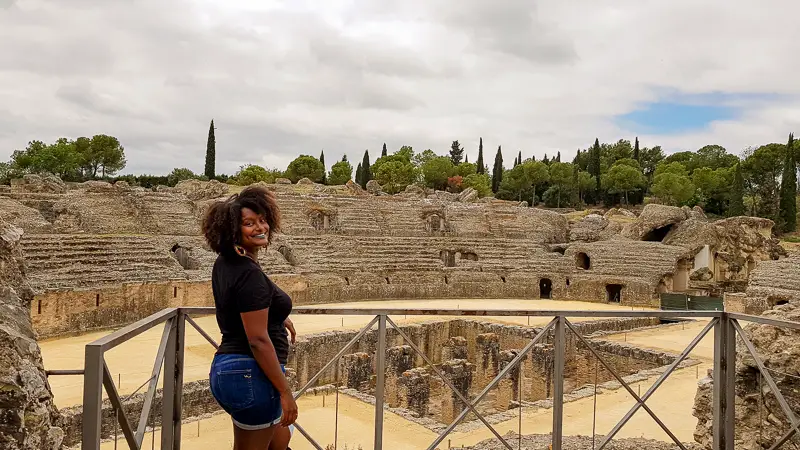 Visit Italica
Italica is home to ancient Roman ruins. It's said to be the birthplace of some of the Roman Emperors such as Trajan, Hadrian and Theodosius. You can expect to find an amphitheater and extravagant mosaic tiles still in tact.
Italica is 20 minutes away from Seville by car and public transportation.
If you're a Game of Thrones fan, you'll be thrilled to know that two episodes of the show was filmed in Italica's amphitheater. Italica is known for being the dragon's pit in King's Landing: 1) the episode where Jon and Daenerys bring a White Walker to Cersei as proof, and 2) the series finale where Tyrion made a pretty compelling call for support for Bran as king.
Have lunch at La Brunilda
Seville is full of amazing restaurants and La Brunilda did not disappoint!
This place is popular and fills up fast, and fortunately, you don't need a reservation to eat here. Just walk in, put your name on the list, and chill at the bar until your table is ready. In no time, your name will be called. While the restaurant may be full, the turnaround time is quite fast.
The food at La Brunilda is tasty and original. They serve meat, fish, and vegetarian dishes in both tapas and full serving sizes. La Brunilda just might be the best restaurant in Seville!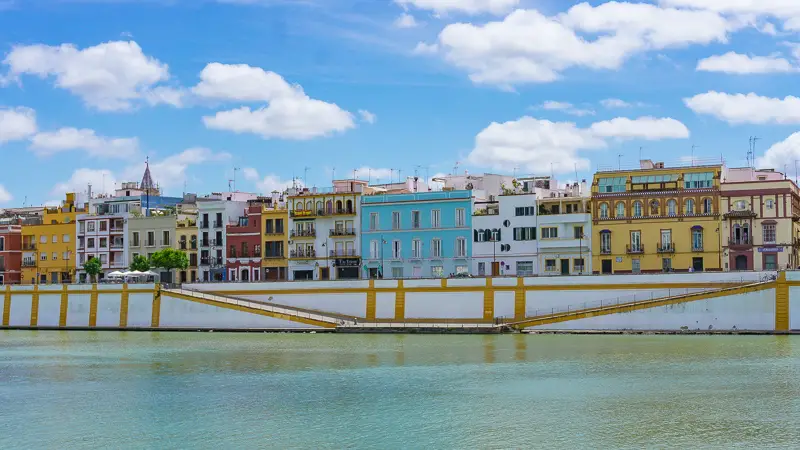 Walk through Triana
Triana might be famously known for its colorful buildings standing along the river, its Mercado de Triana (food market), and shops selling authentic Seville ceramics.
After having lunch at La Brunilda, walk 15 minutes to the Triana neighborhood in Seville. To get there, you will have to cross the Puente de Triana bridge over the Guadalquivir River.
Like walking through the Jewish Quarter, explore the streets and alleys of Triana. You'll find colorful houses, churches, and numerous bars and restaurants.
Have dinner

at Esclava
After watching the sunset, stroll through the historic city center to your next destination…dinner!
A trip to Seville isn't complete without eating at Esclava. This award winning restaurant serves up tapas at reasonable prices with decadent taste. 
Esclava is closed on Sundays and Mondays.
Day 3: Plaza de España, Maria Luisa Park, and Las Setas
Plaza de España and Maria Luisa Park
If there is any one place in Seville that is famous around the world, it's the Plaza de España (thank you Star Wars – though I've never watched. Ever.).
This plaza is aesthetically pleasing, starting off with the colorful tiling found at the base of the building (see the very first photo in this post for reference) to the white columns which 'hold' the building up, and even the canals where you'll find people rowing little boats.
Plaza de España is situated in Maria Luisa Park, which is home to several gardens and 2 museums including the Archaeological Museum of Seville. After walking through the plaza, take a stroll through the park. You will definitely work up an appetite which is perfect for the next step in this itinerary: lunch!
Have lunch at Lonja de Feria
I didn't know what to expect as I was walking to Lonja de Feria for lunch, but what a pleasant surprise it turned out to be.
Lonja de Feria is an indoor food market with fresh food stalls and several eateries. In the center of the market is where you'll find various types of paella and fresh seafood that you can either buy to cook back at the apartment or have it grilled or fried right there.
The food served here is light and affordable, a perfect combination for lunch!
Watch the sunset at Las Setas
Looking for a sunset spot in Seville? Go to the rooftop of Las Setas de Seville for panoramic views of the city.
Las Setas is the most unique architectural structure in Seville. The structure, known as the Metropol Parasol, was designed in a way to offer shade during the hot and sunny days. In the summer, Seville can see temperatures reaching close to 40°C.
To watch the sunset on the rooftop of Las Setas, enter the building and buy a ticket at the booth. This ticket will give you access to the elevators to go up. The rooftop is lined with walkways which guide you to different viewpoints of the city, and a restaurant where you can buy a glass of wine to enjoy while watching the sun set.
Eat dinner at Chifa
Chifa is one of the hottest fusion restaurants on the scene. Created by the same owners behind Dúo Tapas Bar, Chifa fuses Asian dishes with Spanish flavors. One of my favorite dishes from the restaurant was one with their kobe beef, though I also did really enjoy their sushi and gyoza!
Come here with an open mind. If you're looking for a traditional Japanese restaurant, this isn't it.
Best time of year to visit Seville
The best time of year to visit Seville is in the Spring and Autumn during the months of April, May, June, September, and October.
Seville is one of the hottest cities in Spain with an average yearly temp of about 20°C, and summers reaching a scorching 35+°C. By visiting Seville in July and August, not only will you be dealing with the massive crowds of tourists at all the sites, but you will be dealing with extremely high temperatures.
If festivals are your thing, consider visiting Seville in April-May. Each year, about 2 weeks after Easter weekend, Seville holds their local Feria de Abril de Seville. This open-air festival lasts for one week, running both day and night.  Men come dressed in suits and women put on their best traditional flamenco dresses, and spend their time eating, drinking, and dancing.
Bisous.
Disclosure: This post contains affiliate link(s). An affiliate link means I may receive a commission or referral fees if you click through and make a purchase through my link, at no additional cost to you.