Looking to discover tips and advice for your holidays on Sal island in Cape Verde? Keep reading to learn what you need to know about Sal including what to do on arrival at the airport, where to stay & eat, and what to do on the island.
General Information
Sal is a very small island. It's long, narrow, and flat spreading just 29.7 kilometers long and 11.8 kilometers wide. Sal's highest elevation is 406 meters, or 1,332 feet, at a point called Monte Grande. There are about 30,000 inhabitants on Sal with most of the population living in the capital, Espargos.
Sal is also an extremely dry island compared to the other Cape Verdean islands. It gets so little rain that some of its landscape resembles a desert. 
Sadly, so little rain means the soil is unable to handle the growing of fruits and vegetables. Consequently, locals are forced to buy goods and food that have been imported into Sal. 
You'll need to keep this in mind as you plan your trip to Sal. The cost of some goods won't be as cheap as you would expect. Nonetheless, the prices are still reasonable, especially if you're visiting from the U.S. or Europe.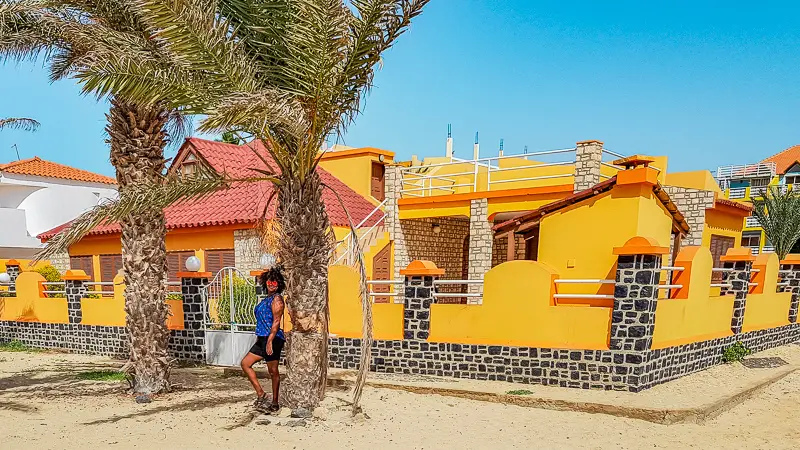 Sal Tourism
Cape Verde has seen a massive increase in tourism in recent years. In fact, international flights to Sal island specifically has steadily risen with daily arrivals and departures from the Americas and Europe.
In 2017, there were more than 700,000 visitors to Cape Verde and more than 4.5 million overnight stays. Since 2017, there has been steady growth in tourism to Cape Verde.
Currently, more than 40% of all tourists visiting Cape Verde stay in Sal. 
Sal is a popular island among tourists, and this is because the island has grown to be more attractive. The quality of hotels and food have been raised to meet tourism standards. Locals and foreigners have set up tour operating companies to organize trips around the island for tourists.
Another reason there are so many tourists in Sal is because the island is home to one of four international airports in Cape Verde so, more than likely, it will be your point of entry into this island nation. 
If you will be flying in or out of Sal's international airport but your main goal is to visit the other islands, then I recommend to spend around 2 days on Sal to see what the island has to offer.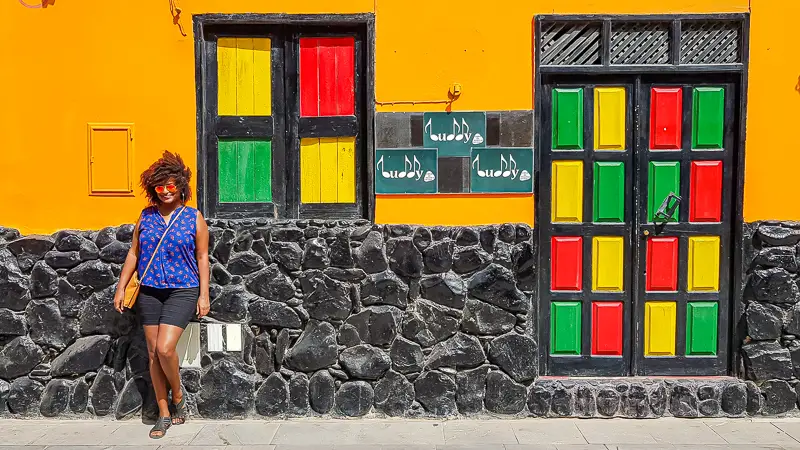 Flights to Cape Verde
The best way to get to Sal island is by plane.
Sal probably has the most important airport in all of Cape Verde: Amílcar Cabral International Airport (SID). With almost half of the country's tourists staying in Sal, is that really a surprise?!
Though there are several international airports in Cape Verde, fares to Sal tend to be more affordable than to the other islands.
Airlines including TAP Air Portugal, TUI, and Cabo Verde Airlines serve international flights to Sal from destinations in North America, Brazil, and Europe. 
If you will be arriving on Sal from another island in Cape Verde, take Binter Airlines. Binter is the best airline for inter-island travel in Cape Verde.
Arriving at Sal Airport
If you arrive in Sal via an international flight, you will need to go through immigration. Read more about that here.
There are two banks in the airport if you need to exchange money or withdraw from an ATM. The banks are BCA and Caixa. 
To get to these banks, walk towards the exit of the airport and turn right down the airport corridor before you actually exit. There is only one exit out of the airport, so it will be easy to navigate.
If you need a taxi, you will find the taxi stand immediately to your left after you exit the airport, no matter the time of day.
If you will be going to Santa Maria, you can expect to pay €15-20.
Things to do in Sal, Cape Verde
There are several things to do on Sal island. Depending on how many days you'll spend in Sal, these activities can be spread out over a few days. Many of these activities can also be done in one day as part of Sal's traditional Island Tour.
So, regardless if you're spending 2 days or 7 days in Sal, you'll definitely find some items on this list worth doing.
Project Biodiversity – Turtle Conservation
Cape Verde is the 3rd largest breeding location for loggerhead turtles in the world. The loggerhead turtles are considered an endangered species, so it has become an important cause to address by the local community. If you want to participate in sustainable travel, this activity is for you!
To support the turtles' breeding and protect them from further threats, Project Biodiveristy was created to nest turtle eggs and release the newly hatched to the ocean without interference from predators including, and especially, humans.
In order to educate the public, Project Biodiveristy hosts an information session everyday at 17:00 (5PM) to share their work, explain what and who poses a threat to the turtles, and to describe the loggerhead's nesting cycle.
Once the info session is done, the volunteers begin their work to dig out the nests and release the turtles who have been unable to release themselves.
The turtle hatchery near Santa Maria has around 1,200 nests, which is a very small portion of all the nests on the island. There are over 7,000 turtle nests on Sal.
Entrance is free, and donations are accepted.
Santa Maria
Located 20 minutes by car from Sal airport, Santa Maria is a village that you must visit! Santa Maria is located in the southernmost point of Sal.
It is the most colorful village on Sal. Some buildings maintain one color, while others are painted in various colors. It's safe to say that selling paint is a lucrative business in Sal!
Santa Maria also has some of the best beaches in all of Cape Verde! The sand is so soft and varies in shades of yellow, white, and in some places, black.
And the sea? It is an unbelievable shade of turquoise. The best time to visit Santa Maria's beaches for their glorious color is in the morning.
I recommend spending a few hours walking around Santa Maria, visiting the pier, eating seafood, and relaxing at the beach.
It is a safe town and the people are really kind. An "olá" and a smile can go a long way.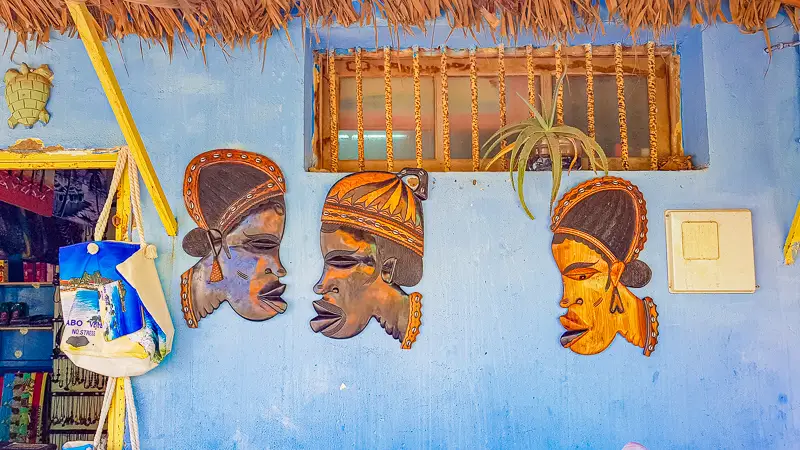 Palmeira
Palmeira is a very small fishing village in Sal. There's not much going on here, but it gives you a chance to see how the locals live.
Sal's primary source of food is from the sea. In Palmeira, you'll have the chance to see lots of fishing boats and fishermen going about their day.
The town is so small that you'll need less than an hour to walk around. The buildings are colorful and are covered in murals.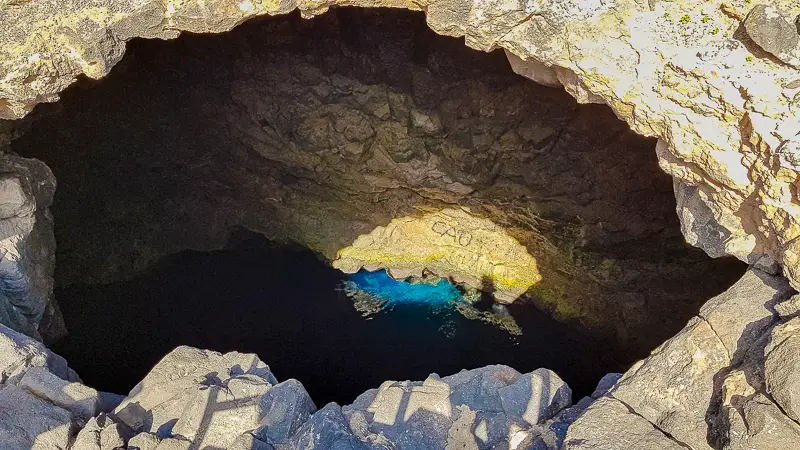 Blue Eye Cave
The Blue Eye is probably the top attraction in Sal, though not for me.
It's a water-filled cave which, when the sunlight hits it at just the right time, gives the appearance of a blue eye.
This occurs around 12PM on a very sunny day. Unfortunately, many people visit during this time and the queue to see the Blue Eye can take way too long. Some people have said it has taken hours.
As a result, I went at 11AM when there was no queue. It was nice to see, but personally, the Blue Eye wasn't a big deal.
What I liked about visiting here was the swimming hole next to the Blue Eye. The water in the swimming hole is extremely clear, and very salty as it is fed by the ocean. If you want to go swimming, bring a towel.
Entrance fee is €3.
*Note that if it is a cloudy or an extremely windy day, the Blue Eye will not be possible. This is sometimes the case in the windy period of November – March.
Terra Boa Mirage
Now, visiting this place was such a treat for me! Not because of the mirage, though seeing it was dope. You get the impression there is a lake in the middle of the desert.
What excited me was driving, and walking through and around the desert-esque landscape! It really felt like we were no longer on an island. There is no sight of the ocean here, which is a feat as Sal is a small island.
Shark Bay
Alright, so you're probably thinking "what the heck is at Shark Bay?!", right?
It's exactly what you're thinking.😅
Shark Bay on Sal island is where you can go to see sharks. Fortunately, these are lemon sharks – they do not eat people nor any kind of meat. They're vegetarians.
At Shark Bay, there are locals who are knowledgeable about the sharks, and they will be by your side as they guide you to the sharks.
To get to the sharks, you'll need to walk from the shore into the sea. It is low tide so you can walk out very far and the water level will still only be at your knees. You'll eventually stop and have the opportunity to see young lemon sharks swimming near you.
Some guides will throw food in the water to entice the sharks to come closer. The adult sharks will stay far awa because the water level is just too low for them to swim in.
If you have sturdy swimming shoes, bring them for this activity as the sea bottom is extremely rocky. If you dont have any, you can rent them on-site for €2.
There is no entrance fee.
Salinas de Pedra de Lume
The Pedra de Lume Salt Mines in Sal are situated in a volcanic crater. The Portugese, who were colonizers of Cape Verde, used to extract salt from the mines and export them to Europe and Africa.
Now, the Salinas de Pedra de Lune is mainly used in two ways: to produce salt for the local Sal population, and as a tourist attraction.
As a visitor of the Salinas, you have two ways to enjoy it: float in the salt water and hike around the crater.
Float in the salt water
If you ever wanted to float in an extremely salty body of water (Dead Sea, anyone?), then you should visit the Salinas in Sal.
If you plan to swim in the salt lake, please take the following precautions:
Do not go in the water if you have any cuts.
Be careful not to get the saltwater in your eyes. That mess will burn! If you do, be sure to wash it out with fresh water immediately.
Bring a bottle of water and towel to the water in case you need them urgently.
If you have an allergic reaction, go to the showers and rinse yourself.
The entrance fee to the salinas is €5. If you wish to use the shower, it is an extra €1.
Hike around the volcanic crater
Since the salinas are formed in a volcanic crater, this means the surrounding landscape offers some pretty cool aerial views of the crater.
Before going in to float, consider walking around the crater. You'll get to see the white and murky red colors of the salt, along with the brown, arid landscape of Sal. 
I would advise wearing proper shoes, and not flip flops.
Espargos
Espargos is the capital of Sal island. It's situated so close to the airport, you could technically walk there! (But don't)
Espargos is also a colorful town, though not as much as Santa Maria. If you want to see how the locals live, Espargos is a good town to explore.
Snorkeling at Murdeira Bay
Are we on Mars?
OK, not really. But the landscape at Murdeira Bay is so unique to Sal. It is made up of red rocks, unlike the sand and volcanic rock found on other parts of the island.
Murdeira Bay is an ideal spot near Santa Maria for snorkeling. Even at just knee-deep waters, you can find some colorful fish and corals!
You can visit Murdeira on your own by taking a taxi. To fully enjoy this experience, bring your snorkeling equipment and an underwater camera.
You can also go on a snorkeling tour if you prefer a guide. Be sure to check if the boat will take you to Murdeira Bay. The perk about going on the tour is that you'll get to discover other snorkeling spots around Sal.
Monte Grande
Sal is an extremely flat island compared to the other islands in the archipelago. But this doesn't mean you can't still do a bit of hiking and keep active!
Monte Grande sits on the northeastern coast of Sal with an elevation of around 400 meters.
This hike is a special one because it gives you a beautiful panoramic view of the desert landscape that's found in north Sal.
Monte Grande is best accessible by car.
Serra Negra
Despite having an elevation of 104 meters, Serra Negra has the tallest peak in southern Sal. 
Serra Negra is a hill, and not a mountain. So once you reach the top, you can walk a bit and take in the drastic Sal coastline. 
Many tour operators offer a guided tour to Serra Negra with a hike to the top included. The most common way of visiting Serra Negra via a tour guide is by bike. You could also take a car if you want to visit on your own.
Whale watching
It's not uncommon to see whales in Cape Verde. For the best chances to spot them, you'll need to go in February or March when they are in mating season.
Many tours are offered from Santa Maria to go on a whale and dolphin watching tour. Again, chances are high that you'll see them but there is no guarantee.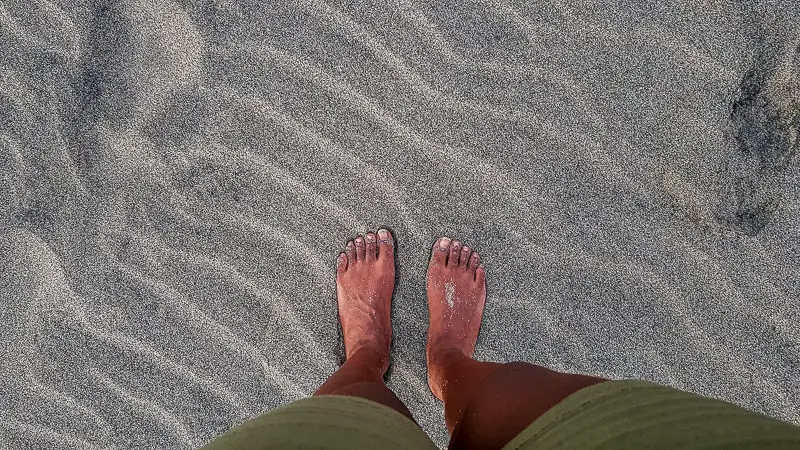 Black sand beach
Sal is home to a few black sand beaches. They are spread out throughout the island, though I've managed to stumble upon two of them near Santa Maria. I found them by pure chance while having a nice long walk on the beach.
Is that a cliche or what?!
Bring a towel, water, and snacks if you can, and enjoy a beach day!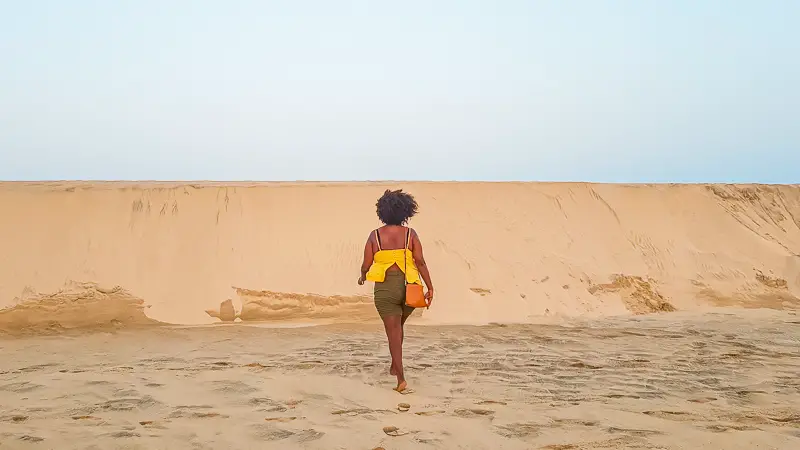 Sal sand dune
Just a few minutes walk from the black sand beach is Sal's rather small, naturally occurring sand dune. Though small, it's worth a visit – especially if you'll be going on a nice walk on the beach anyway! 
Be mindful not to walk on it. The sand dune plays an important role in the loggerhead's nesting season.
Try cachupa
Cachupa is the traditional Cape Verdean dish to try on your trip! You can try it on any island, even Sal.
Cachupa is a stew made of beans, corn, vegetables, and your choice of seafood or meat. It's normally eaten for lunch, though it is possible to have it for breakfast.
Cachupa is served in many restaurants so it won't be difficult to find. However, it does take time to cook (minimum of 2 hours), so you'll need to ask the restaurant if they have it that day. Or else, try to inform the restaurant ahead of time so that it can be prepared for later.
Viveiro Botanical Garden
The botanical garden on Sal island is a green, refreshing break from the dry landscape.
Being an eco park, this group focuses on planting and growing thousands of trees and plants for the island. They also provide gardening guidance to the locals.
The eco park also focuses on caring for animals which have been abandoned on Sal island.
Entrance fee is €5 or 500$.
Watch the sunset
Watching the sunset on any tropical island is something you just have to experience!
On Sal, the west coast is full of powdery soft sand or rugged rocks, both making a good environment to watch the sunset.
Listen to live Cape Verdean music
I'm not sure you can really enjoy your visit to Cape Verde without listening to the local music live at least once!
Famous around the world, Cape Verdean music offers some of the sweetest sounds you'll ever hear.
Morna is one of the traditional types of music to come out of Cape Verde, made famous by Cesária Évora. The artists normally sing in their native Creole. Other types of music include funaná, coladeira, and batuque.
No matter what island or town you visit, you will certainly find live music playing in a local bar or cafe. In Sal, one place you can visit for live music is Buddy Bar.
You'll also be able to find some spots where you can dance kizomba!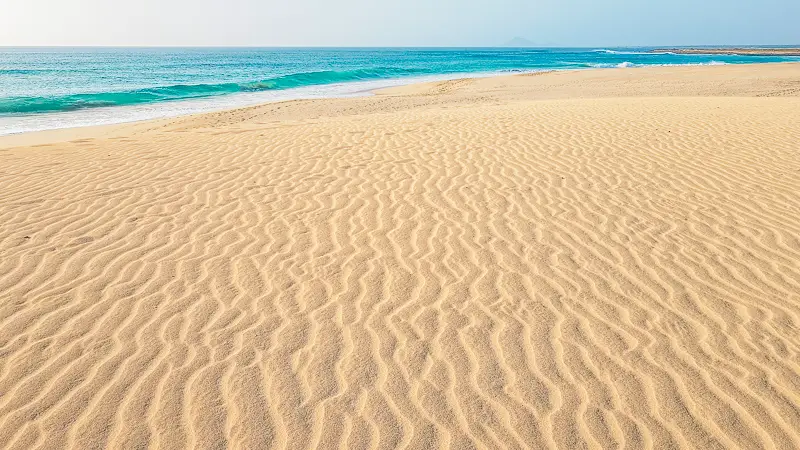 Weather in Sal, Cape Verde
Cape Verde experiences a tropical climate year round. This island nation overall has a rainy season, usually in July – October.
On Sal island, the weather is more ideal for tourists. Sal is probably the driest island in all of Cape Verde. There is sunshine all year, with very little rain. If they do get any rain, it will normally be in August – September, and it won't be much.
The windy season in Sal starts in November and goes until March. There is sunshine everyday during this period, but you can expect strong winds which provides relief from the heat.
I visited Sal during windy season, and honestly, it is truly the windiest place I have ever been to!
Best time to visit Sal
If you visit between March – August, you avoid the rainy and windy seasons. Though, if I'm honest, Sal rarely has a rainy season. It's one of the driest islands in Cape Verde! You also get to experience the island's most beautiful natural occurrences such as the whale mating season and turtle nesting.
February-March is the best time to visit Sal if you want to go whale watching, as this is their mating season. You can sign up for a whale watching tour which involves going out on a boat for about 3 hours. If you're lucky, you'll be able to spot dolphins too.
June-October is the nesting season for Sal's loggerhead turtles. At night, locals and volunteers with Project Biodiveristy go to the beaches around Sal to find turtle eggs and bring them safely to conservation sites for hatching and safe passage to the ocean.
In November, you can no longer see turtles laying eggs, but you do experience the turtle eggs hatching.
Annually in September, the town of Santa Maria holds their music festival. You could expect live music, entertainment, and local food.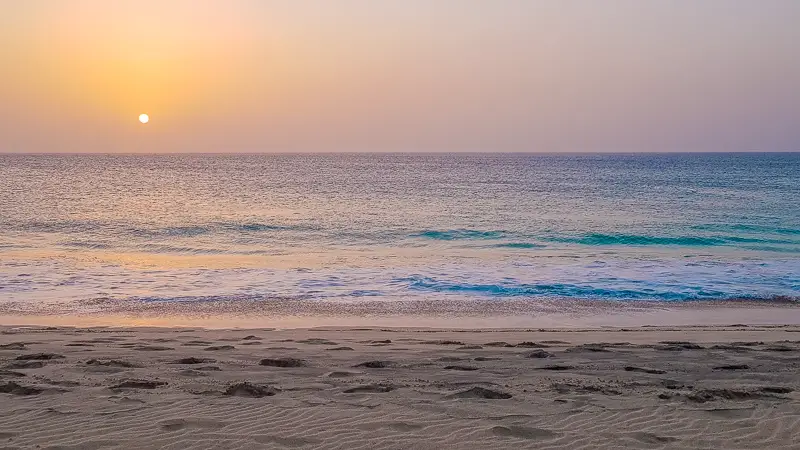 Where to stay on Sal
To maximize your time and make the best of your trip, I recommend staying in Santa Maria. This is the tourist hub of the island so you'll have access to taxis, bike rentals, restaurants, markets and the beach (of course!).
There is a variety of accommodation options on Sal island. You will find all-inclusive resorts on the outskirts of Santa Maria, several of which are 5-star such as Hilton Cabo Verde Sal and RIU. In Santa Maria town, there are hotels, resorts, and aparthotels for those who love more independence.
In Espargos, you will mainly find aparthotels or B&Bs. Though you would be staying among the locals, you would need to take a taxi to go almost anywhere on the island, and this can get costly… quickly!
How to get around the island
The most common mode of transportation for tourists on Sal island is a private taxi.
The locals use a system of shared taxis called alugueres. This taxi takes 10-15 passengers from/to designated stops around the towns. Alugueres are much cheaper than a private taxi,
For reference, at the end of 2019, the cost of a taxi between Sal airport and Santa Maria was €15 (after midnight, it could be €20). A taxi from Santa Maria to Murdeira ran about €8.
Where to eat on Sal
On average, the cost of food and goods are very similar to what you'd find in western and northern Europe. This is because Sal cannot grow their own food or produce mass goods. A majority of the food & goods in Sal have been imported.
Fortunately, there are some restaurants in Santa Maria which provide meals at low prices.
Here are a list of restaurants I visited which I found to be affordable and tasty, a few of which I would be glad to return to!
Base Nautic snack-bar
This restaurant and bar is located in Murdeira. It is your typical island beach bar serving dishes with meat, sandwiches, pasta, cocktails, and freshly squeezed juices!
I found them to be affordable and delicious. I had a sandwich, freshly squeezed juice (pineapple, mango, and orange), and scoops of ice cream for less than €10. My partner had ribs, mashed potatoes, and sauteed vegetables for €7. At the end of 2019, they were charging €1 for beer and €3 for a caïpirinha.
Base Nautic Snack-Bar is a great place to go after you've spent a couple hours swimming and snorkeling.
Café Criolo
Café Criolo is situated in Santa Maria, and is very popular with the locals, especially during their lunch breaks. Almost all of the locals order the cafe's rice and meat dish, which says something about their food!
The dishes are cheap and very tasty. You can expect to find local dishes here, such as cachupa, and a varied selection of seafood and meat. They also give their local touch, adding Cape Verdean seasoning to international dishes such as sandwiches, omelettes, and spaghetti.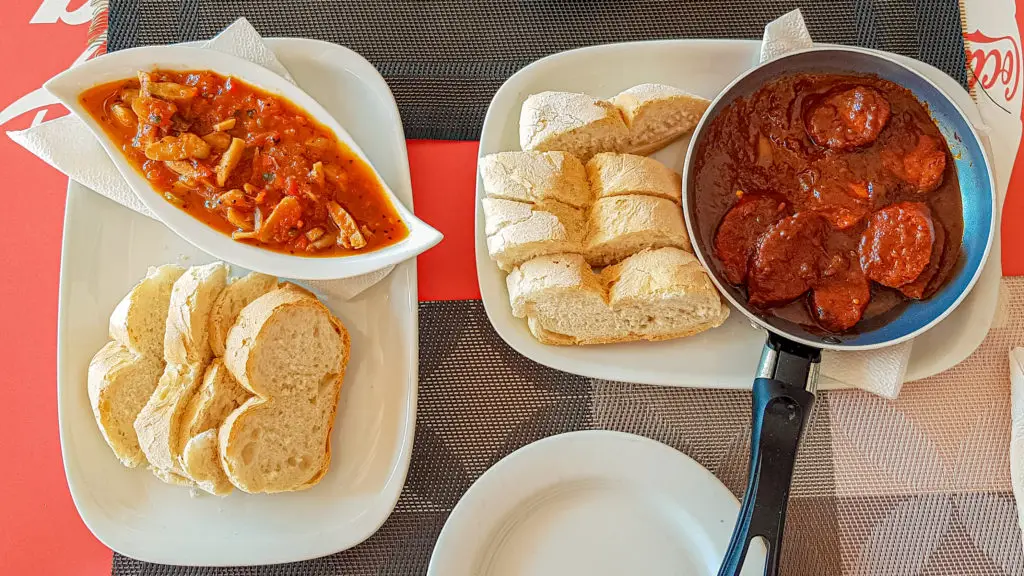 Cam's Merceria Gourmet
Cam's Merceria is another restaurant in Santa Maria very popular with the locals. Though their a la carte menu offers prices equivalent to Europe's, they offer daily specials where a drink, main dish, and a dessert costs €6 total.
Cam's also offers snack-sized dishes which are cheaper than their big plates, but can be filling.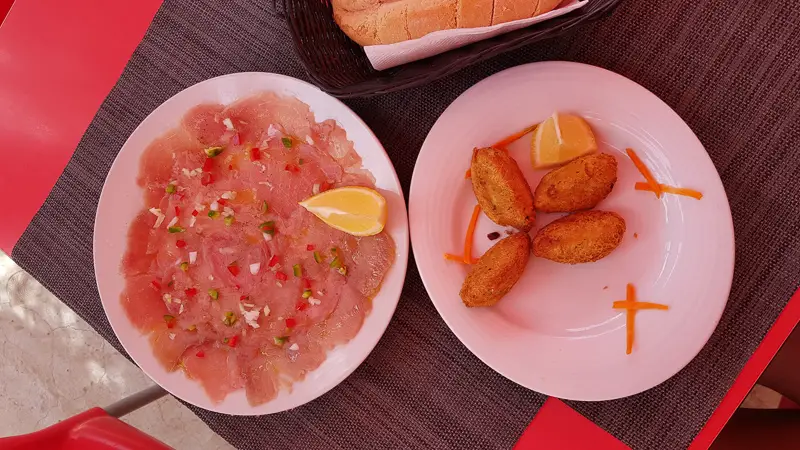 Unnamed restaurant
OK, this restaurant is not really called "Unnamed". I just sadly forgot to get the name of it before leaving!
It's quite easy to find, fortunately, because it is right next door to Cam's Merceria Gourmet (#4 on the map above). In fact, this restaurant is attached to Cam's that it could very well be the same restaurant, but offering different food. This place sits on the corner between Cam's Merceria and a very small grocery store.
This restaurant was the first one I went to on Sal island and it hit the spot! I was craving seafood and was so happy to see they served bacalhau. My partner had their tuna carpaccio. Safe to say that we were both very happy with this restaurant.
Practical knowledge and tips for visiting Sal
Cape Verde Currency
The local currency in Cape Verde is Escudos. Its symbol is $ and it is always placed after the number. For example, 500$.
Escudos is a closed currency, which means it's only used in Cape Verde. Fortunately, Euros are also widely accepted across this island nation.
Since the majority of places on Sal only accept cash, I recommend to bring cash or at least be able to withdraw some from the ATMs.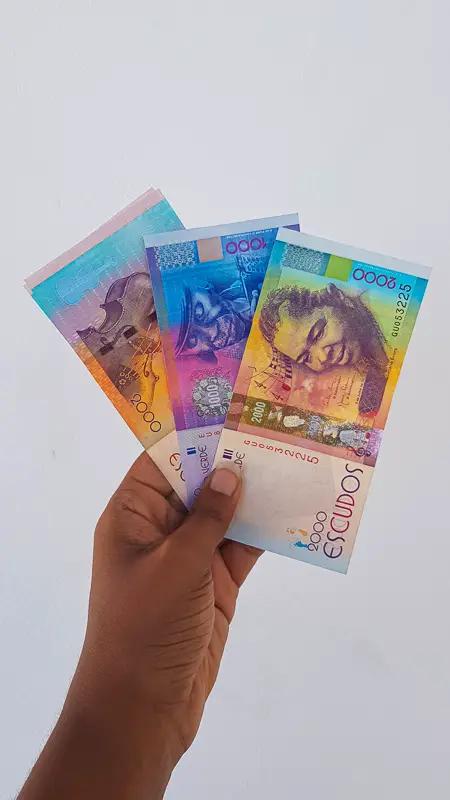 Spoken languages on Sal
The official language is Portugese.
Cape Verdeans also speak the creole language, Crioulo. There are several local dialects of Crioulo which means, for example, that Creole in Sal varies from the Creole spoken in São Vicente.
In Sal, it is also common to find locals speaking French, English, or Spanish.
Travel insurance
If you have a travel credit card which offers full trip coverage, such as Chase Reserve, be sure to book everything with the card to be protected. I'm talking flights, ferry, and hotel bookings.
Another option is to purchase travel insurance specifically for this trip, such as with World Nomads.
WiFi
Most of the WiFi in Sal are open. This is especially the case in hotels, for some reason. An open WiFi means there is no password protection, so it can be accessed by anyone. I did notice that some restaurants provide password-protected WiFi to their guests.
I recommend to practice caution when using WiFi, especially if you need to access personal information. Here's a tip: don't, unless you're absolutely sure you're in a secure environment.
Bisous.
Disclosure: This post contains affiliate link(s). An affiliate link means I may receive a commission or referral fees if you click through and make a purchase through my link, at no additional cost to you.