If you're planning to spend 3 days in Nice, France, you're in for a treat. This beautiful city on the French Riviera has much to offer: blue beaches, delicious food, and cultural attractions. Discover tips on how to spend your 3 days in Nice, including where to stay, what to visit, and where to eat.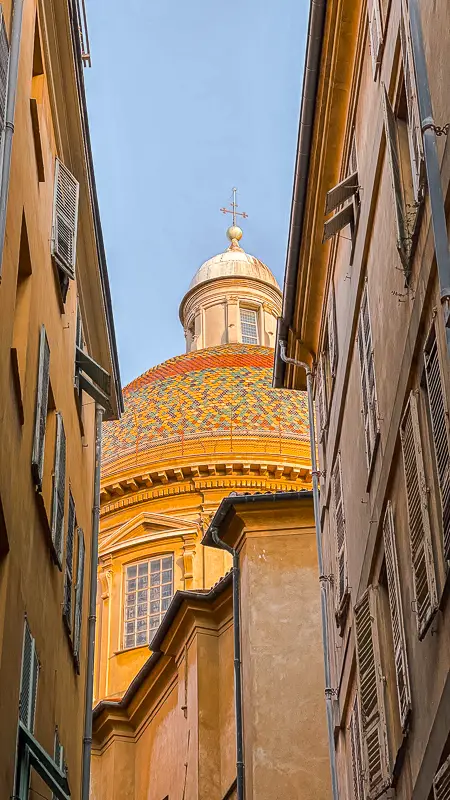 Day 1: Explore the Old Town, the Promenade des Anglais, and Castle Hill
Start your day with breakfast at one of the many cafés in the Old Town like Hobo Coffee or Maranna. The Old Town is the historic and colorful heart of Nice. You'll find narrow streets lined with shops, cafes, and restaurants. You'll also find beautiful squares and churches such as the Cathédrale Sainte Réparate. 
When touring Old Nice, don't miss the Cours Saleya, where you can find a flower, food and goods market. The market runs daily, except Mondays, until 1pm. You can also visit the Palais Lascaris, a 17th-century baroque palace that houses a museum of musical instruments. 
Afterward, take a stroll along the Promenade des Anglais, Nice's seafront promenade that stretches for kilometers. Admire the views of the Mediterranean Sea and sit on the iconic blue chairs that are a symbol of Nice. Make sure to visit the famous Negresco Hotel and the Villa Massena and its garden.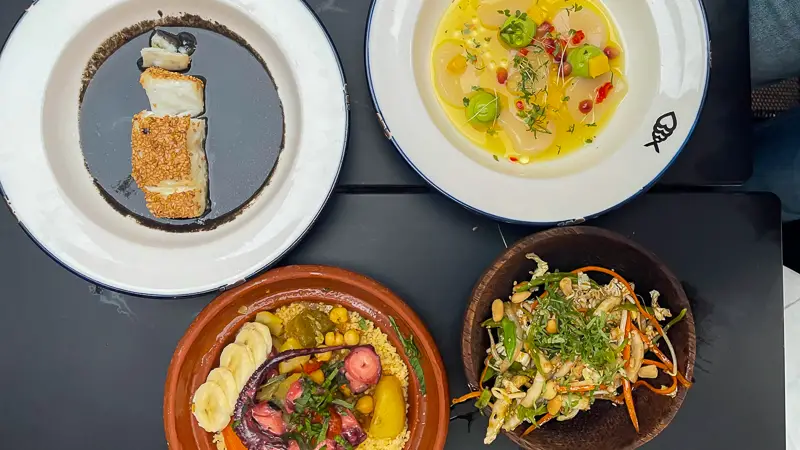 For lunch, head to Peixes, a modern, delicious seafood restaurant with 2 locations in Nice; Old Town and Place Garibaldi.
In the afternoon, visit Castle Hill, a park that offers panoramic views of Nice and the sea. You can climb up the stairs or take an elevator to reach the top. There, you'll find the ruins of an old castle, a waterfall, a playground, and a café. It's a great place to relax, take some photos, and enjoy a picnic.
For dinner, eat at Bistrot d'Antoine, a cozy restaurant located in the heart of Nice's Old Town. The menu constantly rotates but it is always filled with traditional French dishes. Be sure to book a table in advance.
Want to discover the South of France by car? Check out my itinerary for a 2-week road trip through the beautiful Provence.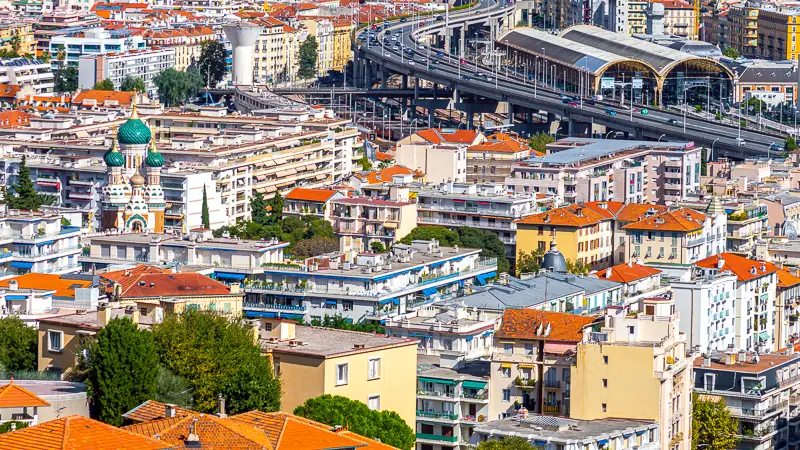 Day 2: Visit the Russian Cathedral and Explore Antibes
On your second day in Nice, start your day by enjoying breakfast at La Ronronnerie, a cat café. Once you've finished, visit the the Russian Cathedral, a stunning Orthodox church that was built in the early 20th century. The cathedral is decorated with beautiful mosaics, and it's a unique sight to see amongst the traditional French architecture. 
From the cathedral, walk one kilometer to the Nice train station, also known as Gare de Nice Ville. Then, take a 20-minute train to Antibes for the day.
Check out my recommendations of French Riviera towns you can visit on a day trip from Nice using public transportation.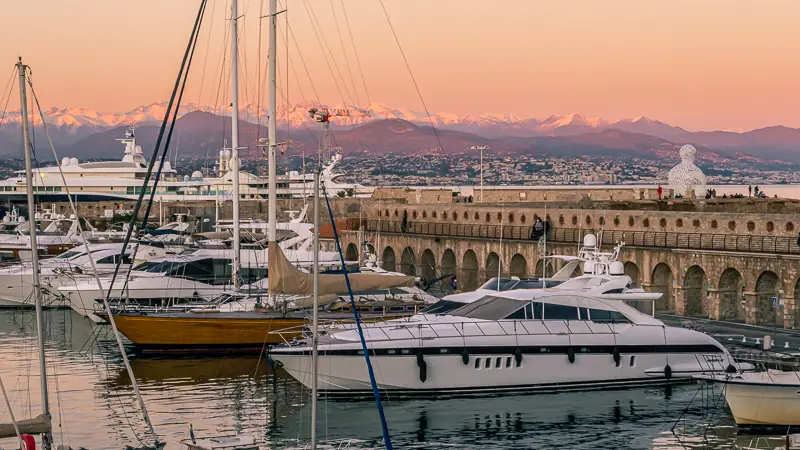 When you arrive in Antibes, walk to Port Vauban, then follow the path along the waterline to admire the landscape. One of my favorite viewpoints is from the ramparts, where you can witness the Alps towering over the Côte d'Azur. If you're visiting during summer, bring your swimsuit and towel to relax on one of Antibes' sandy beaches.
For lunch, go to La Taille de Guêpe, a French bistro known for decorating their plates with edible flowers. Afterwards, visit the Picasso museum, housed in a seaside castle where it is said the artist lived and worked for some time. 
Before returning to Nice, try the gelato or sorbet at Gelateria Del Porto, a popular gelateria on the French Riviera.
When back in Nice, go to Chez Acchiardo for dinner, a cozy restaurant located in the Old Town. The menu features delicious French dishes made with fresh, seasonal ingredients. Make sure you reserve a table in advance because this restaurant is very popular.
If you don't want to make reservations, I recommend eating at La Favola or Babbo Mio. Both restaurants serve up pasta, pizza, meat and seafood dishes.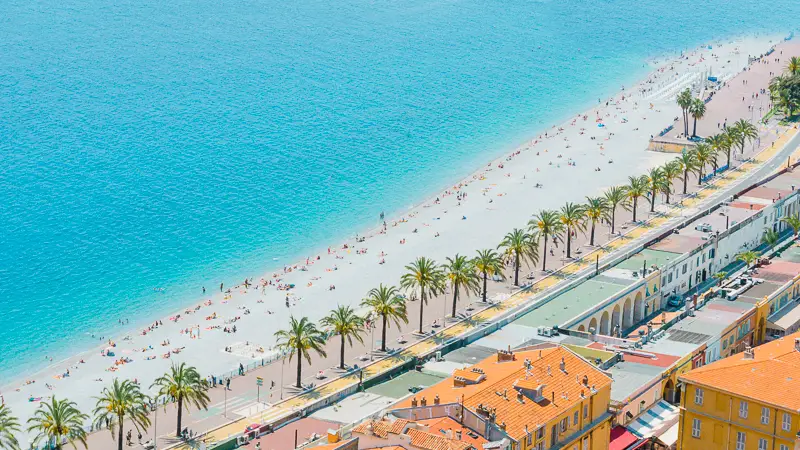 Day 3: Enjoy the Beach and Visit Museums
On your last day in Nice, take time to enjoy the beautiful beaches that the city has to offer. If you're in Nice during summer, visit a beach club such as Cocoon Beach or Plage Beau Rivage. You can rent a sun bed, enjoy food and drinks, and simply relax. 
For lunch, treat yourself to a traditional Niçoise salad, made with tuna, olives, eggs, tomatoes, and anchovies. You can find it in many restaurants and bistros along the promenade or in the Old Town.
Alternatively, you can grab:
Socca – a thin chickpea pancake that is a local specialty
Pissaladière – a tart made with onions and anchovies
Pan bagnat – a sandwich version of the Niçoise salad
In the afternoon, visit one of the many museums and galleries that Nice has to offer. Some popular ones include:
Musée Matisse – showcases the works of the famous painter who lived in Nice for many years
Musée d'Art Moderne et d'Art Contemporain (MAMAC) – features modern and contemporary art from France and abroad
Musée Marc Chagall – displays the biblical paintings of the Russian-born artist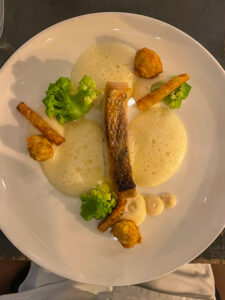 For your last dinner in Nice, I recommend going to Chabrol, a gem of a restaurant serving up delicious French cuisine in an intimate setting. 
Where to stay in Nice
When it comes to where to stay in Nice, there are several neighborhoods to choose from. Something to keep in mind when booking your stay is to check if there's an elevator or not. Older buildings, such as those found in the Old Town, will likely not have one.
To fully immerse yourself in Nice during your trip, stay in the Old Town. You'll be steps away from some of the city's best restaurants, bars, and artisanal shops.
For a central location, consider staying in the Carré d'Or neighborhood, which is close to the beach, the Old Town, and the main train station. 
The Promenade des Anglais is also a great option if you want breathtaking sea views and access to the beach.
---
Spending three days in Nice is a great way to experience the beauty, culture, and food of the French Riviera. Whether you're exploring the charming Old Town, enjoying the beach and the sea, or indulging in delicious French cuisine, Nice has something for everyone. By following my recommendations for what to visit, where to eat, and where to stay, you're sure to have an unforgettable trip to this beautiful city.
If you want your very own customized itinerary for your trip to Nice or the South of France, don't hesitate to contact me for a consult.
Bisous.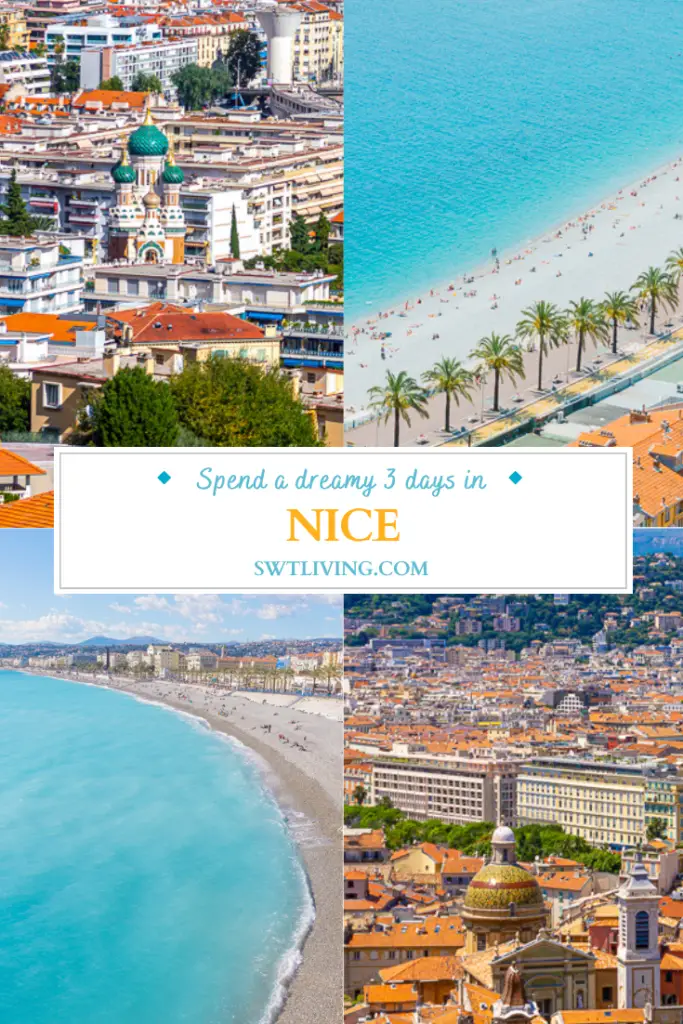 ---
Disclosure: This post contains affiliate link(s). An affiliate link means I may receive a commission or referral fees if you click through and make a purchase through my link, at no additional cost to you.