Are you considering, or planning a road trip through Normandy? This itinerary includes places you should consider for your visit to Normandy, including Mont Saint Michel, the white cliffs of Étretat, and the picturesque village of Honfleur. So if you're looking for a culture trip, nature, and architectural marvels, keep reading my guide for road tripping through Normandy!
To kick off your Normandy road trip, I recommend flying into Paris and renting a car from there.
Day 1: Mont Saint Michel
On the morning of day 1, pick up your rental car in Paris and start your Normandy road trip with a visit to the iconic Mont Saint Michel.
Driving time from Paris to Mont Saint Michel: 4 hours
Mont Saint Michel
As you approach the village from the highway, Mont Saint Michel comes into view, and it is simply awe striking! I mean, can you think of a better way to start your Normandy road trip?!
When you arrive in Mont Saint Michel, check into your hotel to drop your things off, then go out towards the island.
Here's a pro tip: do some research on the tide times before your trip!  Tide levels vary throughout the year, and so a bit of research can ensure that you experience the dramatic tides.
I recommend to visit Mont Saint Michel and its inner walls during low tide. When the tide is low, you can walk across the bridge that connects France mainland to Mont Saint Michel. Once inside, you'll start to feel like you've just gone through time. Everything screams medieval: the cobblestone foot paths, the narrow alleys, the flags on display, and even the fonts used in front of shops and restaurants.
If you can manage it, stay on the island when the tide starts to come in. From the many viewpoints on Mont Saint Michel, you can see the tide rising quickly to surround the island. If your hotel is not on the island, I recommend to get out of Mont Saint Michel before the high tide blocks the exit.
Mont Saint Michel hotels
I stayed at Le Beauvoir for its price and location. It's a 45 minute, scenic walk to Mont Saint Michel.
You can also book a hotel closer to, or in Mont Saint Michel.
Keep in mind that Mont Saint Michel is an island, so almost all of the hotels and restaurants in Mont Saint Michel are expensive. To save on costs, I recommend to stay in a hotel on mainland France and walk or cycle to Mont Saint Michel.

Day 2: Omaha Beach, American Cemetery, Longues-sur-Mer Battery
It's now day 2 of your road trip in Normandy.
Feel free to use the morning to visit Mont Saint Michel or see the tide change one last time. Once you've checked out of your hotel, drive east towards Normandy's D-Day landing beaches. Whether you're a history buff or not, I don't believe this area of Normandy should be skipped.
Driving time from Mont Saint Michel to Omaha Beach: 2 hours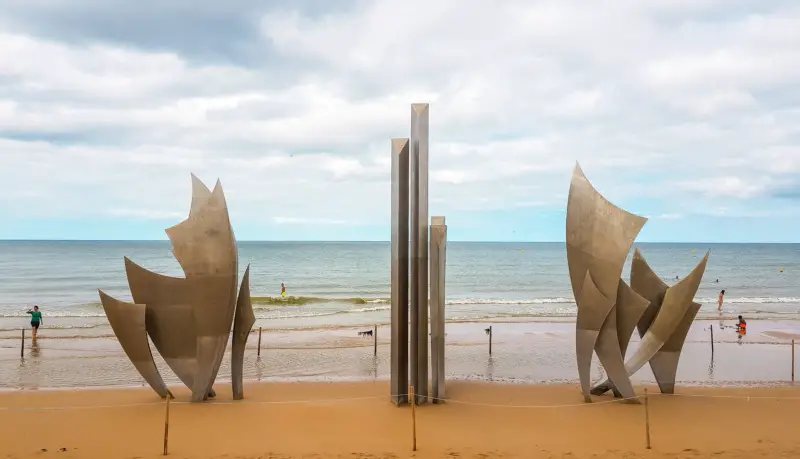 Omaha Beach
Omaha Beach sits on a strip stretching for kilometers where golden, soft sand meets the blue English Channel. At the site sits a monument dedicated to the Allied Forces who came ashore Normandy's beaches.
The part of the beach where the monument sits is the busiest strip, especially in the summer. You can walk down the strip for about 10-20 minutes and the amount of people on the beach goes down, allowing you to enjoy some time dipping in the water or napping as the saltwater fills the air. If you're not in the mood to swim, the beach has a lovely promenade for you to walk on.
Where to eat: Restaurant La Trinquette. Hands down, La Trinquette ranks in the top 2 of best restaurants I ate in during my trip in Normandy! La Trinquette specializes in seafood and local cuisine.
Driving time from Omaha Beach to American Cemetery: 10 minutes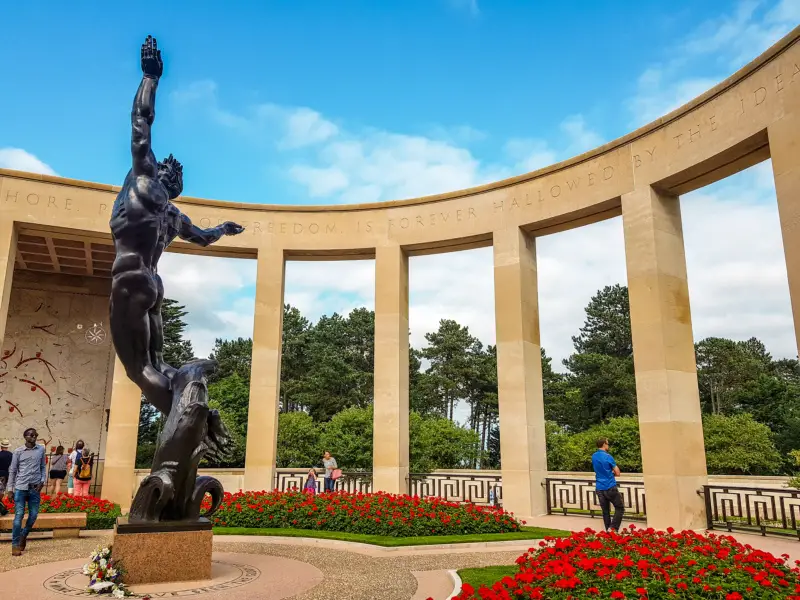 Normandy American Cemetery & Memorial
Established in 1944, the Normandy American Cemetery and Memorial was the first American cemetery on European soil. There is said to be over 9,000 burials on site, marked by white tombstones.
Open generally from 9 a.m. to 5 p.m. (6 p.m. during high season), give yourself some time to walk around the grounds and to read about the D-Day landings on Normandy's beaches.
Driving time from American Cemetery to German bunkers: 30 minutes
Longues-sur-Mer Battery German bunkers
Not many people are aware of this place, which makes a visit here even more irresistible. Longues-sur-Mer was home to at least 4 German bunkers, which all overlook the English Channel. The bunkers were well equipped for an enemy invasion, housing at least one cannon each with multiple ammunition hiding spots.
The bunkers are still standing and pretty much in tact.
Driving time from Longues-sur-Mer to Honfleur: 1.5 hours
Honfleur
Arrive in Honfleur on the evening of day 2. Get yourself checked into your hotel and walk around the old town.
Honfleur was one of my favorite stops in Normandy. It's a French village with so much charm and beauty. At night, with a mix of the city's cobblestone streets and well-lit streets, you might actually start asking yourself, "is it Christmas?".
Bonus: if you arrive on a Wednesday, you can enjoy the night market at the port. Several vendors sell the local drinks of cider and Calvados, a spirit made from apples. They'll even let you have some tastings!
Where I stayed: Citotel Hôtel Monet. This small and charming, family-run hotel sits on the edge of Honfleur's old town. With free private parking available, you will feel at ease leaving your car behind and walking around the old town and port.
Day 3: Honfleur, Étretat
Honfleur
Use the first half of day 3 to explore Honfleur and eat a delicious lunch.
The port is the most touristic area of the town. One side of the port has buildings made of stone, thus giving us medieval vibes. The other part of the port has buildings with a half-timbered foundation, but the finishing of the buildings resemble those you might find in the Netherlands.
I recommend to walk around the port, but do not eat there.
Where to eat: Au P'tit Mareyeur. The food I ate in Au P'tit Mareyeur was definitely a highlight of my trip, and was my favorite restaurant in Normandy! The food was affordable and very tasty. I ordered the "menu", which comes with two appetizers, a main dish, and dessert for about 25€.
After lunch, drive east to Étretat to visit the chalk white cliffs famously painted by some of France's notable artists.
Keep your eyes alert, as you'll get to drive on the Normandy Bridge ('Pont de Normandie' in French). At the time of its completion in 1995, Normandy Bridge was the longest spanning cable-stayed bridge in the world.
Driving time from Honfleur to Étretat: 1.5 hours
Étretat
Imagine white cliffs so steep that they appear to just dive into the sea. That's what you'll find in Étretat. Étretat is one of Normandy's most incredible and natural landscapes. It has also been the inspiration to many of France's impressionist painters, including Claude Monet.
The white cliffs of Étretat might seem a bit intimidating to non-hikers, but it shouldn't be. They've done a great job of easing everyone's access to the top of the cliffs. There are stairs which lead you from the beaches in Étretat to the cliffs.
The path on top of the cliffs are marked and are fairly easy to walk on. Depending on the weather and your energy level, you can spend either an hour up there or several hours. Just be sure to bring a windbreaker with a hood in case it rains.
Where to sleep: Château du Landin. If you come to France with the hope of staying in a château, then consider a stay in this château hotel. I stayed at Château du Landin for a night in August, and I didn't regret it at all! Read more about my stay.
Alternatively, consider staying in Honfleur for 2 nights and then driving to Étretat on Day 4 if you want to slow your pace down a little.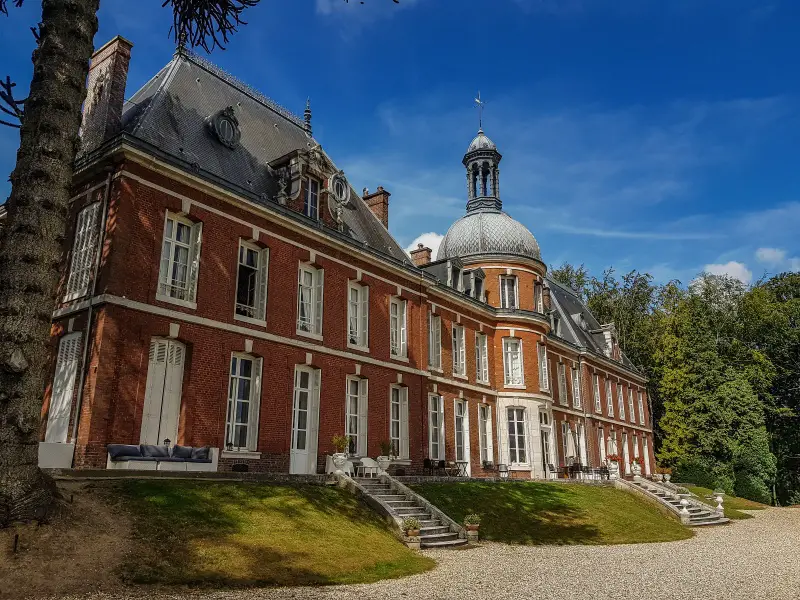 Day 4: Château du Landin, Giverny, and Paris
Enjoy your breakfast on the terrace of Château du Landin. The château enjoys panoramic views overlooking the Seine River. Take a dip in the outdoor jacuzzi, or explore the grounds on foot or bike.
Once you've checked out and are ready to go, drive to Giverny, a small village near Paris.
Driving time from Château du Landin to Giverny: 1 hour
Giverny
The small and super charming village of Giverny is a nice place to stop for about half a day. Giverny is famous for being home to many of France's Impressionist painters. The most notable impressionist who lived there was Claude Monet, who was a founder of French Impressionist painting.
Take some time to visit Monet's House and Gardens, one of the most visited landmarks in France, and the second most visited in Normandy. When you're finished, walk around the small village to discover why the artists were so drawn to Giverny.
Driving time from Giverny to Paris: 1-2 hours (depending on traffic)
Bisous.
Disclosure: This post contains affiliate link(s). An affiliate link means I may receive a commission or referral fees if you click through and make a purchase through my link, at no additional cost to you.