If you're visiting the South of France and you'd like to visit the lavender fields during your trip, then I'm here to tell you that it is possible to visit the lavender fields as a day trip!
The lavender fields of Provence have become quintessentially known around the world. Only accessible for about a month out of the year, the desire (and urgency) to visit the lavender fields is real!
In this article, I share my tips and advice on how you can take a day trip from Nice to the lavender fields. I also provide you with a downloadable Google Maps itinerary guide that shows you which route to take from Nice to the lavender fields.
Travel responsibly. Please respect the farms when walking through the rows of lavender and sunflowers. Many locals rely on the lavender harvest as a source of income.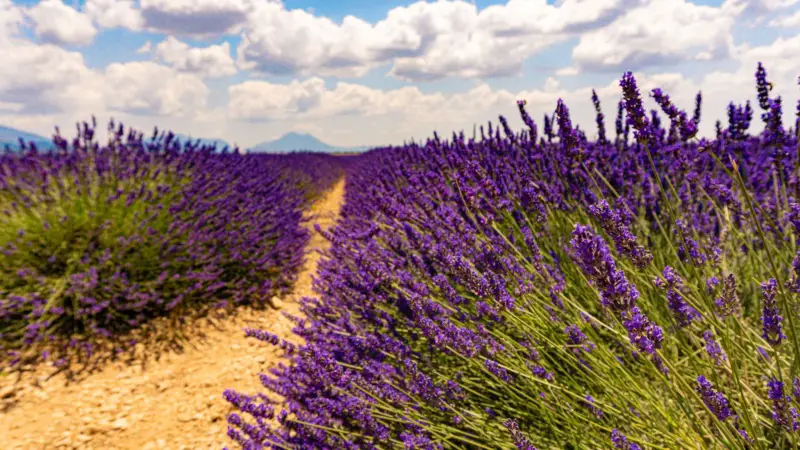 Tips to properly plan your lavender fields visit
Since you're going to spend one day visiting the lavender fields, it's important to plan your trip in advance.
Pick which lavender fields to visit
It helps to know which fields you want to visit before starting your trip because you don't want to spend more time in the car than you have to. Provence is a vast region with incredible landscape, but remember, it is not all endless rows of lavender fields.

Picking which lavender fields to visit in advance will save you time on the road. However, it's definitely worth noting that you'll see many lavender fields when driving around Valensole so don't hesitate to stop whenever you want!
Save the GPS coordinates of the lavender fields
The majority of the lavender fields in Valensole are not easily searchable in Google Maps, Waze, or whatever GPS you normally use. That's because they're not listed under a business name. This is why I give you the GPS coordinates for each lavender and sunflower field.
Enter each set of coordinates in your GPS or feel free to save my map. If you enter the coordinates, be sure to save them so you can find and access them easily during your trip.
Download the Valensole area map to access it offline
I cannot recommend this tip enough! Driving through the Valensole Plateau means you will be going through the vast Provincial countryside. As you can imagine, it's likely that you will not have consistent and reliable service for your phone.
To avoid this inconvenience, open your Google Maps, type in "Valensole" in the search bar and hit ENTER. Then click on the three horizontal lines in the search bar (upper left corner of screen), go to "Offline Maps", followed by "Custom map" to select the area you want to access offline. I recommend to zoom out a bit to download a wider area.
Are you a visual person like I am? Check out my video tutorial to learn how to download a map offline on Google Maps.
The best time to visit the lavender fields
If you're planning a visit to Nice and want to see the lavender fields, you've got to know when to go!
The best time to visit the lavender fields in Valensole is generally end of June through mid July. The lavender fields should begin to bloom by late June, giving you the opportunity to beat the summer crowds that tend to visit late July.
Lavenders have a very short blooming period before they are harvested. Starting mid-July, the farmers begin to harvest the lavender and by August, the lavender is usually gone.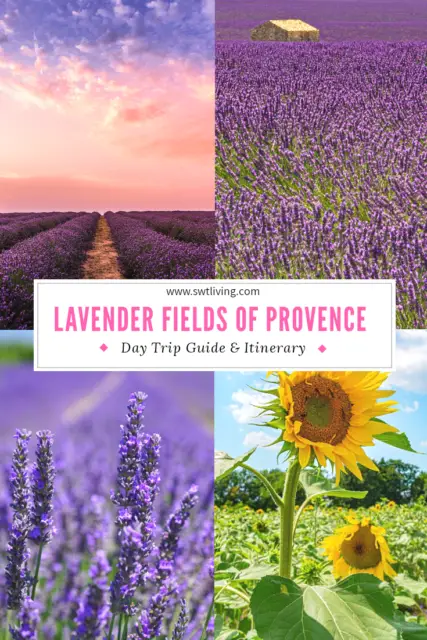 Looking for travel inspiration in France? Check out my guide to the off the beaten path destination, Camargue.
Which lavender fields to visit in a day
To make the most of your day trip from Nice to the lavender fields, I recommend a visit to the Valensole Plateau. Valensole is the largest area in France devoted to lavender farms and it happens to be the closest area to Nice for lavender fields.
Within a 2.5 hours drive from Nice, you will reach some of the most beautiful lavender and sunflower fields.
There are many lavender farms in Valensole. For the purposes of this article and to provide you with realistic expectations for a day trip, I've highlighted 5 lavender farms you can visit in one day.

Valensole lavender and sunflower field #1
GPS coordinates: 43.84672N, 6.15327E
These coordinates lead you to a small field of lavender and sunflowers. There are no rows of lavender like you'd find at the other fields, but instead, lavender and the sunflowers blend together for a beautiful display of colors.
There is a small area for parking off of the side of the main road. You'll have to cross the street (be careful!) to access this lavender field.
Valensole lavender field #2
GPS coordinates: 43.89145N, 6.0668E
The lavender field found here is one of my favorites! You'll find endless rows of lavender with the mountains set as the backdrop. As you walk down the rows, you'll also reach a photographic spot of a stone building perfectly placed among the rows.
Valensole lavender field #3
GPS coordinates: 43.86022N, 5.99004E
The field here is picturesque thanks to the fields' curvy blend with the wheat fields. The fields don't stretch out as far as Field #2, so it makes for a nice, shorter stop.
This field is off the main road, so you won't feel rushed if you need somewhere to take a break, have a drink, or a light picnic.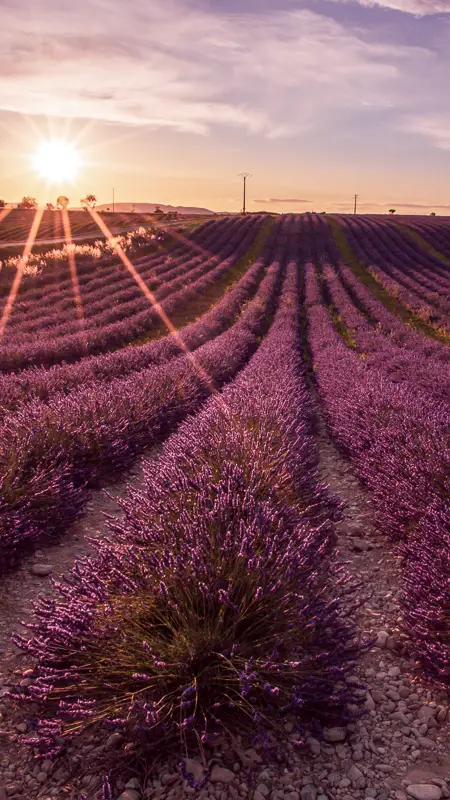 Valensole lavender field #4
GPS coordinates: 43°49'20.5″N 5°56'11.7″E
As a photographer, this field is a dream! If you're looking for lavender rows which give the illusion that they go on for infinity, then this lavender field is it. It's so jaw-dropping picturesque that you'll regret it if you leave your camera behind.
If you're actually staying in the area overnight or are okay with driving at night, I highly recommend visiting this field during sunset!
Valensole lavender and sunflower field #5
GPS coordinates: 43.765979, 6.145653
Many people associate Provence with lavender fields, but you can also find wheat and sunflower fields. This field is home to the largest group of sunflowers I had seen on my road trip. Not as many lavender as in the other fields, but it had still been worth a stop.
How to reach the lavender fields from Nice
By car
The best way to visit the lavender fields in Valensole is by car. If you're in Nice without a car, there are several places from which you can rent a car.
Rent a car from Nice International Airport
Nice is home to an international airport so you can find many options for car rentals there. Car rentals are available in both Terminals 1 & 2, with T2 holding the largest selection of cars.
At Nice International Airport, you can rent from Advantage, Avis, Budget, Europcar, Entreprise, FireFly, Goldcar, Hertz, and Sixt. The summer season is the busiest time of year on the French Riviera so I highly recommend reserving a car a few months in advance because prices will increase!
My go to resource for searching for rentals is with Rental Cars. I love this site because its search function is easy to use and it allows you to easily filter for cars. For example, I don't know how to drive a manual so I'm always applying the "automatic transmission" filter. Rental Cars also provides its own full coverage insurance if you don't want to go through the rental agency.
Rent a car through Getaround
Another resource I've used several times is Getaround (formerly Drivy). Similar to how AirBnB lets owners rent their homes out for short stays, Getaround allows car owners to rent out their cars directly to people.
Renting through Getaround is sometimes cheaper compared to the rental agencies. You have the option to add partial or full insurance with your rental.
When picking up the car you rent through Getaround, be sure to have all your documents ready. Getaround will send you an email with a checklist which includes items such as your driver's license (issued at least two years ago) and ID card/passport.
Use a tour operator
If you're a bit hesitant to do a self tour of the lavender fields, or don't feel comfortable driving in a foreign country, rest assured that you can still visit the lavender fields!
There are several tour operators offering a full day experience to the Valensole Plateau to admire the lavender. Some tours also include a visit to a charming Provincial town, Aix-en-Provence, and a visit to a lavender farm so you can understand how lavender is harvested.
I recommend to pick a tour through Get Your Guide. Be sure to review the pick up/drop off details of the tour, along with the itinerary or highlights information, and the list of costs not included in the tour price.
The downside to using a tour operator to visit the lavender fields is that you have no control over which fields you'll get to visit. If you want full control and flexibility, rent a car!
What to pack for a day visit to Valensole
Food and water
It's summer time, which means the sun is beaming unapologetically. If you're planning to get out of the car to take photographs (or be photographed), then it'll be worthwhile to keep cold water in the car.
I also recommend packing food with you. If you decide to stop in a village on the way to the fields, you can find some restaurants open. Valensole is a great town to stop in.
Most restaurants are closed between lunch and dinner times. If you need to eat after 2pm, fortunately, supermarkets are open so you can purchase pre-made sandwiches or snacks for the road.
Camera
Let it be your phone's camera or a professional one, you'll certainly regret not having one with you on a visit to the lavender fields.
Visiting the lavender fields as a day trip means you'll be spending time under the high sun. Photographing in these conditions can be harsh. I recommend bringing a UV lens filter for your pro camera to combat the sun in your photos.
Sun protection: sunscreen, sunglasses, hat
The South of France enjoys sunlight year round, and summer is no exception. July and August are the hottest months in the region so it's super important to bring sun protection.
Don't leave your hotel without packing sunscreen in your bag. You'll end up having to reapply it throughout the day.
When you are out of the car walking down the lavender fields, you'll have no access to shade. Bring a hat for extra protection for your face.
Day trip itinerary to the lavender fields from Nice
So now you've got all the things you need to know to start your day trip to the lavender fields: when to go, where to rent a car, which lavender and sunflower fields to visit, and what to pack.
Next up, I share an easy to follow itinerary for your self-guided day trip through the lavender fields.
8:00 AM: Pick up your rental car and start driving in the direction of Valensole to Field #1. I recommend driving through the Gorges du Verdon and stopping at these viewpoints to experience the largest canyon in Europe!
11:00 AM: Arrive at the first lavender field. Park your car off the main road so as not to block the free flow of traffic. Get out and enjoy the lavender fields! Be sure to walk between the lavender plants and not on them.
After the 1st field, make your way to the next lavender field (Field #2). Slow down as you approach it, so you can safely pull over to the side of the road.
When you're done with the second stop, make your way to Field #3. This area is not as large as the other ones so you'll likely spend less time here.
12:30 PM: Drive over to Valensole to enjoy lunch in a typical Provincial village.
2:00 PM: After lunch, continue your lavender farms self-tour by visiting a few more fields. To start, drive from Valensole to Field #4 and get ready to spend a bit of time there. You just might fall in love!
Next, drive over to your last field stop, Field #5 – sunflowers galore!
3:00 PM: Now that you've completed making your way around some of Valensole's lavender fields, you have 2 options:
You can drive back to Nice, or
You can visit the Lac de Sainte-Croix, a beautiful turquoise blue lake situated at the base of the famed Gorges du Verdon. I really recommend this option!
The Lac de Sainte-Croix is situated right next to Point F on the map above, so there is no detour if you choose to visit. I went to this lake during my day trip visit to Valensole, so it is very doable!  Bring a swimsuit if you want to dip into the water.
5:00 PM: It's time to head back. From Lac de Sainte-Croix, you will have a 2.5 hour drive back to Nice. Just in time for sunset drinks and dinner!
I hope you're now ready to visit Valensole's lavender fields on a day trip from Nice. If you have any questions, feel free to contact me!
Bisous.
Disclosure: This post contains affiliate link(s). An affiliate link means I may receive a commission or referral fees if you click through and make a purchase through my link, at no additional cost to you.