I want you to imagine strolling in a small town in Italy, cobbled stones beneath your shoes and the aroma of truffles filling your nose. That's what you will find in Alba on a chilly but sunny day in Autumn – the season of truffles! Every October and November, Alba celebrates the truffle's harvest with the International White Truffle Festival. 2017 marked the festival's 87th year!
International White Truffle Festival Admission
Regular admission: 3.50 euros.
Admission w/ 2 wine tasting tickets + wine glass: 9.50 euros.
I entered the fair on the regular admission ticket which allowed me to do everything. Smell the truffles and taste truffle-infused goodies such as truffle oil, truffle butter, truffle honey, and truffle-smoked sausages!
I recommend getting the regular admission. With about a third (1/3) of the festival vendors being local wine producers, you can taste all the wine you please without the need of purchasing the wine tasting ticket. All you have to do is walk up to the vendors, engage in some conversation, and ask to try a wine or 2! 
International White Truffle Festival Vendors
As soon as you walk into the festival, you may get overwhelmed by the amount of vendors and products! Don't worry, just take your time and explore. If you're interested in purchasing, compare prices and speak with the different vendors before making a decision.
Truffle Hunters
Many of the truffle vendors found at the International White Truffle Festival are truffle hunters. I know what you're thinking. Why do truffles need to be hunted?
Truffles grow underground, feeding on water and forming a special give-and-take relationship with certain tree roots. It is said that white truffles have the most specific growing conditions, making them one of the most sought after varieties of truffle. What's more is that because white truffles remain underground, only specially trained dogs and hogs can sniff out the truffles from above ground.
Truffle Shops
While you have truffle hunters selling their truffles, you also have vendors selling all their truffle-infused goodness! White or black truffle oil, truffle butter, truffle honey, you name it…
Regional Cheese, Meat, and Wine
After walking down the lane lined with truffles, vendors selling local wine & liquor, cheese, and truffle smoked sausages begin to appear. Every vendor, no matter what they are selling, offers tastings so I hope you brought your appetite!
I enjoyed every single thing I tasted and ended up buying cheese, several smoked sausages, and a few bottles of regional wine and liquor!
Sweets
The region is also famed for hazelnut. Just how famous? Well, Ferrero was created here in Alba. In addition to their popular round balls of chocolate and nutty goodness, Ferrero also created Nutella! So it's no surprise here that many of the sweets sold in Alba have a hazelnut base.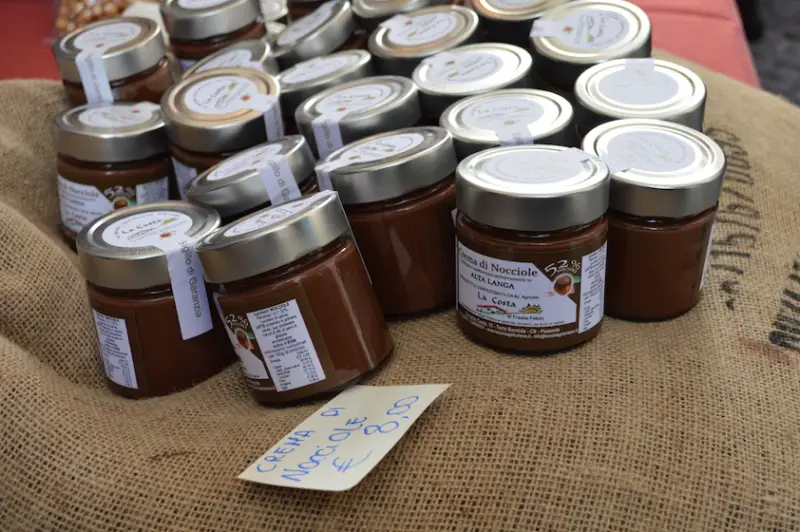 When to visit the International White Truffle Festival
October – November: Come spoil your senses with all the truffles collected by Italy's truffle hunters at the International White Truffle Festival in Alba! It normally runs from the first weekend in October to the last weekend in November. The market is open only on weekends.
Before your visit…
Towards the end of Summer is the best time to check on the status of the white truffle harvest. Truffles need water to grow and if there was a drought in Spring or Summer, then don't expect a good harvest. Truffles will be scarce and the quality won't be as high as expected.
How to eat truffles
Clean the truffles in cold water about 10-15 minutes before eating.

To shave the truffle for your dish, use a special truffle slicer to get nice, thin slices.

Never cook truffle!
There are 3 dishes that shaved truffle is recommended to be paired with: fried eggs, pasta with butter, and cheese fondue.