Looking to visit the Rothschild Villa as a day trip from Nice? You've come to the right place!
There are a ton of articles on things to do and places to visit in and around Nice, France. You've got places like Monaco, Cannes, and Saint Tropez. These places are beautiful and shouldn't be missed, but what if you don't want to travel for a full day?
Luckily for you, there are some quaint seaside towns nearby like Beaulieu-sur-Mer and Saint-Jean-Cap-Ferrat that are just 20-30 minutes away.
And nestled right in between these two towns? A grande villa and gardens built for a Rothschild heir. 
Villa Ephrussi de Rothschild
Béatrice de Rothschild was born in Paris in the late 1800s. Being the daughter of a banker and having married a French banker at such a young age, Béatrice enjoyed traveling the world and collecting art. Béatrice fell in love with the South of France, so after 21 years and a failed marriage, she purchased land in Cap Ferrat for her personal villa.
She had wanted lavish gardens, but apparently, the land at the time of purchase was not suitable for them. It took 7 years of soil work and intense labor to obtain the gardens she so desired. If you ask me, they came out pretty amazing!
In all, there are 8 gardens: French, Spanish, Florentine, Japanese, Provençal, stone, exotic, and rose.
As you walk through the gardens, you'll find beautiful statues placed all over.
Part of her method of achieving the look of her gardens was to wait until the building of the villa was complete so that she was able to view the gardens from the terrace.
Béatrice began the villa construction not long after the garden design. Unsurprisingly, she was particular about how she wanted it to look. Her primary intent for the villa was to house all of her art and porcelain collection. Not bad, eh?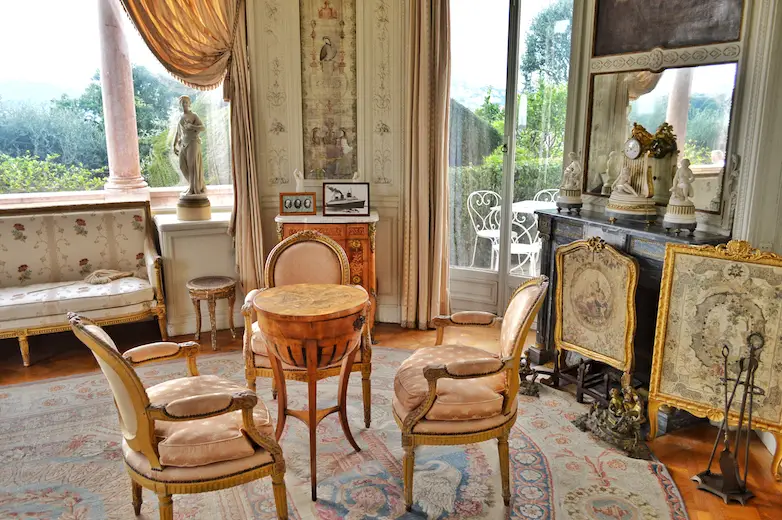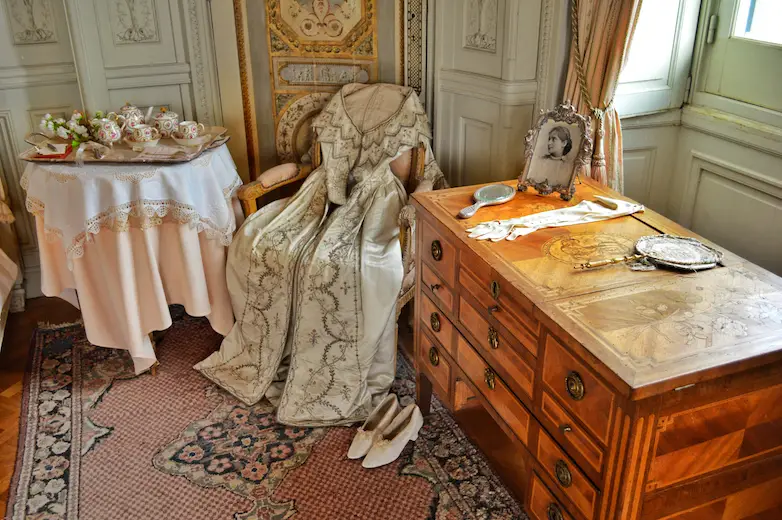 Right before her death, Béatrice donated her Villa and gardens to L'académie des Beaux-Arts. Thanks to her, you can take a short bus ride from Nice to Saint-Jean-Cap-Ferrat to tour the beautiful Villa and the many gardens.
It really depends on your pace, but 1 hour here can be enough. To exit the Villa grounds, you just retrace your steps down the hill to the street. Don't cross the street this time. Just turn left at the bottom of the Villa entrance and you'll see the bus stop for Line 81 going back to Promenade des Arts in Nice. Here, you may choose to return to Nice OR you can stroll and eat in the small, colorful fishing village that is Villefranche sur Mer.
How to get here from Nice
By bus:
From the Promenade des Arts bus stop in Place Garibaldi, take line 81 – direction Saint Jean Cap Ferrat. Stay on the bus for about 25 minutes, getting off at Passable/Rothschild. You'll cross the street, reaching a fork. Take the road on the left going uphill. Follow the road and you'll reach the entrance of the Villa, with magnificent views along the way!
By train:
Whether you're staying in Nice or the surrounding towns, take the train to Beaulieu-sur-Mer. From there, you'll walk just 1 minute to the Beaulieu-sur-Mer Gare bus stop and take Line 81 in the direction of Saint-Jean-Cap-Ferrat. After about 5 minutes, get off at Passable/Rothschild and follow the instructions mentioned above. Don't forget to admire the views on the way up!
Bisous! 💞