Home to one of just two petrified waterfalls in the world, Pamukkale is an underrated travel destination in Turkey. Pamukkale makes for a convenient 24 hour trip because of how easy it is to get there from Istanbul. In fact, it's only a one hour flight between Istanbul and Pamukkale. If you have a full 24 hours or even less, keep reading my guide to discover things you can do in Pamukkale on a short trip.
When planning a trip to Turkey, many people choose an itinerary that includes visiting the Blue Mosque, taking a dip in the sea in Bodrum, or taking a hot air balloon ride in Cappadocia. I must admit, I too fancied making it to all of these must-sees, but it was going to be tough with only 4 days in Turkey. Realistically, making that trip just wasn't gonna be feasible.
So, I pulled out my travel bucket list (yep, I really have one) and saw I had Pamukkale written down. Safe to say I got super excited to get back to planning this trip! Pamukkale, located in western Turkey, is a destination still quite low on many people's radar, which is a treat if you're looking for an off-the-beaten path destination.
Is it possible to visit Pamukkale in 24 hours? Absolutely! I know because I managed to spend exactly 1 day in Pamukkale during a 4-day holiday in Turkey.
The reason why Pamukkale is possible within 24 hours is because of how well placed the must-see spots are. They're literally next to each other (keep scrolling to see the map). So now, you may be wondering what there is to do in Pamukkale in 24 hours.
Keep reading to discover what to do in one of Turkey's underrated destinations, Pamukkale!
Visit the Pamukkale travertine terraces
The terraces are one of the main highlights of a visit to this western Turkish town. The travertine terraces are commonly referred to as Pamukkale's thermal pools. Pamukkale means "Cotton Castle" in Turkish, and rightfully so. Just take a look at the photos below! You are treated to displays of an enchanting array of colors and contrast. See how they shimmer under the sunlight?
But how does it get so white?
Pamukkale is home to a source of hot springs and these hot springs contain calcium carbonate. As the water from the springs flowed down the cliff over the past thousands of years, the minerals gradually built up, eventually forming bright white terraces of water – also known as petrified waterfalls.
Visit Hierapolis
Pamukkale's travertine terraces are located on the edge of the ancient city of Hierapolis.
What was Hierapolis?
It was originally a Hellenistic city founded by the Attalid dynasty around 200 B.C. before quickly becoming part of the Roman empire. After an earthquake caused major damage to the city around 60 A.D., the Romans rebuilt it, fitting their architectural style. Remains of a theater still exist, along with various frameworks and artifacts from temples, a fortress, and other buildings.
If you know a bit about the Roman empire then it may come as no surprise that thermal baths were a major part of their lifestyle. Because Hierapolis sat atop hot springs, it made sense to the Romans to build a bathhouse. This leads to the next item on the list.
Bathe in Cleopatra's Pool
Cleopatra's Pool, also known as the Antique Pool, is located within Hierapolis and is just a 5 minute walk from Pamukkale's travertine terraces. Still in use today, you can dip your body into the warm waters of Cleopatra's Pool. As the name suggests, they say that this is where Cleopatra would swim.
A majority of the pool is shallow, and filled with large stones and ancient columns that had fallen over. The pool is great for non-swimmers and kids. Just be sure to watch where you walk. There is also a section roped off to let you know that you have reached the deep end.
It's really a pleasant feeling being there! You can see and feel tiny bubbles rising from the ground of the pool where the minerals are released. And although this is a thermal pool, don't worry about the temperature being too hot! The water temperature is very comfortable. You can expect it to be about 35℃.
What to know before you go to Cleopatra's Pool
Entry to the grounds is free, but if you want to swim in the thermal bath, you will have to pay about 30 Turkish Lira.
You will have access to lockers, showers, and changing rooms. You must pay a deposit for using the locker (about 5 Turkish Lira), but you will get your deposit back when you return the key.
For the photographers reading this, you cannot bring a camera with you inside the water. And yep, that includes a GoPro. However, cameras are allowed on the grounds in general so feel free to take photographs outside of the water, and of the grounds.
Bring a swimsuit, towel, and shoes to walk to/from the changing rooms. If you do not bring a towel, you do not have the option to rent one. You can only purchase them.
There is a mini restaurant with limited food options and a gift shop.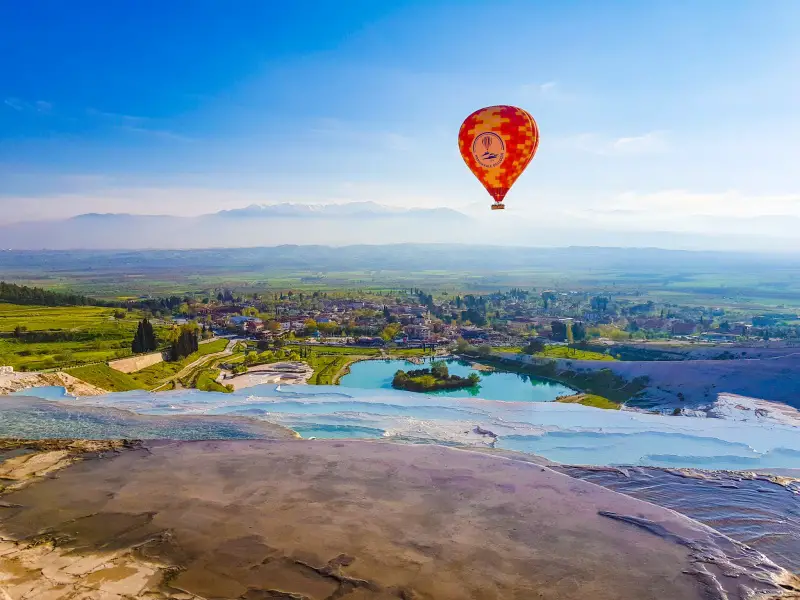 Ride a Hot Air Balloon
Like Cappadocia, you can enjoy a scenic hot air balloon ride in Pamukkale. You'll be flying over the gorgeous landscape of the petrified waterfall, Pamukkale village, and the ancient city of Hierapolis.
Unlike Cappadocia, you are not just limited to a hot air balloon ride at sunrise. You can enjoy this experience throughout the day! You can visit Hierapolis and the travertines in the morning til' afternoon, then enjoy a scenic and breathtaking hot air balloon ride afterwards.
There are several tour agencies offering this tour. For instance, Mislina Travel offers hot air balloon rides and paragliding. Your hotel would also have information readily available. Be sure to contact the hotel before your arrival so that they can schedule your activity in line with your stay in Pamukkale.
All in all, I'm so glad I got to cross off Pamukkale from my travel bucket list, even though I didn't get to swim in the sea in Bodrum. Well, guess I'll try to include that the next time I go to Turkey!
Tell me. Are you currently adding Pamukkale to your travel bucket list?