Keep reading this article to have all the information you need so you could visit Pamukkale as a day trip from Istanbul including how to get from Istanbul to Pamukkale, when the best time to visit Pamukkale is, how long to stay in Pamukkale, where to stay in Pamukkale, and what things you can do in Pamukkale. You could even make a stop in Pamukkale on your journey from Istanbul to Cappadocia.
Pamukkale, Turkey is often overlooked for the picturesque Cappadocia. I mean, I get it! Why would you travel all the way to Turkey and not visit the canyons and caves whose skies are overrun by hot air balloons?
Hear me out.
Pamukkale is a Turkish destination still quite low on many people's radar, which is a treat if you're looking for being on the off-the-beaten path. Its relatively low-key status offers you an escape from the massive crowds you'd normally find in Istanbul and Cappadocia. Pamukkale also offers you the opportunity to go on a hot air balloon ride should your heart desire it. The best part of all of this is that you only need one day to visit Pamukkale.
How to get to Pamukkale
There are three popular options when going to Pamukkale: fly, take a bus, or rent a car.
Fly
Flying to Pamukkale is the best option if you want to maximize on time. The nearest airport to Pamukkale is Denizli Çardak Airport (DNZ). Flights to Denizli are only available with Turkish Airlines and Pegasus.
If you will be flying from Istanbul like I did, then it is only a one hour flight to go from Istanbul to Pamukkale/Denizli. A round-trip flight ticket can cost you as low as 25€.
Once you arrive in the very small Denizli airport, just walk outside to take the bus to Pamukkale. The Denizli airport is so small, you can't miss it!
The bus ride will cost you 30 Turkish Lira. The ride from Denizli airport to Pamukkale village will take about one hour, give or take.
Bus
It is possible to visit Pamukkale by bus from Istanbul. This can be the cheapest option, especially during peak travel season. However, it will take much longer to get there in comparison to flying.
The bus from Istanbul to Pamukkale can take anywhere between 10-12 hours. The cost of a one-way bus ticket from Istanbul to Pamukkale can start at 50 Turkish Lira.
The positive side to this long journey (depending on how you look at it) is that it is an overnight bus, so you can also save on a night's hotel accommodation.
If you want to continue your journey to another Turkish town, like Cappadocia for example, buses and flights are also available between Pamukkale and Cappadocia.
Car
If you've got time to spare, or prefer to to go at your own pace, than renting a car can be a good option for you. The fastest route takes about 7 hours to drive 570 kilometers. This route has tolls so when picking up your car rental, make sure it has an electronic-chip sticker or a toll transponder (either the FTS or HGS) mounted at the top of the windshield.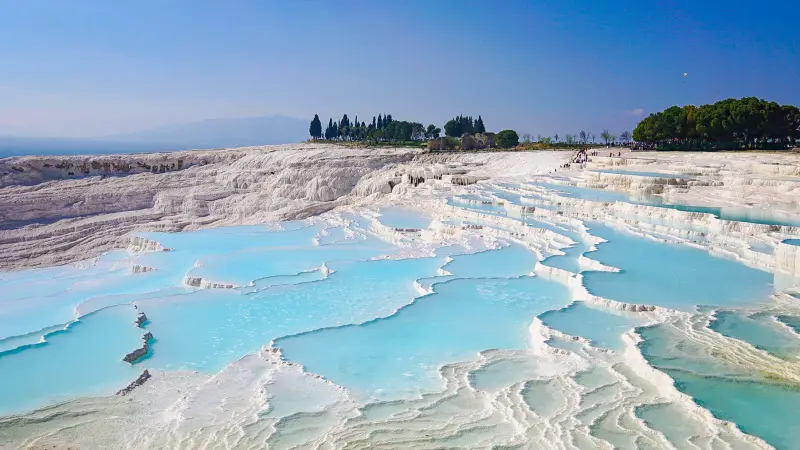 Best time to visit Pamukkale
Spring (April to June) and Fall (September to October) are the best times to visit Pamukkale.
The sun is shining bright, rain is minimal and temperatures are getting warm, so you can enjoy your time outdoors. At this time of year, the number of tourists visiting Pamukkale is still low and very manageable. The sun sets a bit later, and the late closing hours of the travertine terraces allows you to enjoy the sunset from the top.
I get that the summer months are convenient for travel, but be prepared. July and August is high season in Pamukkale.
With summer comes high temperatures and more tourists. Because the travertine terraces sit atop a cliff, the sun will be strong so be prepared with sunscreen, a hat, and loose, comfortable clothing. Bring a swimsuit, too. If you're lucky, the water will be flowing and you can manage a dip in the water.
How long to stay in Pamukkale
If you're up to it, I recommend to stay a full day and one night in Pamukkale to take things a bit slower to enjoy this natural landscape in Turkey. You can fly into Pamukkale in the morning, enjoy a full day relaxing by the hot springs and the surrounding Hierapolis. After your day of slow travel, get a good night's sleep in a hotel. The next morning, you can fly to Istanbul as early as 7am or move on to your next destination!
If you are short on time, you can manage a day trip to Pamukkale from Istanbul. With how Turkish Airlines and Pegasus are set up, you can literally fly from Istanbul to Pamukkale at 5am, then fly back to Istanbul at 7pm on the same day. Really! In fact, this is the preferred schedule for many travelers.
Where to stay in Pamukkale
Pamukkale Village is the ideal location if you want to maximize your time visiting Hierapolis and the terraces. You can find accommodation for as low as 20€ for a double room.
When I traveled to Pamukkale, I stayed at the Melrose House Hotel. It is centrally placed in Pamukkale village. For 20€ for a one night stay in a double room, you are a 10-minute walk away from the South entrance to the Pamukkale travertine terraces. The reception is available to call you a taxi, if needed. In the nightly price, you have breakfast included. In the summer, the pool is also available for use.
Located at just a 5-minute walk from the travertine terraces, Bellamaritimo Hotel is one of the most conveniently located hotels in Pamukkale village. The hotel offers a pool, restaurant and bar, which are convenient for when you're done exploring the surrounding scenic landscape.
Things to do in Pamukkale
Pamukkale travertine terraces and thermal pool, Cleopatra's Pool, and Hierapolis
Pamukkale sits atop hot springs which paved the way to creating a beautiful petrified waterfall, or travertine terraces as they're also known as.
I've written a guide on things to do in Pamukkale so you could better discover Pamukkale's natural formations, Cleopatra's pool, and the historical city of Hierapolis.
Additional tips
Pamukkale water flows
What I didn't know before going, and what you should know about Pamukkale's travertine terraces is that the water does not always flow. The turning on and off of the water flow is managed by the conservationists. In actuality, there's no way of knowing what days they will allow the water to flow and which days they won't.
The photos in this post were taken on a day the water flowed.
Accessing Pamukkale's Waterfall
You have 2 ways to access the petrified waterfall. One way is through the South Slope. Entry for the South Slope begins down at the edge of Pamukkale Village and requires you to walk up a slight slope barefoot. YES, barefoot. This is because the slope is made up of the same minerals found in the hot springs. It is white and it is beautiful, so to preserve the slope's white color, no shoes are allowed.
Another entry point to the waterfall is from the top of the hill, next to Hierapolis. The best way to get to this point is to take a taxi. Once you reach the top, you can choose to start exploring the ancient ruins of Hierapolis before taking in the travertine terraces.
Pamukkale makes an easy and unforgettable day trip from Istanbul! I hope this article has shown you how easy it is to include Pamukkale in your Turkey itinerary.
Bisous.
Disclosure: This post contains affiliate link(s). An affiliate link means I may receive a commission or referral fees if you click through and make a purchase through my link, at no additional cost to you.