It's an annual tradition in Europe to take one weekend in September to celebrate Heritage Days, or "Les Journées de Patrimoine" in French. What exactly is this weekend event? According to Creative Desks, Heritage Days is an initiative to not just promote Europe, but also the a country's history, culture, and diversity.
Celebrated in 50 countries all around Europe, museums are free. Administrative buildings and other sites that are normally closed to the public are open during the 2 days for everyone! Promoting culture to citizens and visitors is just one goal. This initiative also aims to highlight the importance of protecting the cultural heritage to the government.
In 2017, France celebrated Heritage Days on 16-17 September. After much research online, my partner and I discovered that Nice and the surrounding towns weren't offering enticing sights that caught our eye. We then decided to look at nearby Marseille.  What caught our attention was the ability to visit Le Marégraphe de Marseille which studies the sea levels. What we hadn't realized was that we needed to book our visit online well in advance due to the high demand. Unfortunately, we started our research on the 15th of September so all of the slots were taken. In the end though, we thought Marseille was still worth a visit!
We were able to visit 10 sites in less than 2 days, having arrived in Marseille on the Saturday at 2pm. The sites were closing at 5pm, so we managed to visit as much as we could and then resumed Sunday morning.
Musée des Civilisations de l'Europe et de la Méditerranée (MUCEM)
For those familiar with museum visits in Europe, you know that there's a fee to enter except under special conditions, such as free entry on the first Sunday of the month. Thanks to Heritage Days, they're all free!
There are two entrances to this Museum of European and Mediterranean Civilizations. One is street level from the port and the other entrance is on the rooftop. Wait, the rooftop!? Yes! To get to the rooftop, we had to walk through [and up] Fort Saint-Jean.
Marseille's MUCEM is fairly new, and is often visited due to its design. As soon as you step foot on the museum rooftop, the architecture, sea, and sunset stop you in your tracks.
Palais de la Bourse
The Palais de la Bourse houses the Chambre de Commerce, or Chamber of Commerce, in Marseille. We stumbled into this gem while strolling on La Canebière, a historic street in Marseille. It was close to 5pm and there was no queue so we went inside. Talk about majestic!
La Vieille Charité
La Vieille Charité was a hospital originally built for the city's poor, and became a hospice soon after. Now it is home to several museums: Mediterranean Archeology and the Amerindian, African, and Oceanic Arts. It also houses temporary exhibits, so we were able to experience "Jack London dans les Mer du Sud", or Jack London in the South Seas. On display until January 2018, the exhibit showcased his journey to Hawaii, the Marquesas Islands, Tahiti, Fiji, Samoa, Vanuatu, and the Solomon Islands.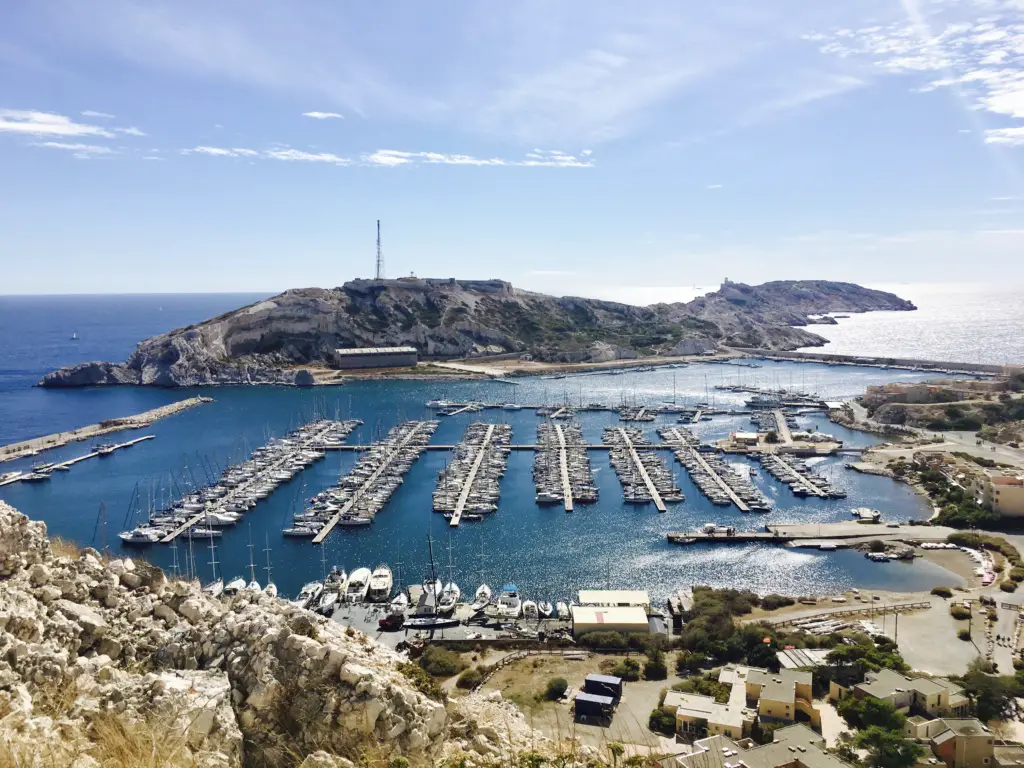 Les Iles du Frioul (Frioul Islands)
We decided to make time to visit the Frioul Islands as the Caroline Hospital was open as a part of Heritage Days. The Frioul Islands are a set of 4 small islands right off the coast of Marseille, and a part of Les Calanques de Marseille.
Due to the heavy wind that day, the boats were only running to one of the islands that make up Frioul: Ratonneau. It worked out well as the Caroline Hospital is located on Ratonneau. From the Marseille port, you can take a short 20 minute boat ride for around 11 euros round-trip. 
Notre Dame de la Garde
For those who are unfamiliar with this church, it sits on top of a hill – probably, the highest point in Marseille. Honestly speaking, we came up for the views! We began our 25 minute hike from Marseille's port with ice cream in tow. Probably not the best idea to eat ice cream while walking on a steep incline, but why not! For those not able to make the hike, there is a bus that takes you directly from the port to the church.
The church closed at 5pm so we couldn't go in, but since we mainly went for the view, we weren't disappointed.
L'abbaye Saint-Victor et de ses cryptes
The Abbey of Saint Victor is one of the oldest buildings in Marseille – built around the 5th century as monastery for men. 1,000 years later, the abbey was unfortunately used as a prison and warehouse with important documents getting lost, relics being burned, and gold and silver melted.
Heritage Days Tips
No matter what country or city you visit:
Most, if not all sites are open until 6pm during the 2 days, so start early and time your visits accordingly. For more information, you can check out the general Heritage Days website here. You also have the option to check each country's own Heritage Days website. Check out France's website here.
Check online for reservation information as early as possible. Most administrative buildings and museums do not require a reservation. However, if you're interested in a unique experience such as visiting Le Marégraphe, then reserve as early as possible.
In major cities like Paris, be ready to stand in long queues. You run the risk of not visiting as many places as you'd like for this reason alone. Therefore, prioritize and choose the sites that you really want to see.
Be prepared for some majestic eye candy! Some administrative buildings are true palaces.

😍 Take the Luxembourg Palace where the French parliament is located or the Élysée Palace where the French president works and resides as examples. 
Have you participated in any Heritage Days? Which city/country did you go to?
Bisous! 💞