Provence may be infamously known for its buzzing-with-bees lavender fields and inviting beaches along the Mediterranean Sea. However, not many people are familiar with the fact that one of many of France's incredible national parks are located in Provence as well: Calanques National Park, or Parc National des Calanques.
Les Calanques spans along the Mediterranean coast with jaw dropping landscapes – situated between Marseille, Cassis, and La Ciotat in Provence. The best French cities to base yourself in for visiting the calanques are Marseille, Cassis, or la Ciotat. All three cities are accessible by car or train, and the nearest international airport is in Marseille.
What are calanques?
Calanques are inlets (some people might call them 'bays') of the Mediterranean sea surrounded by steep limestone rocks. The majority of the calanques have a beach with either sand or pebbles. Because of their exclusivity, most calanques can be reached by hiking and boat ride. A few calanques though can only be accessed by boats such as the ones found on Ile Verte.
This guide will highlight the best calanques to visit near Marseille, Cassis, and La Ciotat. I also describe how you can get to each calanque from their respective city. For places like Cassis and La Ciotat, the calanques are accessible by foot. For Marseille, the calanques can be accessed by public transportation such as by bus and water shuttle.
Calanques de Cassis
In Cassis, you can reach some of the calanques by starting your hike in Cassis port. They are
Calanque de Port Miou (#1 on the map below),
Calanque de Port Pin (#2),
Calanque d'En Vau (#3), and
Calanque de Sugiton (#4 – zoom out if needed).
It is very important to know that, via hiking, some calanques can only be accessed by hiking through other calanques. For instance, to access Calanque d'En Vau, you must first hike through 2 calanques: Calanque de Port Miou, and then Port Pin.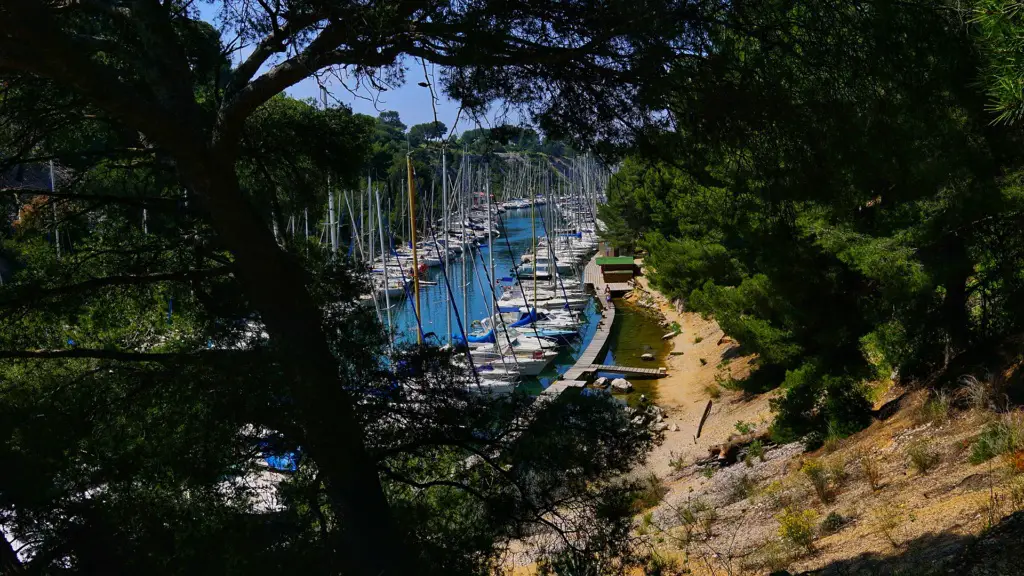 Calanque de Port Miou
This is the calanque you should visit first. From Cassis port, follow your walking GPS to Calanque de Port Miou.
Calanque de Port Miou doesn't really have an area to swim. It is really a port for boats. I recommend to snap some photos, and continue on your hike.
From Calanque de Port Miou, you will be able to access either Calanque de Port Pin and Calanque de Sugiton. At the entrance of Port Miou, you will see a sign pointing either to the left for Port Pin, or to the right for Sugiton.
Discover the best sea view bars in Nice, France!
Calanque de Port Pin
If you follow the path from Port Miou to Port Pin as these instructions advise, you will start your uphill walk on a dirt path. This path eventually becomes rocky and levels out. Not long after, you will start your descent. Be careful as some of the rocks are slippery. You will quickly come across a small beach with big stones. You can expect this hike to last well under one hour.
Calanque d'En Vau
Are you ready to continue on your hike from Calanque de Port Pin? If so, you will see a sign at the beach pointing you in the direction of Calanque d'En Vau. If you're up for a steep hike, I highly recommend going to Calanque d'En Vau. This calanque is my absolute favorite!
This steep uphill consists of paths made of dirt, rocks, and massively smooth stones. There is very little coverage from the sun so be sure to bring water, sunscreen, and a hat. I am not an experienced hiker, but the hike up to Calanque d'En Vau was manageable. If it helps, bring a pair of hiking sticks.
After you've reached the top and have taken in the unbelievable views, you can choose to hike down to the beach. The hike down is much, much steeper. It's so steep, in fact, that some parts of the climb down will require you to sit on your butt and use your hands to get down.
Calanques de la Ciotat
From la Ciotat, you can easily access two calanques: Calanque de Figuerolles and Calanque du Mugel. The two calanques can be accessed by foot, and are located about 15 minutes from the port.
Like in Cassis, I recommend that you begin your hike at la Ciotat's port. Open your Google Maps and input one of the calanques as your destination. Honestly, it doesn't matter which one you go to first as they are both equal distance from the port.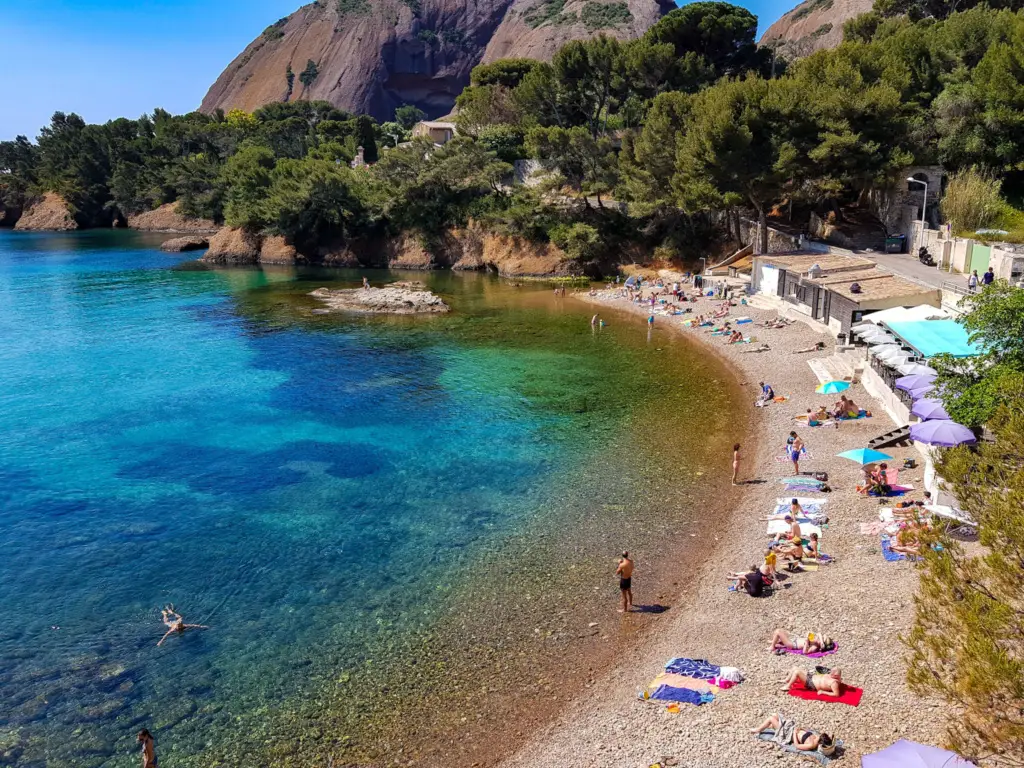 Calanque du Mugel
As you start your walk from Ciotat to Calanque du Mugel, you will be going through a residential neighborhood. Don't worry – you're on the right track! You will eventually start seeing physical signs along the path, pointing you towards the "chemin", or path for Parc du Mugel. You will emerge out of the residential neighborhood on a very slight downward street. Before you know it, you are walking up to this amazing view!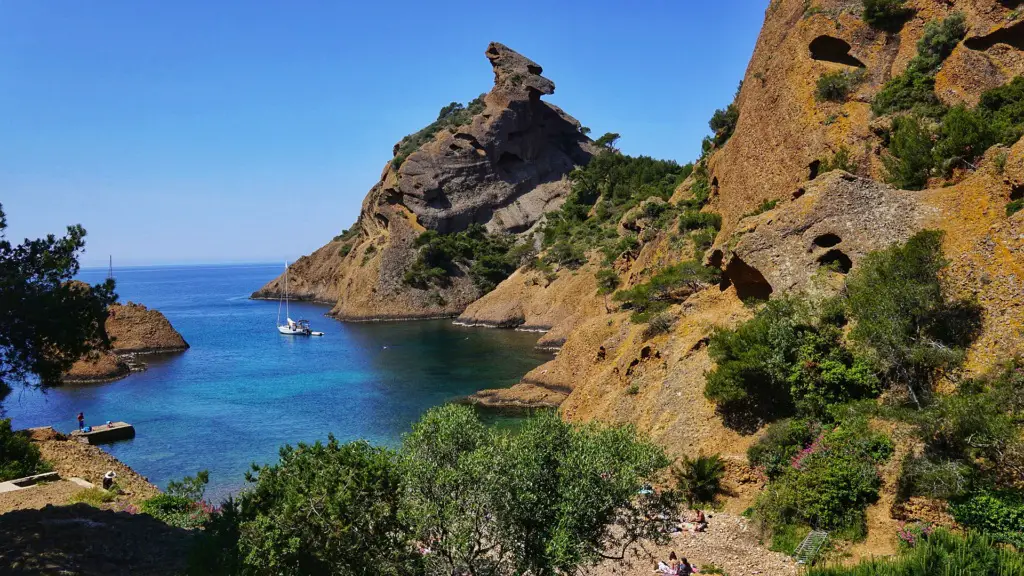 Calanque de Figuerolles
Calanque de Figuerolles has to be another one of my favorite calanques. The orange and brown cliffs extend out and give the beach one of the most unique landscapes I've ever seen.
Calanque de Figuerolles is a 15 minute walk from Calanque du Mugel and from la Ciotat port. Your phone's GPS will recognize this calanque and guide you. As you can see from the map, typing this calanque in your maps app will bring up R.i.f. This is correct. Similar to accessing Calanque du Mugel, this calanque is accessed right off a residential neighborhood so I consider it more of a casual stroll.
Calanques de Marseille
Despite being a big city, the beaches in Marseille are some of the prettiest in the area – many thanks to being a part of the Calanques National Park. Because Marseille is so big, the calanques are a bit further away from the main port. Fortunately, you can reach a few calanques easily from Marseille by public transportation.
Calanque de Callelongue
If you are looking for a picturesque fishing village, look no further than Callelongue. The Calanque de Callelongue sits south of Marseille, and is recognized as the beginning of the Calanques National Park. Unlike many other calanques, there is no proper beach here – no sand, no pebbles. To get in and out of the sea, you will have to climb the rocks.
From Marseille, you can access Calanque de Callelongue with public transportation. From Castellane in Marseille, take bus 19 – direction 'Madrague de Montredon' and get off at the last stop (Madrague de Montredon). You will have to switch to bus 20 – direction 'Callelongue' and again, get off at the last stop (Callelongue).
Feel free to use Google Maps as they're quite up to date.
Cap Croisette
Equipped with sand, Cap Croisette is one of the few sandy beaches in the area. Accessible by public transportation, car, and boat, this calanque makes for an ideal beach trip from Marseille. If you'll be based in the port of Marseille, take bus 19 – direction 'Madrague de Montredon' from Castellane and get off at the last stop. You'll then have to switch to bus 20 – direction 'Callelongue' and get off at Delabre Pelaprat.
Ratonneau
Ratonneau is one of four islands which make up the Frioul archipelago, and is located 4km from Marseille. The island of Ratonneau is home to a few calanques: Calanque de Saint-Estève, Calanque de Morgiret, and Calanque de Ratonneau. The first two calanques can be accessed by foot once you reach the island. The last, Calanque de Ratonneau, is best accessed by a private boat.
To get to Ratonneau island, take a short 20 minute water shuttle from Marseille port for about 11 euros round-trip. You can purchase tickets online or at the port.
Once you get off the boat at Ratonneau, turn right. You can turn at the first left to reach Calanque de Morgiret. You could also just keep straight and follow the path (or the crowds of people). After walking for several minutes, you will reach the unbelievably blue beach of Calanque de Saint-Estève.
Best ways to explore the Calanques National Park
You can access Marseille, Cassis and la Ciotat by train. Schedule and prices can be found on the SNCF site, where you can also buy your ticket. Any of the cities make for a good base, although Marseille is the largest if you prefer big cities. If you can find lodging options in Cassis, I really recommend this place. It is a small, charming, and quite colorful port town. It's also where many of the French like to vacation. La Ciotat is also a great option for basing yourself, like I did for my calanques visit.
Hike
The best way to visit the different calanques is by hiking, or faire une randonnée in French. I advise you to do a bit of planning beforehand to identify each calanque's hiking levels and paths. Some paths are much more difficult than others. This can be because of a number of reasons: degree of steepness, slippery rocks, dirt versus rocky path, etc.
Boat
In the ports of Marseille, Cassis, or la Ciotat you will find plenty of boats available to take you to the nearby calanques. Boat rides can take anywhere from 45 minutes to a full day. It really depends on your schedule and if you are having a packaged deal. There are even boats that take you from Marseille to Cassis along the Calanques coast.
Since the Calanques National Park can be found in Marseille, Cassis and La Ciotat in the south of France, I would recommend visiting at least one of these beautiful calanques if you visit France's Provence region. If you are anywhere else in the south of France, consider a 1 or 2 day trip to this area as the landscape is one of a kind!
Bisous.
Interested in other hiking opportunities? Here are some recommendations.
Hiking Vidova Gora in Bol, Croatia