La Ciotat is a small, charming seaside town near Marseille in the south of France. It makes a perfect stop on a road trip between Nice and Marseille with its countless hiking trails, calanques and beaches, and breathtaking views of the Mediterranean. Whether you're looking for a relaxing getaway or an active adventure, La Ciotat can meet your needs. Keep reading to discover my top recommendations for things to do in La Ciotat, France.
La Ciotat is vastly underrated, and to some people it is completely unknown. Located about 35 kilometers from Marseille, you've got opportunities to relax on La Ciotat's 7-kilometer coastline of beaches or hike up cliffs which offer some of the most amazing sea views. The highest sea cliff in all of France can be found in La Ciotat at the Falaises Soubeyranes – Cap Canaille, which sits high at 394 meters!
Why else is La Ciotat worth a visit? You're perfectly placed away from the hustle and bustle of city life, making it a great place to go for a relaxing trip. And during the summer months, you are away from the tourists who tend to set their sights on Marseille, Nice and Cannes.
In this article, I will share with you some other interesting facts, the places and landscapes in La Ciotat that you just can't miss out on!
Things to do in La Ciotat
Old Port
The port in La Ciotat is one of the busiest, yet cutest ports I've visited in France. Why's it so busy?
This town has direct access to the Mediterranean Sea and is not far from the infamous French Riviera. Because of its strategic location, La Ciotat's port has become one of the most important pleasure harbors on the continent. The port has the largest mega-yacht elevator and yacht maintenance port in all of Europe.
The old port is also where you will find some of the best restaurants in La Ciotat. While many restaurants serve a variety of dishes, I recommend trying a seafood dish. The restaurants have a very special way of cooking them, which is the regional Provençal way. A very common seafood dish which originates from this region is the Bouillabaisse, a type of fish stew. And on Sundays, there is a lively market running all day serving you any and everything from fresh breads, pastries, cheeses and meats to souvenir trinkets, beach necessities, and antiquities.
Eden Theater
La Ciotat is home to the world's oldest cinema, Eden Theatre. This theatre is where the famous Lumière brothers screened one of the first ever moving pictures, which happened to also be filmed in La Ciotat.
Eden Theatre was built in 1889, initially for theatrical and musical performances. It wasn't until ten years later in 1899 that the Eden Theatre officially charged guests to watch films. The theatre went through a bit of restoration just a few years ago (2013), and they were able to restore it following the same design from 1889. Today, Eden Theatre remains open and operating as a movie theater.
Cap Canaille
In addition to having a port and an old town that sits at the edge of the sea, La Ciotat is surrounded by lush green cliffs. It makes for the perfect environment for a light hiking trip.
If hiking is an activity that you enjoy, then the topo rando Cap Canaille is perfect. You can spend a few hours getting your heart pumping by going on some of the most scenic hikes in the area! This hiking level is intermediate and can take up about half a day if you do the full tour. If you don't have a half day to spend on this hike, you can pick and choose which places you want to visit. You'll still get to enjoy what Ciotat has to offer!
Check out this detailed guide on how to complete the Cap Canaille hike.
Parc du Mugel
Parc du Mugel is a seaside park and garden just a few steps from Ciotat port. 15 minutes, to be exact. There is no fee to enter. Its green landscape and variety of plants make it a great place to walk through.
If you're visiting in the summer, bring your swimsuit and towel. You will find the Calanque du Grand Mugel near the park's entrance. The calanque has a pebbled beach so if your feet can't handle the stones, bring flip flops or swimming shoes.
Les Calanques des Figuerolles
This beautiful calanque is located just 15 minutes by foot from La Ciotat port and Parc du Mugel. The Calanques des Figuerolles is also accessible by boat as seen in the photo below. The beach at Calanques des Figuerolles offers you a bit of seclusion if you're looking to spend a few hours relaxing.
There is a restaurant on site if you forget to bring drinks or food. As the calanques are part of the national park, there is no entry fee to this or any other beach.
You might also like: Visit the Calanques National Park near Marseille, Cassis and la Ciotat
Ile Verte
Île Verte is a small, uninhabited island right off the coast of La Ciotat. Île Verte is part of the Calanques National Park, making it home to several awe-inspiring calanques and beaches. Like the Calanque du Grand Mugel, most of the beaches on Île Verte are made of pebbles. There is one sandy beach, though, and you'll find it at Seynerolles! Although there is one restaurant on the island, Restaurant de L'Île Verte, don't forget to bring water and snacks.
From the old port in La Ciotat, you will find the boats which shuttle back and forth to the island. The journey takes 10-15 minutes so it's not far at all! In July and August, the boats depart every hour and run from 9am to 7pm. For the months of May to June and September to October, the boats run from about 10am to 5pm. The price of a return ticket is 13euros for an adult and 8euros for children under 10 years of age. Check out this website for timetables.
Notre Dame de la Garde
If you're the type of person who seeks overlooking views, than visiting Notre Dame de la Garde in La Ciotat is for you!
Whether you're starting your day here or continuing on your Ciotat tour from Parc du Migel or les Calanques des Figuerolles, you will not be disappointed with your visit to this church on the hill! You can just input Notre Dame de la Garde in your GPS and you'll find that it's a pleasant (and uphill!) walk through the residential neighborhoods of Ciotat.
Notre Dame de la Garde sits on the edge of the hill and let me tell you. The views are incredible! It seems to be a place the locals come to enjoy lunch, or have a catch up session with friends. The walk up is a bit steep but short. Trust me, the views are totally worth it!
Le Sémaphore du Bec de l'Aigle
Are you obsessed with panoramic views like I am?! There are few places in La Ciotat that offer a jaw dropping panoramic view as like le Sémaphore du Bec de l'Aigle. And yep, it's much, much higher than the Notre Dame de la Garde.
Le Sémaphore is accessible by car. However, a popular method of reaching up here is by hiking, which is what we decided to do. The first part of the hike is super steep. If you have some, hiking sticks (or trekking poles) can be very helpful. Once you get past the steep up, the path continues uphill but is relatively flat and accessible.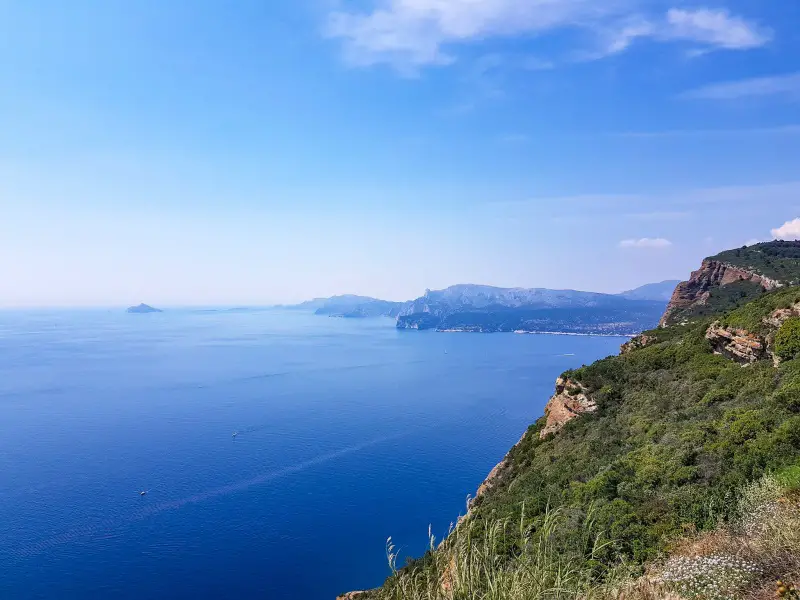 Route des Cretes between La Ciotat and Cassis
If you get the chance to drive a car in la Ciotat, then I highly recommend going on a drive from la Ciotat to Cassis taking the scenic route. This road is called Route des Cretes. It is probably one of the most scenic drives you'll ever go on!
To maximize your driving experience on the Route des Cretes, here are some things to keep in mind:
The road is big enough for two cars, but it is narrow! You'll have to be mindful when a car is approaching. Pay attention!
You are sharing the road with bikers. I am referring to both motorbikes and bicycles. There is a lot of uphill and downhill on the route so drive safely when trying to pass bikers.
As a driver, it's impossible to enjoy the view since your eyes are on the road. Luckily, there are several rest stops along the Route des Cretes so you can stop, get out of the car and enjoy the views!
How to get to La Ciotat
La Ciotat is located along the Mediterranean coast in the Provence-Alpes-Côte d'Azur region in southern France. It is surrounded by the towns of Marseille, Cassis, Aix-en-Provence, and Toulon. If you're spending a few days anywhere in the south of France, than it's worth a visit here even if just for a day.
By car
If you don't have a car, car rental locations are available. Keep reading to see how long it takes to reach la Ciotat by car from the surrounding towns in the south of France.
Driving from Marseille to La Ciotat takes an estimated 40 minutes.
It takes 30 minutes to go from Toulon to La Ciotat.
If you're coming from Aix-en-Provence, the drive to La Ciotat will take you 1 hour.
Going from Nice to La Ciotat by car will take you about 2 hours.
Getting to La Ciotat by train
When they are not on strike, the French rail SNCF is the perfect way to get from city to city. The train station in La Ciotat is Gare de la Ciotat.
Marseille to la Ciotat by train takes 25 minutes. The ticket price is 7.60€.
Getting from Toulon to la Ciotat will take 25 minutes and cost you 7€.
Aix-en-Provence has several train stations.

The "Aix-en-Provence Centre" station will take you to la Ciotat in 1.5-2 hours and will cost you between 14-18€.
The "Aix-en-Provence TGV" station, which is located outside the city center, will take you 1 hour to reach la Ciotat and cost you between 10-12€.

Going from Nice Ville to la Ciotat will take you 2.5 hours by train. The ticket price starts at 30€.
By plane
To get to la Ciotat by plane, the most convenient international and domestic airport is in Marseille: Marseille Provence Airport (MRS). Car rental is available at the airport.
Where to stay in La Ciotat
In my opinion and based on my personal experience, the best place to stay in La Ciotat is in the old town close to the port. Real estate is a bit high in La Ciotat so if possible, book your accommodation as far in advance as you can.
If there is no accommodation available in La Ciotat, check out some options in Cassis. Cassis is about a 20-25 minute drive from Ciotat through the famous Route des Cretes. The old town and port of Cassis is just as extraordinary as La Ciotat's, so you won't be disappointed!
La Ciotat, France is often overlooked for the international cities of Marseille and Nice, but I hope that this article has enticed you to consider a visit to this historical port town!
Disclosure: This post contains affiliate link(s). An affiliate link means I may receive a commission or referral fees if you click through and make a purchase through my link, at no additional cost to you.