Whether you have a few hours, one day, or several days on Mljet island, you'll certainly discover that this Croatian National Park has something for everyone. In this article, I share things to do in Mljet National Park, when to visit, where to stay, and how to get to Mljet.
In this article, I especially want to give you the scoop on the several scenic activities you can do in Mljet National Park, such as hiking to Montokuc to get extraordinary views of the Mljet and the sea. Despite the island attracting hundreds of thousands of visitors every year, I've also managed to discover an off-the-beaten path activity to get you away from the crowds. And I am so happy to share it with you!
Keep reading to find out what it is!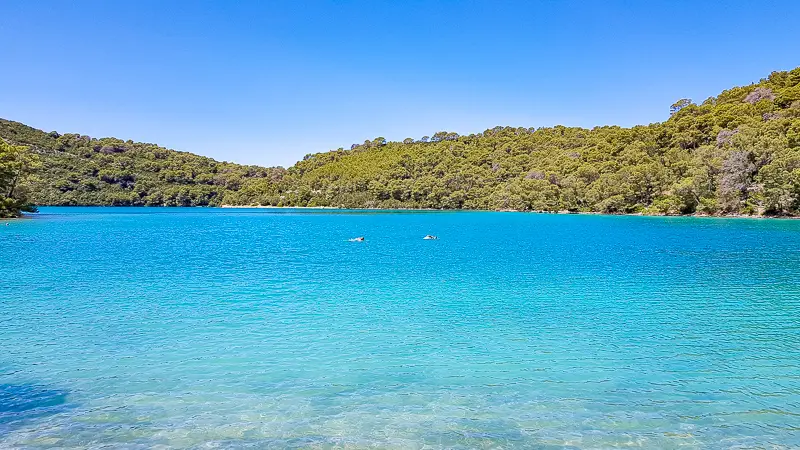 Mljet National Park general information
Mljet is one of the most beautiful islands in Croatia. Why? Well, the island is home to Mljet National Park, a serene and scenic landscape which contrasts that of the nearby, bustling city of Dubrovnik.
This national park takes up the northwestern region of the island. Mljet is located in the Dalmatia region of Croatia, and it's the most southern and eastern of these islands.
Mljet National Park was established in 1960, becoming Croatia's first protected marine area. Though Croatia is home to several national parks, Mljet is unique and definitely worth a visit.
Official Language: Croatian; English is widely spoken
Currency: Croatian Kuna (latest exchange rates)
Opening hours: Open all year round
During peak season (June-Sept): 8am to 8pm.
For off peak season, visitors must first make prior arrangements. Latest schedule and contact information can be found here.
Entry fees: 125KN during high season. 70KN during low season. Latest price list can be found here.
Dubrovnik is the largest city closest to Mljet. In fact, Dubrovnik is so close that you can visit Mljet National Park on a day trip. 
What Mljet National Park is known for
Mljet is considered to be the greenest island of all the Croatian islands, therefore, making it one of the most beautiful. It is covered by untouched green forests, clear bodies of water, and an unspoiled ecosystem under the sea. 
Mljet island is popular for their 2 saltwater lakes: Veliko Jezero (large lake) and Malo Jezero (small lake). Imagine these bodies of water so pristine, crystal clear blue in the morning and a beautiful emerald green in the evening!
Activities such as swimming, kayaking, cycling, and hiking are available in and around the two lakes.
In the summer, the vast majority of tourists spend their time at the lakes. This literally leaves the hiking trails in Mljet National Park empty.
If you're looking for an off the beaten track activity in Mljet, then hiking is the way to go with virtually NO ONE on the trails!
Though thousands of visitors come to Mljet National Park every year, the natural park remains relatively unspoiled by tourism. This is largely in thanks to both the locals and tourists respecting nature and ensuring a clean space.
How to get to Mljet
The only way to get to Mljet is by boat. The island has 3 ports in:
To access Mljet National Park, the best ports to arrive in are Polače and Pomena.
The most common routes to and from Mljet are:
Catamaran line from Dubrovnik
Catamaran line Split-Brač-Hvar-Korčula-Mljet-Dubrovnik
From Dubrovnik to Polače (Mljet), the ferry takes 1 hour 40 minutes. The ferry makes 2 stops before arriving in Polače.
On our trip to Mljet, we took G&V Line from Dubrovnik. G&V Line is a ferry operator which makes regular journeys between Dubrovnik and Mljet. G&V visits the ports of Polače and Sobra. 
Kapetan Luka is another ferry operator serving Mljet. It serves the ports of Pomena and Sobra.
If you will be visiting Mlet National Park from Split, Korcula, Brac or Hvar, you'll want to take Kapetan Luka. 
For more ferry options, be sure to check out Croatia Ferries.
Best time to visit Mljet
The best time to visit Mljet National Park is June – September.
During the summer, the weather is dry and hot, with July and August being the hottest months. If you choose to visit Mljet in July or August, be sure to pack sun protection such as sunscreen, a hat, and sunglasses. Don't forget a reusable water bottle!
I recommend visiting Mljet in June or September if you are flexible with travel dates. You will avoid the crowds and, especially, the "yacht week" enthusiasts who appear in July and August.
I went to Mljet in July, and I was a bit overwhelmed by the amount of boats and tourists I came across during my stay.
Fortunately, Mljet National Park is very big and it ended up being super easy to wander away from the crowds and enjoy the island.
If you can only visit Mljet in July, then you can definitely still enjoy the island. The national park is so big that you will always find plenty of relaxing spots without a single person around.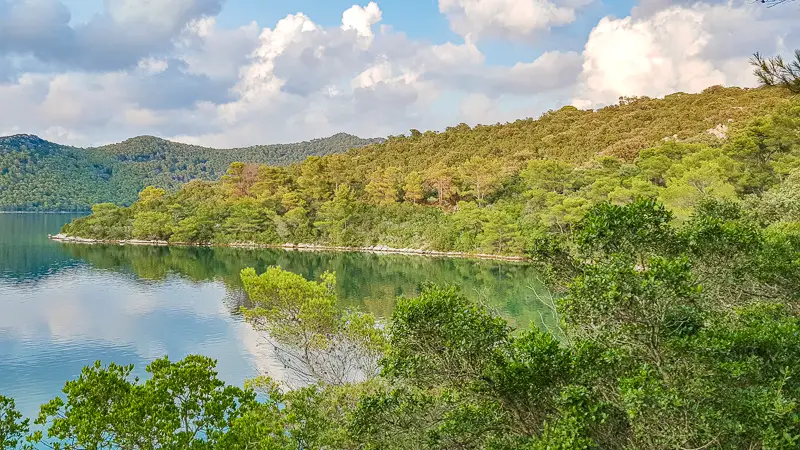 Things to do in Mljet National Park
Hike to Mt. Veliki Gradac and Montokuc
If you can spare about 3 hours, consider going on a hike which takes you to 2 viewpoints: Mt. Veliki Gradac (157 meters) and Montokuc (250 meters).
The best way to hike both peaks is to start by hiking to Mt Veliki Gradac. It involves a steady uphill to reach the 157 meters above sea level.
Starting point: Pristaniste
Time: ~3 hours
Mt. Veliki Gradac start point
The trail leading to Mt Veliki Gradac is a dirt path. It starts off in the forest before transitioning to cliff-side. As you continue to go higher in elevation, the breathtaking view of the lakes will be on your right in plain sight.
The path then becomes more rocky. And at times, it becomes narrow.
When this happens, and if you're scared of heights like I am, then just face away from the edge as you continue on up. I find that during super steep or narrow paths, it helps me to divert my eyes to the ground until it passes.
Once you reach Mt Veliki Gradac, take a moment to take in the incredible view!
Hike from Mt. Veliki Gradac to Montokuc
To continue your hike to Montokuc, keep walking in the direction you were on. Don't turn back!
You will descend downhill on a path made of large stones. Eventually, this path will turn into dirt as you walk into the woods.
From this point to Montokuc, you won't find many written signs guiding you in the right direction. Instead, you will see many red and white trail markers. This lets you know you're on the right path.
The path from Mt Veliki Gradac to Montokuc is quite stable, going uphill and downhill. Again, you'll only need to climb 100 meters between the two peaks.
As you are approaching Montokuc, the dirt path turns a little steep. You will reach Montokuc from the back, meaning the amazing view of the sea will appear in front of you when you reach the top.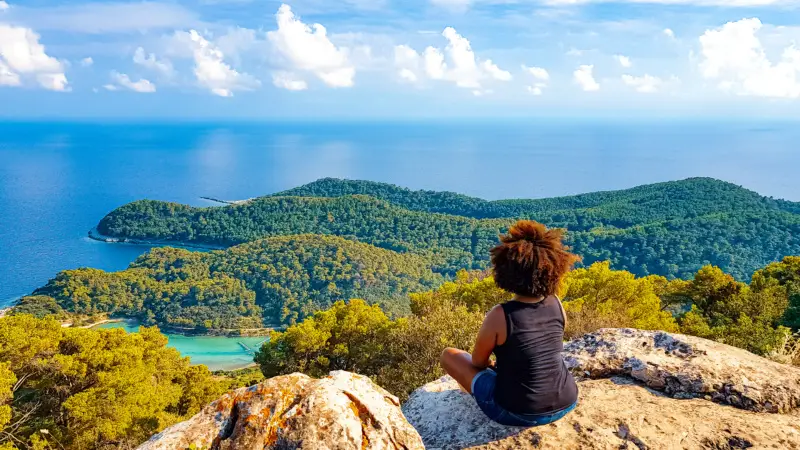 After you've reached Montokuc, the fastest way to descend is not going to be the same path you just used getting up there.
To descend, you'll need to take a steep dirt trail. When you are facing the sea at the peak, this path down will be on your left. It's hard to miss.
In July, there was a national park employee stationed at Montokuc's peak to provide assistance to tourists.
Hike to Montokuc
If you don't have time to visit both viewpoints, you can focus on just one. And if that's the case, my recommendation is to visit Montokuc!
Starting point: Solina
Distance: 3.2km roundtrip
Time: ~1.5 hours
From the main road in Solina, you will see a sign posted on the side of a building, pointing you to go left towards Montokuc (see photo on the left below).
You will need to go up a short flight steps before reaching the start of the trail: a dirt path up through the woods.
After 1km, you will exit the woods and reach a dirt path large enough to fit a car. Turn left, and almost immediately to your right, you will see a blue sign pointing you in the direction of Montokuc with 0.6km left to go (see photo on the right below).
Follow the sign to continue your ascent. Though the hike is less than 2km one way, the path is steep.
To get back down from Montokuc, simply take the same path. It will be a descent of 1.6km.
If you're like me, the descent will be quicker than the hike up!
Interested in hiking in Croatia? Read my article about hiking on Brač Island. 
Bike
Biking through Mljet National Park is one of the best ways to experience the island.
Bike rentals can be found at the Polače and Pomena ports. If you're visiting Mljet on a day trip, you can immediately start exploring at your own pace.
The rental bikes are equipped to handle the park. When you go to pick up your bike, be sure to take the time to try it out and check for any potential issues.
The path in the national park is paved so you can expect a rather smooth ride. There's even a bridge crossing the lake which allows you to transport your bike across too. It's that silver ramp on the steps in the photo below!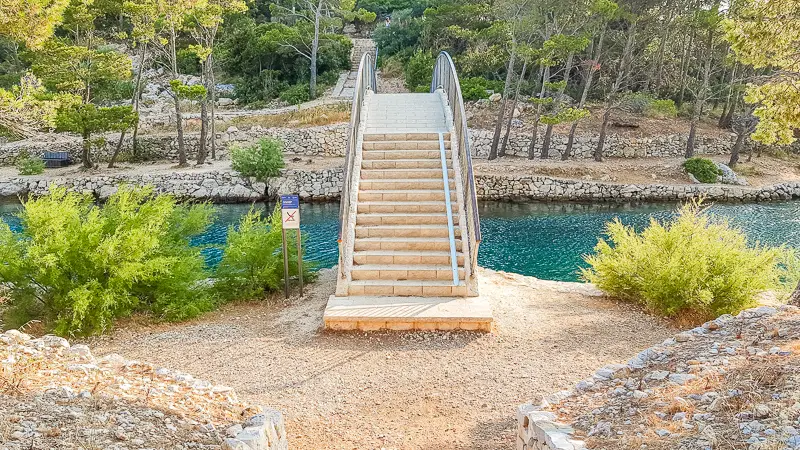 Swim in the saltwater lakes
Mljet National Park is home to 2 of Croatia's beautiful lakes. Taking a dip in these saltwater lakes is the perfect activity in the summer.
Fortunately, the salt levels in the lakes are very manageable. They will not cause you to float, nor will the taste in your mouth be more overwhelming than the ocean.
Do be careful of the hotspots in various parts of the lakes with strong currents. These currents don't happen everywhere.
One place it occurs happens to be a very popular swimming spot for tourists. It is where the small lake meets the large lake. It's popular here because there is plenty of space for you to lay around. There are also public toilets, an ice cream cart, and the kayak rental.
Another place with a strong current is in the big lake, under the big bridge which allows you to cross the lake to the other side. Refer to the photo under Biking for the bridge.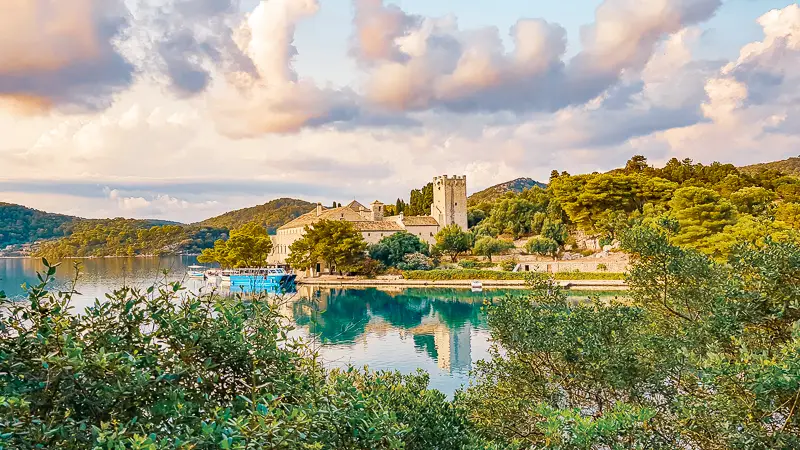 The Church and Benedictine Monastery on St Mary's Island
When you buy your admission ticket into Mljet National Park, it also includes a round-trip boat ride to St Mary's island, home to the island's monastery. 
Each season, the park posts their ferry schedule. You will be able to find the schedule at all places the National Park tickets are sold. In the summer of 2019, for example, there was one ferry per hour.
St. Mary's island is very small. If you wanted, you could definitely do the full visit within an hour and catch the next ferry back!
The Church and Benedictine Monastery is open all year round.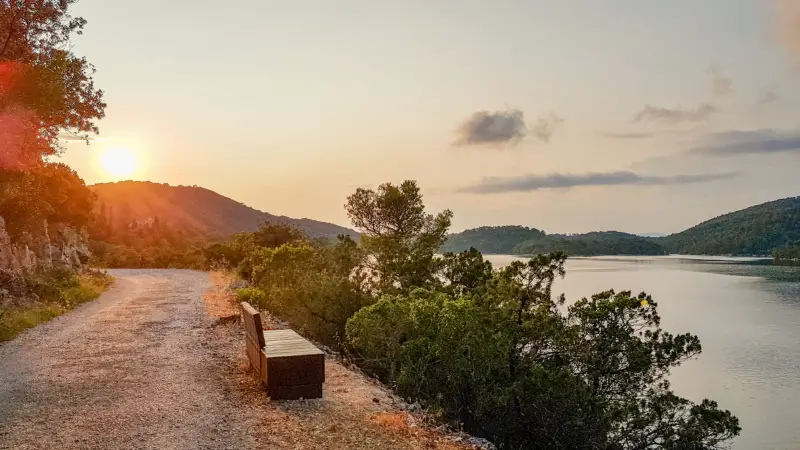 Sunset in Mljet National Park
Though the sunset in Mljet is not as spectacular as it is in Dubrovnik, it certainly should not be missed when visiting the Mljet National Park.
Despite visiting Mljet in July, it felt like we were in the Autumn season. The colors of the leaves were just absolutely glowing with their shades of orange, yellow, and green.
Relax at Hotel Odisej's outdoor lounge
Hotel Odisej is located next to one of the entrances to Mljet National Park. Regardless if you are waiting for your ferry or if you need to grab a bite to eat in the middle of all the swimming, biking, and relaxing you're doing, go over to Hotel Odisej for food and drinks.
To take advantage of the gorgeous weather, there is plenty of outdoor seating.
Hotel Odisej just might be the largest hotel on the island. If you will be staying the night in Mljet, consider Hotel Odisej. More on that below!
Where to stay in Mljet
Hotel Odisej
If you will be staying at least one night in Mljet, then I recommend a stay in Hotel Odisej.
Odisej is located right at the Pomena port. If you arrive in Pomena, the hotel will be right in front of you as you exit the ferry.
If you'll be arriving to Mljet at the Polače port like we did, then you can request a transfer with the hotel. Be sure to make the request at least 3 days in advance. 
The nightly room rate includes a breakfast buffet, entrance to Mljet National Park (how awesome is this!), and access to the hotel's various patios, sun beds, and amenities.
So what did I enjoy most about a stay in Hotel Odisej? The staff.
The behavior of the hotel staff really reflects that of the Croatian people: generous and kind.
What stood out to me about Hotel Odisej was their willingness to accommodate you.
On the day of our checkout, we had to leave our room by 11AM, but our ferry to leave Mljet wasn't until 6PM that evening. This means we had 7 hours to spare! So, during this time, my partner and I wanted to go to the national park and swim in the lake.
Not only did Hotel Odisej offer to hold our bags while we were away, but they offered us a FREE room when we returned from the lake so we could shower and freshen up before getting on the ferry!
I don't know about you, but I believe it is rare to come across this kind of hospitality in many hotels around the world.
Additional accommodations
For additional accommodation options in and around Mljet National Park, click here!
I thoroughly enjoyed my time in Mljet National Park and I hope that with this guide, you can too!
Don't hesitate to
contact me
about this guide or to receive a consult on planning your trip.
Disclosure: This post contains affiliate link(s). An affiliate link means I may receive a commission or referral fees if you click through and make a purchase through my link, at no additional cost to you.