This 2-week road trip itinerary through Provence in the South of France takes you through some of her most beautiful natural landscapes. The itinerary is ideal for travelers who want to visit as many places as possible in Provence. This South of France road trip is also ideal for travelers who enjoy natural, dramatic landscapes.
Provence is one of the most picturesque regions in France. Its small villages and windy, narrow roads through the diverse landscape are what makes Provence such a worthy destination for your dreamy road trip in the south of France. 
Before beginning your road trip, decide from where you want to start. Both Marseille and Nice are home to international airports and train stations that connect to other French cities.
This Provence road trip itinerary begins in Nice. If you'll be starting from Marseille, then you can do this itinerary in reverse.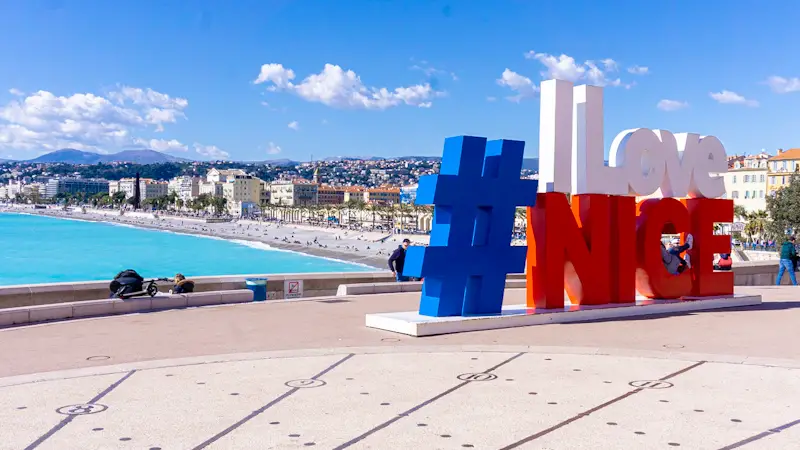 2 Days in Nice
Take it easy on the day you fly into Nice.
Start your day by taking a stroll through the Vieux Nice (the old town). Get lost through the walkways, admire the Provençal architecture, and grab lunch in one of the many highly rated restaurants the Old Town has to offer. Some restaurants I recommend in Nice's Old Town include Chez Mémère, Chez Acchiardo, Peixes, Le Bar des Oiseaux, and Comptoir du Marché.
After lunch, take in some of the most gorgeous panoramic views Nice has to offer like at Parc Honoré d'Estienne d'Orves, Mont Boron, or Castle Hill, which is perfect for sunsets.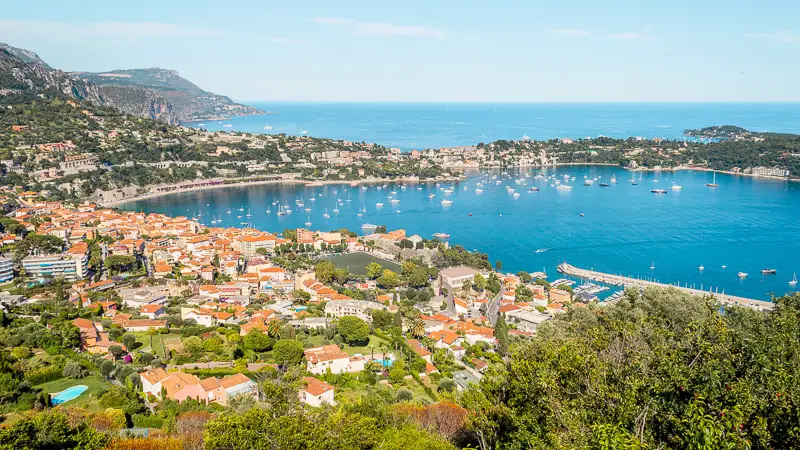 Want to enjoy drinks with a view? Check out my list of Nice's sea view bars and restaurants. You can also find a few happy hour deals at bars located on Cours Saleya.
For day 2, start your day by visiting a café to have the typical French breakfast of coffee, freshly squeezed orange juice, croissant and bread with spreads. If you want something more filling, some brunch spots I recommend in Nice include Maranna, Paper Plane, La Femme du Boulanger, Pôp-ô-thym, and Cafe Fino.
Then consider heading out on an easy day trip from Nice using public transportation by visiting Antibes, Grasse, Eze, or even Ventimiglia or San Remo in Italy! You can also enjoy a scenic walk to Villefranche-sur-Mer.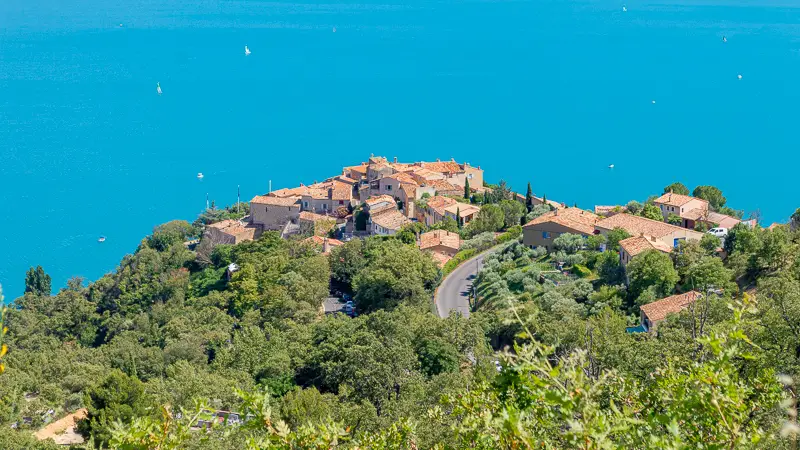 2 Days in Verdon Natural Regional Park 
Distance from Nice: 150km (~3 hours)
To kick off your road trip, pick up your rental car in Nice and drive over to Verdon Regional Natural Park.
Verdon is one of the most visited areas in the South of France. This region is home to the incredibly turquoise Saint Croix Lake and the dominating heights of the Verdon Gorge, the largest canyon in Europe!
Verdon is also home to Valensole, famed for the lavender and sunflower fields which mesmerize visitors every summer.
Honestly, I dare you to find a reason not to visit Verdon!
Driving route from Nice to Verdon
For one of the most scenic drives ever, drive from Nice to Verdon via the Gorges du Verdon. This route is not for the faint hearted, but it is worth it! I mean, just look at the photo below.
I recommend stopping at the following viewpoints along the way:
Balcon de la Mescla
43°43'51.6″N 6°21'24.2″E
Point de vue
Cirque de Vaumale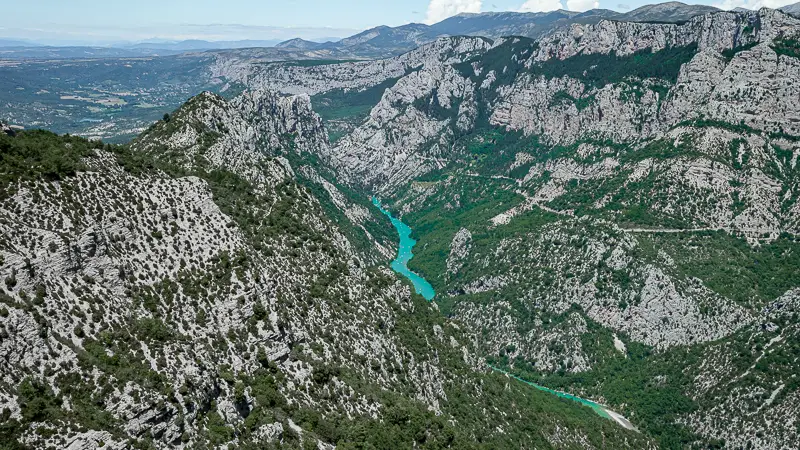 What to do in Verdon
Consider spending one day at the Gorges du Verdon and Saint Croix Lake to sunbath, swim, paddle boat, and/or hike. I recommend visiting the tourism office's website for a list of activities you can do in and around the canyon.
Spend a half day in Moustiers-Sainte-Marie, said to be one of the most beautiful villages in all of France. Walk through the village, visit shops and restaurants, and take in the incredible views as you climb up the steps alongside the town's mountain to Chapelle Notre-Dame de Beauvoir.
If you'll be visiting in late June or early July, you'll want to visit the lavender fields in Valensole.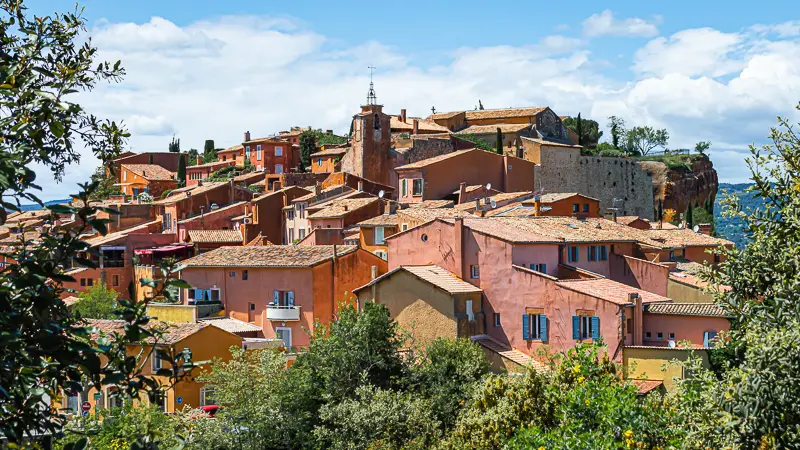 3 Days in the Luberon Region
Distance from Verdon: 120km (~2.5 hours)
What makes Luberon so special is its landscape. Luberon is known for its ochre, a natural clay and sand mixture found in the earth that produces spectacular colors such as yellow, orange, and red.
What to do in Luberon
Spend a half day visiting The Provençal Colorado – a natural landscape with a forest and funky rock formations of yellow, white, orange, and red. It's important to note that there are no water fountains or public toilets available so be sure to bring water and, if needed, snacks. Check out their website to see the cost of entry per vehicle type.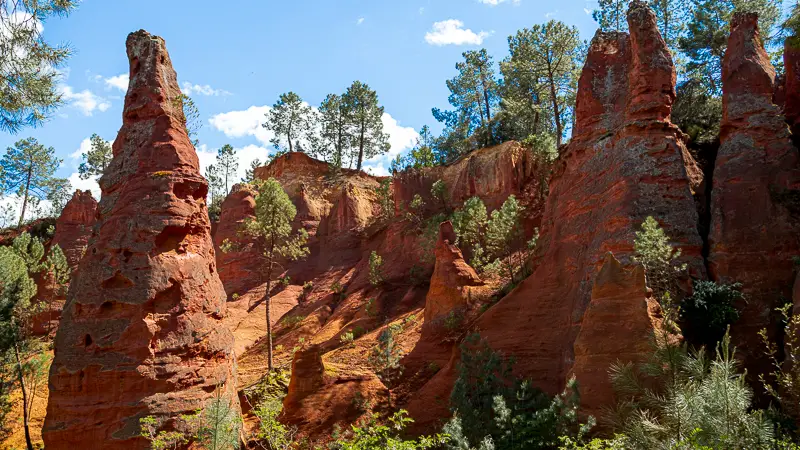 Another place you should visit in Luberon to see how important ochre was to the region is the cute, clifftop village of Roussillon. Roussillon's buildings are covered in red ochre, which greatly contrast the typical Provençal architecture.
Once you've explored Roussillon village, walk over to the entrance of the town's Ochre Trail, Le Sentier des Ocres in French, located in Roussillon. The trail is so mesmerizing with its dramatic cliffs and colorful rock formations; you'll easily spend a couple hours here.
If you have more time to spare, visit the cliffs-integrated village of Gordes – easily one of Luberon's picturesque villages.
Read more about why you shouldn't skip Luberon during your visit to Provence.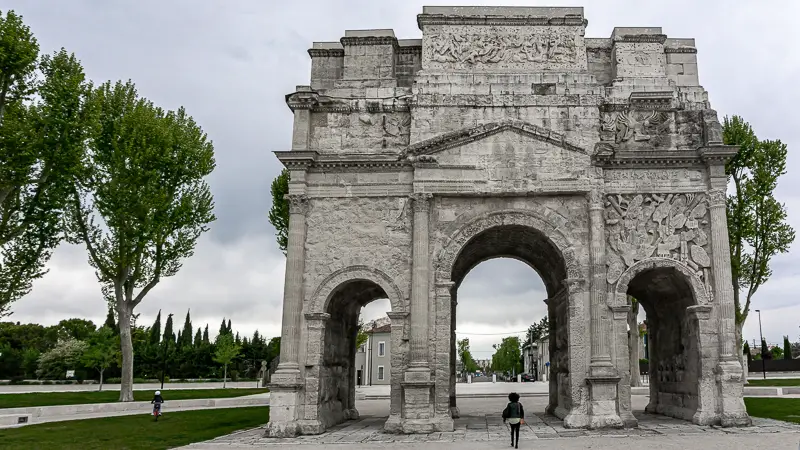 3-4 Days in and around Arles
Distance from Luberon: 100km (~1.5 hours)
Arles holds a lot of cultural and artistic history. It was the Provençal capital of the Roman Empire and it was a city which inspired Vincent Van Gogh. Van Gogh spent time not just in Arles, but also in nearby Saint Rémy de Provence where he created hundreds of art pieces!
I suggest at least 3 to 4 days in Arles because the city is centrally located near two regional parks and other cities, so there's a ton to do.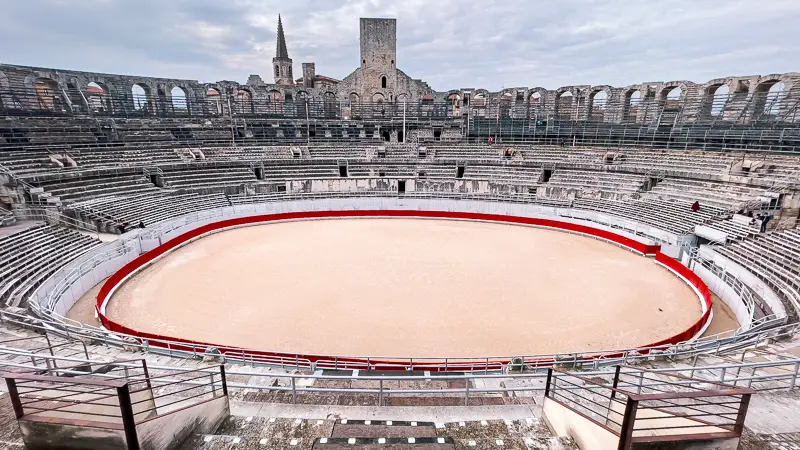 My top recommendations for how to spend your time in and around Arles include:
Half a day to enjoy Arles by visiting the Arles Amphitheatre, the Arles & Provence Antiques Museum, and doing the Van Gogh Walking Tour.
Spend a day exploring the village of Saint Rémy de Provence, the ancient city of Glanum, and the fortified mountaintop village of Les Baux-de-Provence.
Visit the pink salt lakes in Aigues-Mortes.
Explore the city of Nîmes, another place of importance for the Roman Empire, and Pont du Gard.
Visit the former papal palace in Avignon, and the Arc de Triomphe and large theatre in Orange.
1 day in Aix-en-Provence
Distance from Arles: 75km (~1 hour)
No road trip in Provence is complete without a visit to the quant Aix-en-Povence. You can choose to spend either a half day or full day here depending on the pace you want to go. Walk through the village, stop by a few local shops, and enjoy a nice meal on a terrace.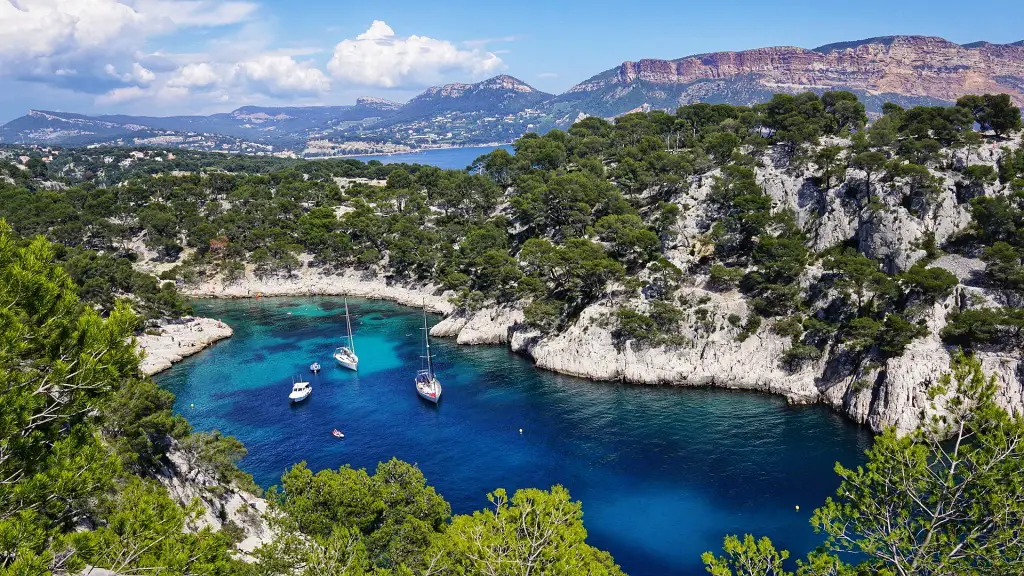 1 Day at Calanques National Park
Distance from Aix-en-Provence: 50km (~1 hour)
The Calanques National Park extends from Marseille through Cassis to La Ciotat. Its beauty is truly unmatched with their limestone cliffs and turquoise waters! The calanques are a must visit if you're travelling through Provence. 
For the best experience, stay the night in Cassis. It is a small Provençal town next to Marseille with colorful buildings, a medieval castle, and home to the Cassis white wine. Cassis is also a fishing village so you'll never run out of seafood dining experiences.
When visiting the calanques, you have the option to hike them, visit by boat, or take a canoe!
If you're up to it, check out the calanques of La Ciotat as well. There are two beaches in particular worth checking out, both within a 15 minute walk from La Ciotat port.
Read more of my recommendations for Calanques National Park.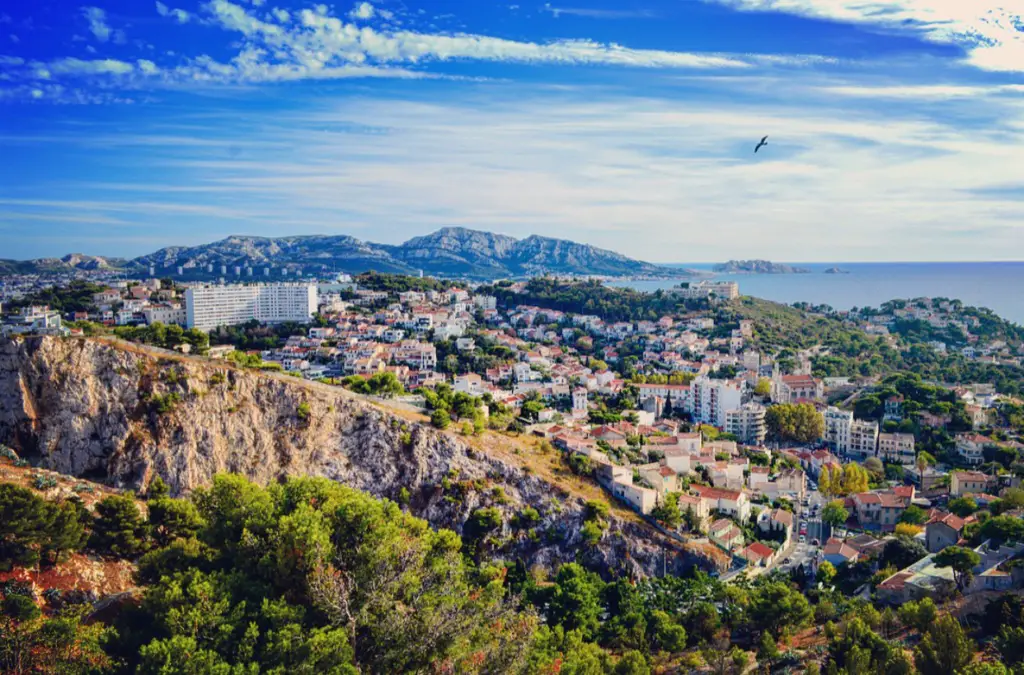 2 Days in Marseille
Distance from Cassis: 35km (less than 1 hour)
Marseille is one of France's largest cities. It's got stunning landscape and architecture, and is a culinary destination. My recommendations of things to do in Marseille include:
Basilique Notre-Dame de la Garde for a 360-degree panoramic view of Marseille
Abbaye Saint-Victor and its crypts 
Museum of European and Mediterranean Civilizations (MUCEM)
Take a 20-minute boat ride to Ratonneau island
I hope you found this article helpful for planning your visit to Provence. Any questions? Feel free to reach out.
Bisous.