As someone who lives in Nice, I'm always excited to share my recommendations for things to do and where to eat with friends, family, and fellow travelers like you. I regularly update posts where I share some of the best sea view and rooftop bars in Nice and the villages you can visit on a day trip from Nice using public transportation, for instance. 
In this article, I'm sharing where you can find the best free panoramas of Nice! This list is perfect for budget travelers, photographers, or simply anyone with an appreciation for views. I recommend that you visit at least one of these places to appreciate the incredible views they offer over Nice.
Parc d'Estienne d'Orves
Bellanda Tower
Castle Hill
Mont Boron
Belvédère du Mont Boron
Cap de Nice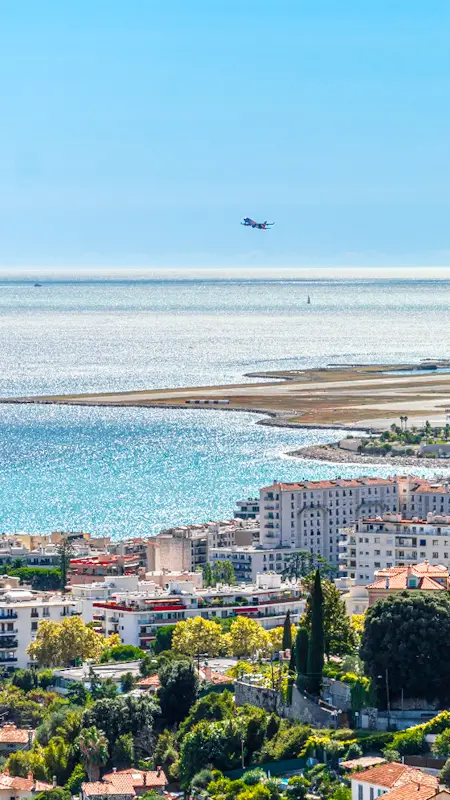 Parc d'Estienne d'Orves
Parc d'Estienne d'Orves is a hilltop park offering incredible panoramic views of Nice. It covers 15 hectares and has more than 500 olive trees! It's not a park frequently visited by tourists and that's one of the reasons why I enjoy coming here. 
The park is located in in Magnan, a residential neighborhood in Nice. It's a few kilometres away from Nice's international airport which means that at certain parts of Parc d'Estienne d'Orves, you have a clear view of planes taking off and landing.
While the park has several trails for walking and jogging, you'll also find there are benches, picnic tables, and plenty of grassy areas allowing you the possibility to have a picnic or just chill out! The park is home to more than 500 olive trees so you are bound to find spots
Parc d'Estienne d'Orves Opening Hours
1 November to 31 March: 9:00 to 18:00 
1 April to 31 October: 9:00 to 19:30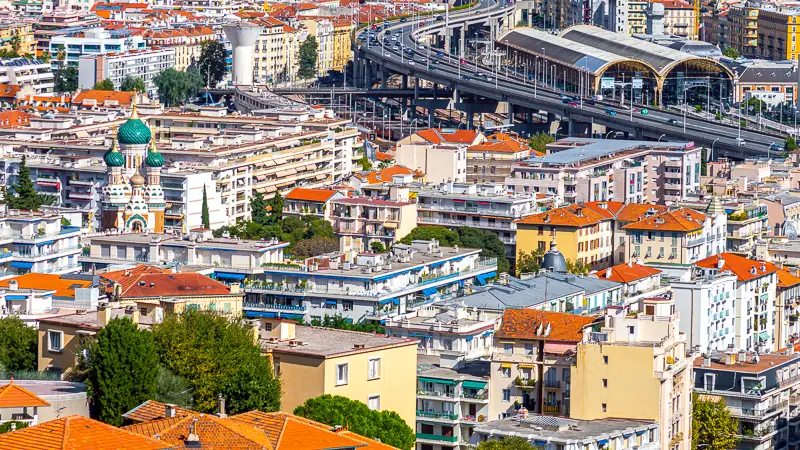 How to get to Park d'Estienne d'Orves
Public transportation
From Nice city center, you can take any one of three tram lines: Line 2: direction Airport, Line 2: direction CADAM, or Line 3: direction Saint Isidore. The stop to get off at is Magnan. 
From the Magnan tram stop, the top of the park is an estimated 30-minute walk. 
Car
It's possible to drive to the park. There is a dedicated parking lot located at the park's entrance. It's not marked on any GPS, but you can find its location here. 
From the parking lot, you will need to walk up to the top of the park which can take about 15 minutes.
Best time to visit Parc d'Estienne d'Orves
In the summer, consider a visit to this park in the early evening. The sun sets really late, so a visit towards closing time not only means that you're dealing with less heat as you walk up, but that you also won't have the sun hovering above the sea which can make taking photographs tough. 
In the winter, visit Parc d'Estienne d'Orves in late afternoon. The winter sunset occurs between 16:00-17:00 which means within just a few hours, you can witness a sunny landscape, the sunset, and dusk.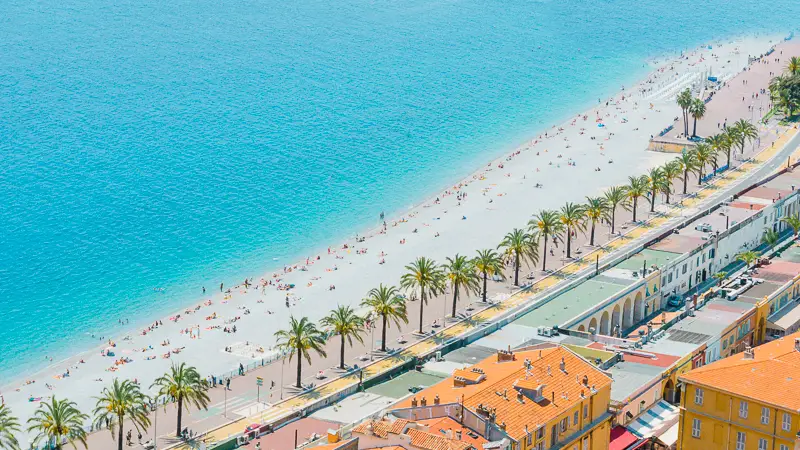 Bellanda Tower
Bellanda Tower is a viewing platform with uninterrupted, breathtaking views of where Nice meets the sea.
The tower sits right on the Promenade des Anglais on the edge of Nice's Old Town. It's located at the base of Castle Hill Park, which is next on this list of best panoramic views in Nice. 
You'll need to leave the palm-tree lined Promenade des Anglais to visit Bellanda Tower – and it's completely worth it. The view as you climb up the stairs to the tower is spectacularly rivieraesque. Each time you gain elevation, the sweeping view of this colorful city keeps you in awe!
How to get to Bellanda Tower
From Nice city center and the old town, you'll have to access Bellanda Tower by foot. Depending on your starting point, the walk can last from a couple minutes to 10-15 minutes. 
All you need to do is follow the Promenade des Anglais east towards the port. You'll reach the entrance to the staircase up to Bellanda Tower just before the street starts to curve around and disappears behind Castle Hill.
From Nice West, you can take tram line 2 or 3 towards Port Lympia. You can get off at one of two stops: Garibaldi / Le Château or Port Lympia. From there, you'll have to go by foot to access Bellanda Tower.
Best time to visit Bellanda Tower
A visit to Bellanda Tower is worth it any time of day, any time of the year. That's because with Nice averaging 300 days of sunshine per year, you'll have a clear view of Nice's sunrises, sunsets, and the beauty of the city in between. 
Castle Hill Park
Castle Hill Park is probably the most visited park in Nice – and rightfully so.
At 93 meters high, Castle Hill Park is sandwiched between Nice's Old Town and the port, and offers spectacular panoramic views of both.
It was historically the site of Nice's château, lasting several centuries before being destroyed in the 1700s. On a visit to Castle Hill, you can discover not only the remains of this historical château, but also a cemetery split into three sections: Jewish, Protestant, and Catholic.
In Castle Hill Park, there are 2 view points I want to highlight: Jardin d'enfant and top of the hill.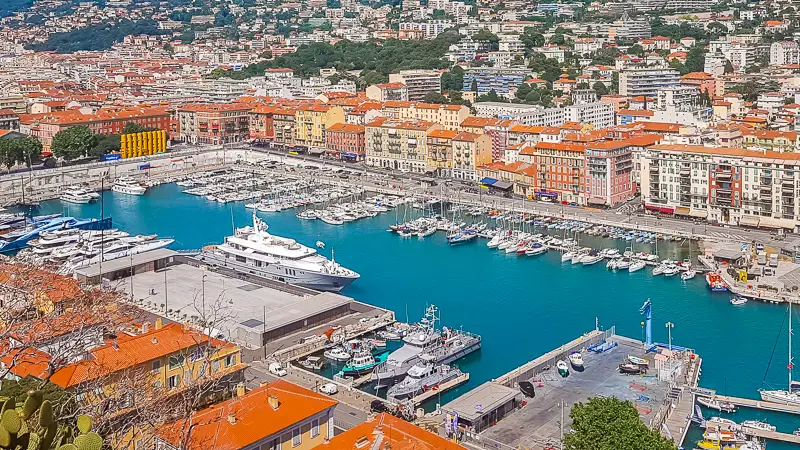 Jardin d'enfant
Jardin d'enfant, or children's playground, is a spot in the park where you can find (you guessed it) a play area for kids. It's here though, where you'll find a really unique view point of Nice's Port Lympia. 
Honestly, I can't think of anywhere else in Nice where you can have such a view of the port!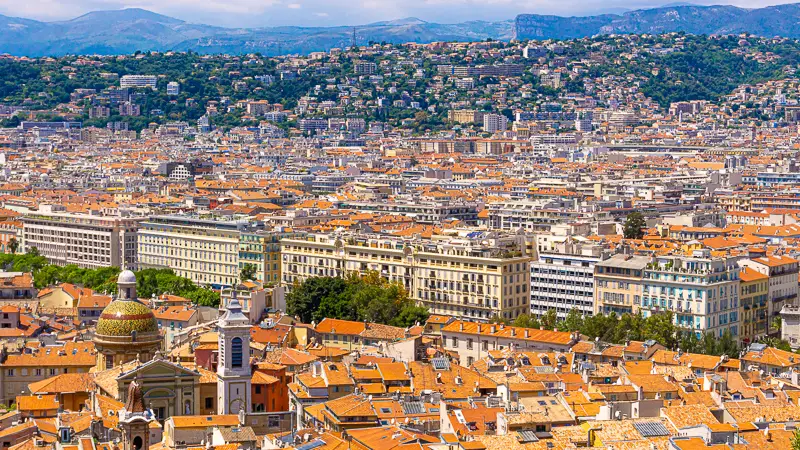 Top of the hill
This view point is not listed on maps, but it's the highest spot in the Parc de la Colline du Château so I have to highlight it! 
From the top of Castle Hill, you've got a beautiful panoramic view of the sea, airport, old town, and neighborhoods located on and around the hillsides.
Castle Hill Park Opening Hours
8:30 to 20:00 all year round
Best time to visit Castle Hill Park
Like Parc d'Estienne d'Orves, a visit to Castle Hill Park is great any time of the year.
On warm days, take advantage of the sun and enjoy a lunch picnic in the park. 
In the summer, take advantage of Nice's long days and warm nights by having an outdoor apéro with a panoramic view. 
During the winter, visit the park in the late afternoon to witness some of the most colorful sunsets the Côte d'Azur has to offer. 
Getting to Castle Hill Park
Castle Hill Park is accessible via several foot paths, an elevator, the Nice tourist train, and by car. 
You can access Castle Hill Park by foot using any of the following paths:
Montée Menica Rondelly
Montée Jules Enaudy
Montée Auguste Kerl
Montée Lesage
If you need to use the elevator to access Castle Hill Park, you can find it at the base of Bellanda Tower next to Hotel Suisse. You can use the elevator free of charge.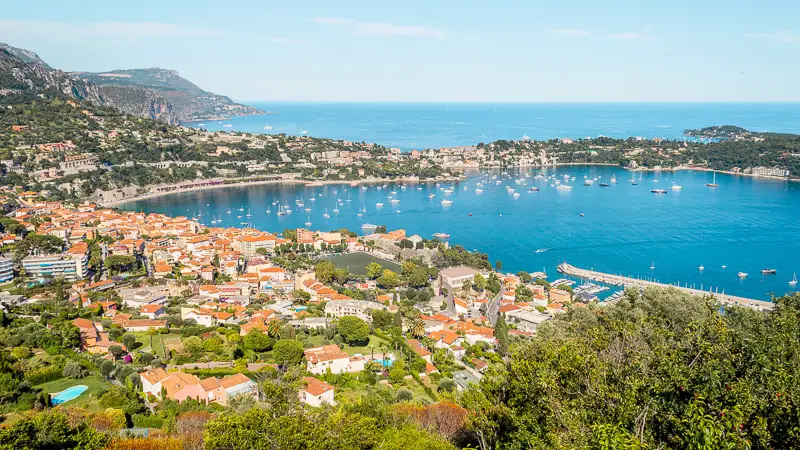 Mont Boron
Mont Boron sits further east and higher up at 191 meters than Castle Hill Park, which means you'll have an even wider panoramic view of Nice compared to the other parks on this list.
Visit the Fort of Mont Alban and you'll be treated to two views: one of Nice and the Alps; the other of Villefranche-sur-Mer, Cap Ferrat, and even further east if the weather permits. 
It's worth noting that while you have amazing views from the Fort of Mont Alban, you cannot enter the fort itself.
Locals love Mont Boron, not just because of the views, but also for its walking trails (all 11 kilometres of it) and massive picnic space. During nice weather, this park comes alive with family and friends enjoying a picnic, playing games, and going on walks. 
How to get to Mont Boron Park
You can access Mont Boron by walking, driving, or taking a bus. 
To take the bus, you'll need to catch bus line 33. The best place to catch the bus is from Port Lympia.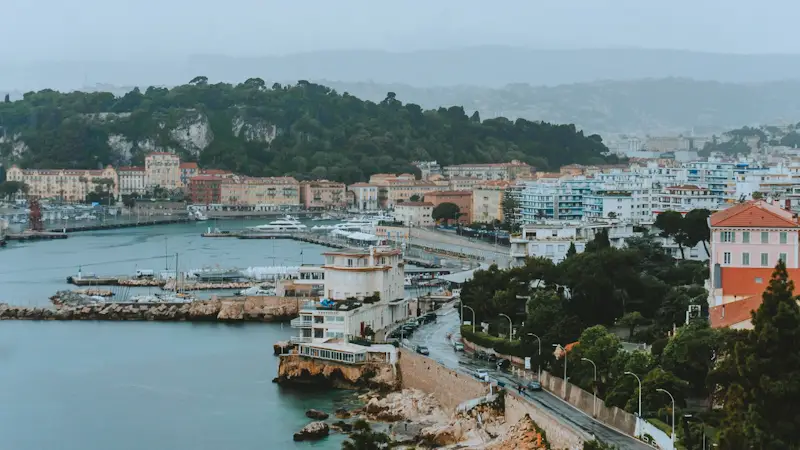 Belvédère du Mont Boron
Belvédère du Mont Boron is not quite located in Mont Boron itself but rather on a coastal path from Nice to Mont Boron. The belvédère offers a view of Nice port and the hilly neighborhoods which sit behind the port.
If you plan to access Mont Boron by foot, then try to take the path that takes you through the belvédère. Otherwise, you can try to squeeze in this view on your way to the absolutely stunning Cap de Nice (keep reading for more on this!).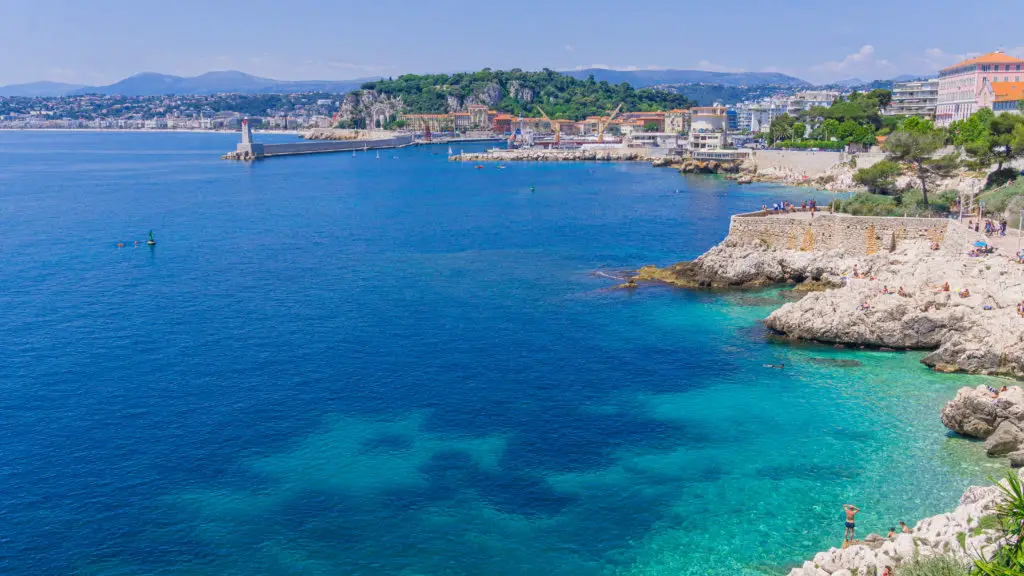 Cap de Nice
Cap de Nice offers sweeping panoramic views like no other place on this list. The cap sits at the easternmost point of Nice and stretches out into the sea. It is the only location on the list that offers you panoramic views of Nice without any elevation gain.
Cap de Nice is mainly sought out by locals. While it's close to Port Lympia, Cap de Nice is just far enough from the old town that many tourists don't want to venture out there.
If you enjoy a stroll and want to see a part of Nice unlike any other, then visit Cap de Nice. Its white jagged cliffs against the deep blue sea are utterly picturesque! Not only is Cap de Nice beautiful, but the path you follow to get there is really special. 
How to get to Cap de Nice
The best way to get to Cap de Nice is by walking using Port Lympia as a starting point. 
If you'll have access to the tram, take tram line 2 or 3 towards Port Lympia and get off at the very last stop. This stop is located right in the heart of the port.
From Port Lympia, head east towards Coco Beach. Your GPS should provide you with walking directions following the coast. Once you've reached Coco Beach, you'll see a staircase going down to Cap de Nice. On maps, this point is identified as Coastal Path, 8 Avenue Jean Lorrain, 06300 Nice, France.
Best time to visit Cap de Nice
Cap de Nice is open all day long and almost year round. The only time Cap de Nice is closed is when there are really strong winds or storms which can make walking along the cap dangerous. 
You can visit Cap de Nice any time of the day, but I strongly recommend visiting for sunrise, if you're a morning person, or sunset. If you are visiting Nice during the summer, it's best to avoid walking at the hottest time of day as you won't have any defense from the sun.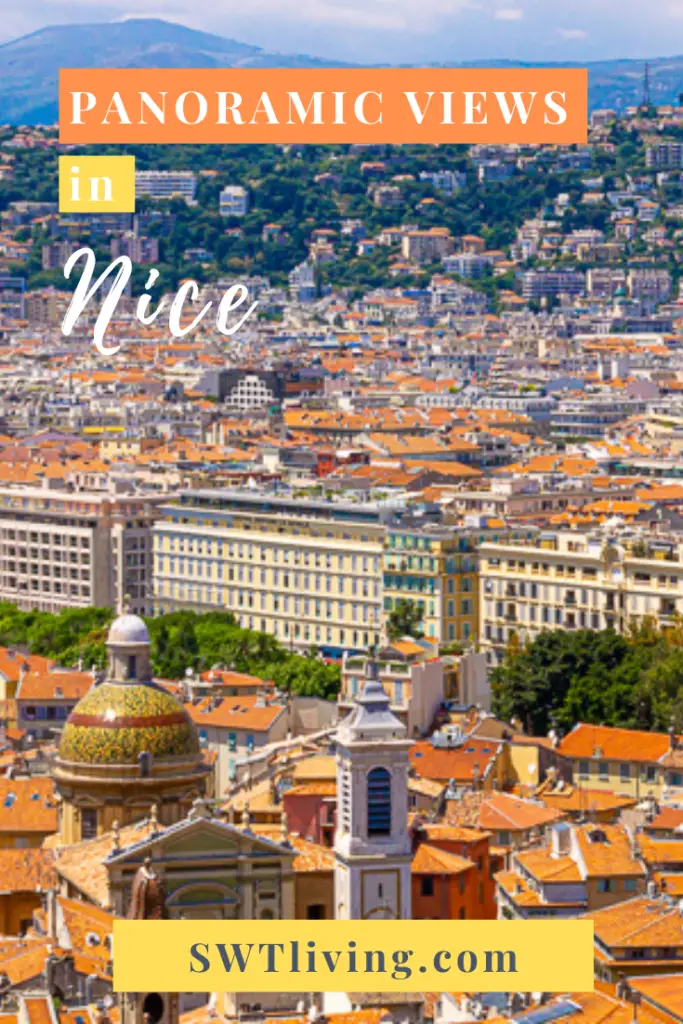 I hope you found this article helpful for planning your visit to Nice!
Bisous.