Alright, so you've just landed on this page and might be thinking "What could possibly make me visit the French Riviera in winter?"
Historically, the Côte d'Azur has been a destination where people flock during the winter to escape their bitter cold reality. That's because day temperatures on the French Riviera rarely reach freezing and so long as the sun is shining, which it does pretty much everyday, the weather will feel warmer than the thermostat reading.
I'm going to keep it real with you. Unless you like swimming in painstakingly cold waters, there's no way you can have your dreamy beach holiday on the Côte d'Azur this time of year.
So why is the south of France your ideal winter getaway? 
The numerous festivals and things to do that are rooted in the local culture.
French Riviera's mild winters, in part thanks to its reputed 300 days of sunshine per year.
Minimal tourists (because this is always a plus).
You can go on a hike to take in stunning panoramic views, enjoy a picnic on the beach, or road trip through the villages of Provence all while forgoing the large crowds and traffic jams the summer months bring.
Keep reading to find out my other recommendations for special events to see and do on the French Riviera during winter!
Christmas markets
When to visit: December 
For many folks, Christmas is not an ideal time to go on a holiday. Fortunately the Christmas markets in the south of France run for a month which means you can still experience the French Riviera's Christmas spirit without sacrificing family time.
Many cities and villages on the French Riviera host a Christmas market. Consider visiting the Christmas market in Nice, Antibes, and Cannes. They're the biggest towns on the Riviera and would have activities for all members of your travel party. You can also access Antibes and Cannes from Nice using public transportation.
Though Monaco is technically not part of the French Riviera, their Christmas market is well worth a visit. Their market sits right on the waterfront not far from the Monte Carlo train station. In my opinion, it's one of the best Christmas markets in the area because the decor is fun, it's child-friendly and offers a variety of dishes from all over France.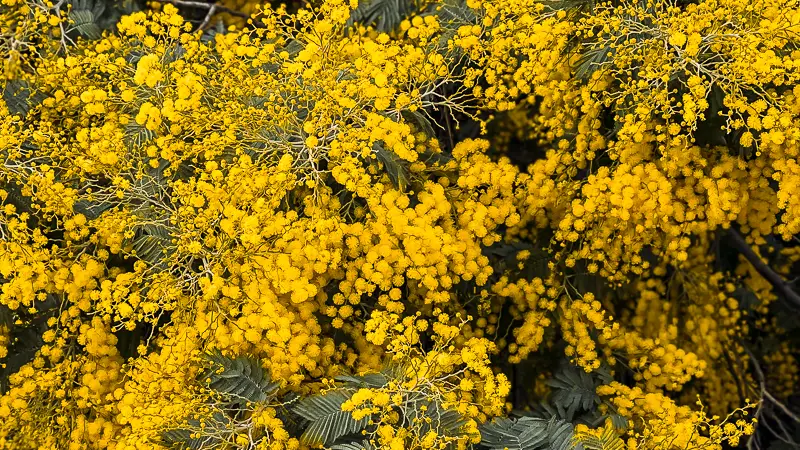 Mimosas in Bloom
When to visit: Late January to March
Mimosas are bright golden flowers resembling tiny cotton balls that bloom once a year on the Côte d'Azur. They begin to bloom in January, but reach full bloom and harvest in February and March, making winter the perfect (and only) time to visit the French Riviera for these beauties.
Mimosas are indigenous to Australia and it's said that they were brought to France a couple of centuries ago by the English who enjoyed visiting the Côte d'Azur in the winter. Since then, they've dominated the coast and come each winter, stretches of these golden flowers line the Mimosa Route – a trail spanning 130km from Bormes-Les-Mimosas to Grasse. 
For the best chances of seeing mimosas in bloom, visit the village of Tanneron. They hold an annual mimosa festival to celebrate the flower.
Tanneron is also home to Massif de Tanneron, the largest mimosa forest in Europe. There are several trails for you to explore this beautiful landscape and picnic tables to enjoy your lunch. The best way to explore the mimosa forest is by parking and starting your walk from Promenades du Tanneron. The trails are dirt paths and mostly flat.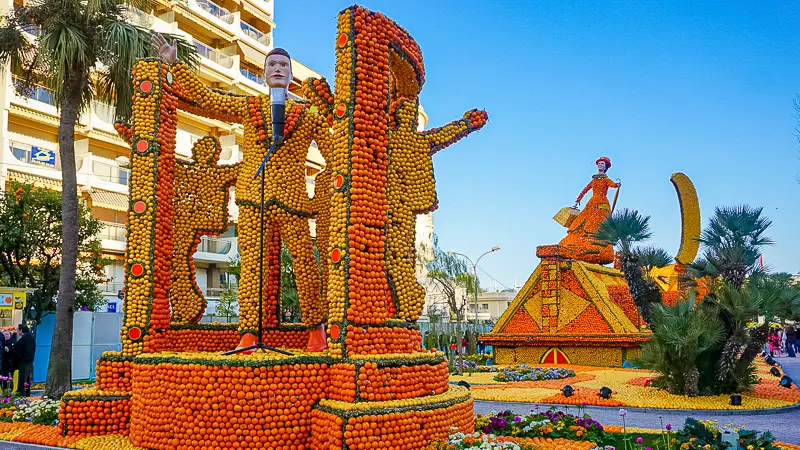 Fête du Citron
When to visit: February – March
Where: Menton
The Lemon Festival, known as the Fête du Citron in French, in Menton is one of various vibrant, colorful festivals held on the French Riviera in winter. 
About a century ago, the lemon festival was created as an effort to increase tourism to Menton. Why lemons? It's fairly simple: Menton was the number one lemon growing region in all of Europe.
Today, the Fête du Citron is held annually in February (and sometimes into March) for 2 weeks. Daily during the two week period, extravagant structures and floats made of lemons and oranges are put on display in Menton's Biovès Gardens. The city also puts on parades, light shows, and fireworks in celebration of the big festival! 
Read more in my in-depth article of the Fête du Citron.
Nice Carnival
When to visit: February – March
Where: Nice
Carnival is an annual religious festival that occurs two weeks before the start of Lent. Depending on the calendar, this means celebrations can occur in February or early March.
It's celebrated all around the world: Brazil, Barbados, Cape Verde, Italy, and New Orleans just to name a few places. On mainland France, Nice is said to be home to one of the major carnivals in the world. It's also believed that Nice might be one of the oldest carnivals in the world with records dating back to the 1200s.
Nice's Carnival consists of large parades taking place day and night. The parades start at the city's famed plaza Place Masséna and the floats, music, flowers, and art take over Nice's city center! At night, the parade transforms to one of lights. The city and floats put on quite a light show, making it a fun spectacle for all ages.
Each year, Nice assigns a theme to the carnival. Some themes over the years have included cinema, animal kingdom, and fashion. Unlike Venice's Carnival, you don't need to wear a mask at Nice Carnival but it is recommended to dress up!
While in Nice, check out my recommendations for best sea view and rooftop bars in Nice.
When to visit: February – March
Where: Villefranche-sur-Mer
Good news – this isn't real combat! The annual naval floral combat, Le Combat Naval Fleuri in French, is a century old tradition where the local town gets to show off their heritage. The event takes place on Lundi Gras, or Shrove Monday – the day before Mardi Gras. 
Many boats take to the Villefranche-sur-Mer bay where fishermen are dressed in traditional attire in boats that are constructed in a Provencal style: long, narrow, and pointy. The event takes place at Port de la Santé and lasts all day with live music, local folklore entertainment, parades, and, of course, the floral combat. During the combat, crowds of people gather on the quays and admire the boats adorned with thousands of multicolored, vibrant flowers such as mimosas, carnations, and others. After all, it is a floral combat so may the boat with the best floral arrangements win!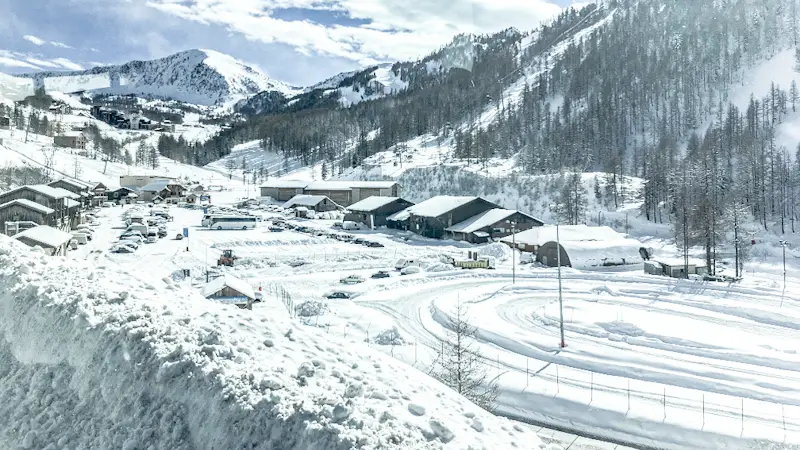 Winter sports
When to visit: February – March
The Côte d'Azur is perfectly nestled between sea and mountain. In the summer, access to the sea provides refuge from the heat. In the winter, the southern Alps await those who like to partake in winter activities like skiing, snowboarding, or relaxing in a chalet next to a fireplace with a hot chocolate in hand. 
Two of the major ski stations near Nice are located in Isola and Auron, part of Mercantour National Park. The stations are accessible in under two hours driving from Nice which makes skiing a great option for a day trip. And if you want to stay the night, both ski stations offer accommodation.
If you don't have a car, don't fret because there is a public bus you can take from Nice to Isola and Auron!
I hope you found this article helpful for planning your visit to the French Riviera during winter.
Bisous.