Situated less than 10 kilometers away from Nice, Villefranche-sur-Mer makes an ideal day trip from Nice. While it is possible to visit Villefranche from Nice by car and public transportation, I'm going to focus on how to walk from Nice to Villefranche-sur-Mer using the scenic, coastal path.
I've lived in Nice for a few years now and I can honestly tell you that the route between Nice and Villefranche-sur-Mer is just absolutely beautiful. Because both cities are situated right on the coast, the path between Nice and Villefranche-sur-Mer offers stunning panoramic views of the Mediterranean Sea. This route is so picturesque, I can't help but make several stops to snap some photos – and I know you won't be able to help it either!
Whether you've got a half day or full day available, walking to Villefranche-sur-Mer is a great way to spend your time.
Distance: 6 kilometers (one way)
Time: 1 hour 30 minutes (one way)
Things to keep in mind before the walk
Pack bottled water for the walk. Use a reusable bottle and fill it up with water from your apartment, hotel, or drinkable water fountains (eau potable) found around the city. For instance, you will find this water fountain during your hike.
If you visit the Côte d'Azur during Summer, I recommend to walk from Nice to Villefranche-sur-Mer early in the morning and or late in the afternoon to avoid the harsh midday sun.
Give yourself enough time on your walk to pause and take some photos.
This path is not suitable for people with mobility difficulties due to the steep, numerous stairs you'll have to climb up and down to access Cap de Nice.
To discover more walking trails in and around Nice, download the AllTrails app. I talk about it in my guide on the best apps to download for travel in Nice.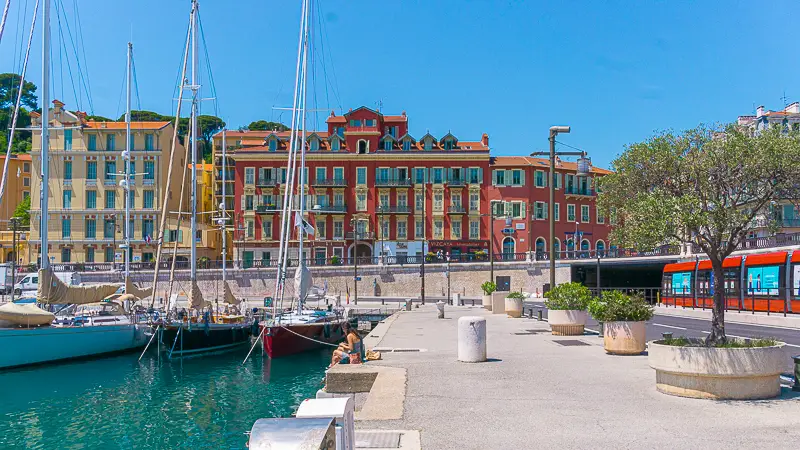 Nice Port: the Starting Point to walk from Nice to Villefranche-sur-Mer
The best starting point to walk from Nice to Villefranche-sur-Mer is Nice Port as it's the closest to Cap de Nice.
If you happen to be staying in a neighborhood further out west, like on the Promenade des Anglais or towards the airport, then you can simply hop on the tram (Ligne 2: direction Port Lympia) and get off at the very last stop. This stop is located right in the heart of the Port and puts you at a great starting point for the coastal walk to Villefranche.
Walk from Nice Port to Cap de Nice
Once you arrive at the Port Lympia tram stop, you'll head east following the port towards Coco Beach (see map above). You'll just follow the path until you reach Boulevard Franck Pilatte, on which you continue your walk. 
Boulevard Franck Pilatte will eventually turn into Avenue Jean Lorrain. Stay on this road. On your right, you'll pass Coco Beach Nice. In about 200 meters on your right, you will find a staircase going down to Cap de Nice. On Google Maps, this point is identified as Coastal Path, 8 Avenue Jean Lorrain, 06300 Nice, France.
Once you get down to the bottom of the stairs, turn right. There should be a sign pointing you towards Cap de Nice or Sentier du Littoral. You'll stay on this path for 550 meters. It's an easy path to follow.
You'll be treated to breathtakingly beautiful white jagged cliffs against a deep blue sea backdrop. As you walk along the path, you should look behind you to make sure you see the insanely wide panoramic view of Nice!
After 550 meters walking along Cap de Nice, you will come across a very high staircase on your left. The staircase is identified with a sign pointing you in the direction of Mont Boron. To continue your coastal walk to Villefranche-sur-Mer from Nice, you will need to take this staircase. Depending on your physical abilities, it can be intense so be sure to pace yourself!
Follow M6098 Until Villefranche-sur-Mer
Once you reach the top of the stairs, turn right and follow the road (which goes a bit uphill) until you reach M6098 / Boulevard Maurice Maeterlinck. This is a major road so you will not miss it!
Please note that Boulevard Maurice Maeterlinck will eventually change to Boulevard Princess Grâce de Monaco. Nonetheless, stay on this road. 
Once you get to M6098, turn right. You will stay entirely on this road until you reach Villefranche-sur-Mer.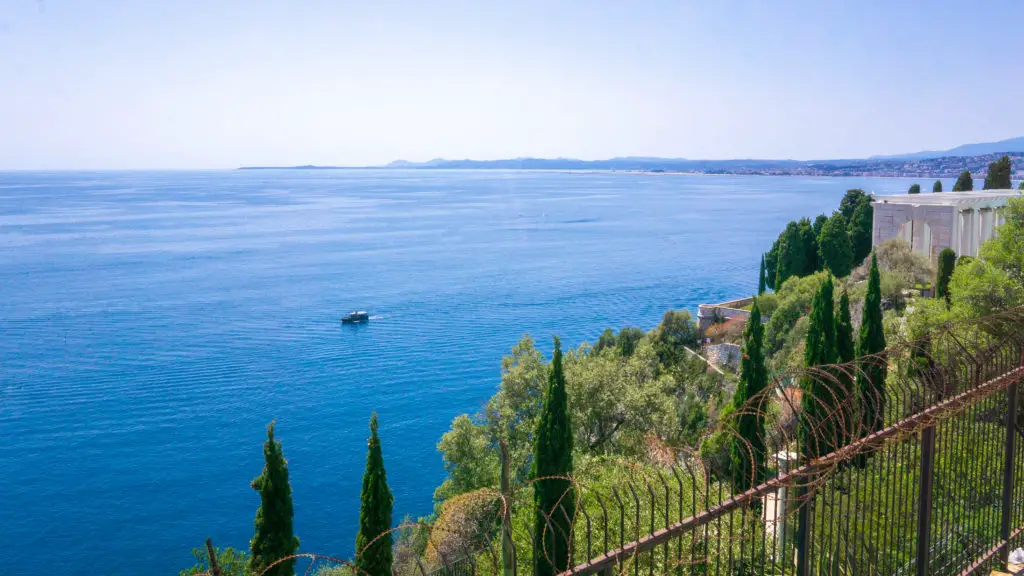 From the point you get onto M6098, the distance to Villefranche's Old Town is about 3.2 kilometers. If you want to go straight to Villefranche-sur-Mer Beach, the distance is 4 kilometers.
The views along M6098 are really remarkable. The boulevard follows along the edge of a cliff which gives you uninterrupted views of the sea and of Nice as you walk to Villefranche-sur-Mer.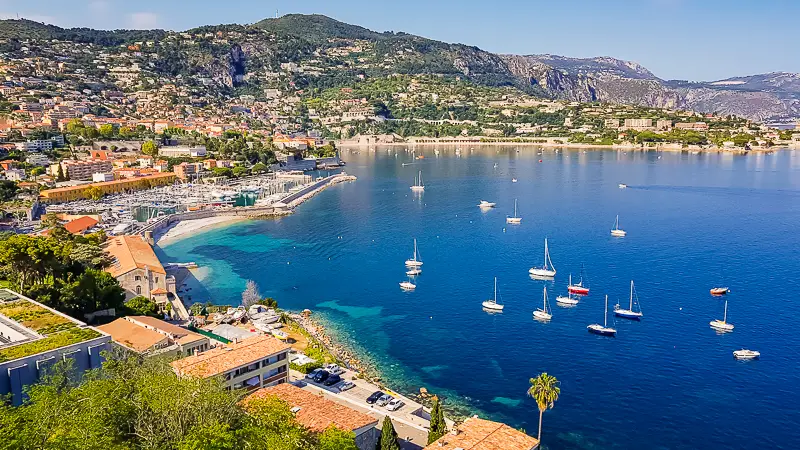 As you approach the port of Villefranche-sur-Mer along M6098, you will pass a memorial statue for Pricess Grâce on your right. Make a quick stop here to take some gorgeous photos of the port and yachts out at sea.
After the statue, you will stay on M6098 for 1 kilometer, then make a slight right onto M225. This turn will be near the Octroi / Libération bus stop. From here, as you walk towards the sea, you have entered Villefranche-sur-Mer and, very soon, the Old Town.
If you wish to continue on to the Villefranche-sur-Mer Beach, just follow the seaside street (M225) until you reach Les Marinières Beach or Plage Villefranche-sur-Mer.
Getting to Nice from Villefranche-sur-Mer
Whenver you're ready to get back to Nice from Villefranche-sur-Mer, you have 3 options: 
Take the train with SNCF
Take the bus
Walk
Walking from Villefranche-sur-Mer to Nice
If you choose to walk back to Nice from Villefranche, just follow the same path you took to get to Villefranche.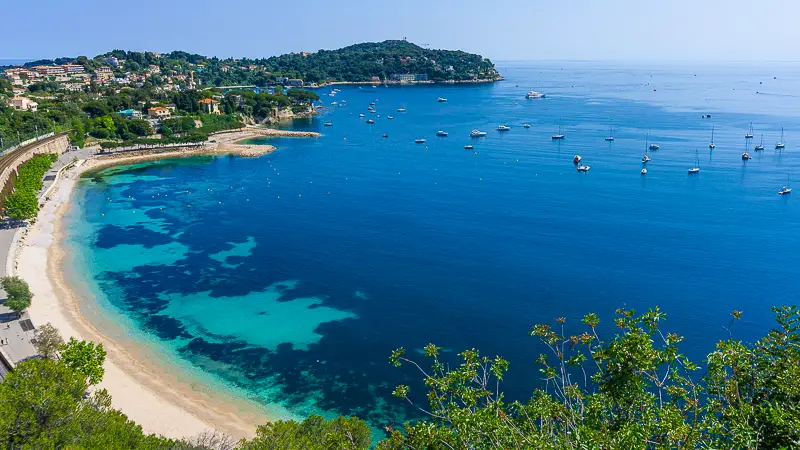 Train from Villefranche-sur-Mer to Nice
A train from Villefranche-sur-Mer to Nice will cost you €1-3 and lasts about 5-15 minutes – depending on which of the 3 train stations in Nice is your destination: Nice Ville, Nice Riquier, and Nice Saint-Augustin (Aéroport). 
Bus from Villefranche-sur-Mer to Nice
To take the bus from Villefranche-sur-Mer to Nice, take the bus line 100: direction Nice.
Your best option is to walk back to M6098 / Boulevard Princess Grâce de Monaco where you can catch bus 100 from three stations: Léopold II, Barmassa, and Octroi. The bus journey lasts about 20 minutes and a one-way ticket costs €1.50.
The last stop on this bus line is Port Lympia in Nice. From the port, you can walk to Nice Old Town or take the tram to your destination.
Bisous.
Disclosure: This post contains affiliate link(s). An affiliate link means I may receive a commission or referral fees if you click through and make a purchase through my link, at no additional cost to you.