If you're looking for inspiration on which sea view and rooftop bars to visit in Nice for incredible views, you've come to the right place.
Nice is one of the largest cities in the French Riviera and so offers endless options for activities, dining and sea views. Nice, though, is unlike many other major cities. You won't find skyscrapers or a crazy, dramatic skyline.
What you will definitely find are the stunning beaches with access to the Mediterranean Sea and a local culture where socializing and a good drink (*ahem* wine) are much appreciated.
Here are my recommendations for the best sea view and rooftop bars in Nice:
Movida
La Terrasse du Plaza
Le Méridien
Radisson Blu
Waka Bar
Le Plongeoir
Cocoon Beach
Plage Beau Rivage
Best Rooftop Bars in Nice
Despite Nice's stunning landscape, this French Riviera city has yet to take advantage of the rooftop bar scene. Nonetheless, there are definitely a few rooftop bars in Nice that offers a beautiful view while wining and dining. It's the perfect environment to enjoy a drink while plane watching surrounded by the sea and mountains.
Le Méridien
For the best sea view bars in Nice, you can't really do much better than the Promenade des Anglais. Le Méridien Nice hotel sits on this famous promenade in one of the most coveted locations on the seafront. You'll be treated with uninterrupted views of the Mediterranean.
The rooftop terrace can be found on the 10th floor of the hotel, giving you an aerialesque view of the sea. Especially busy in the summer, Le Méridien's Lounge Corner is a great place to grab a creative concoction of drinks, and to allow the sea and breeze take your worries away.
It's best if you make a reservation beforehand. Seating is limited and the terrace fills up fast during the summer.
Address: 1 Promenade des Anglais, Nice 06046 France
La Terrasse du Plaza
La Terrasse du Plaza truly offers one of the best panoramic views of Nice. You have the Mediterranean Sea, the Old Town, and the hills and mountains of northern Nice completely surrounding you.
Found on the rooftop of the Hotel Plaza, this rooftop bar is just steps from Place Massena and the pedestrian zone on Rue de France. In the summer, La Terrasse du Plaza gets crazy busy because of all the parties they host on their rooftop.
Address: 12 Avenue de Verdun, 06000 Nice
Radisson Blu
The Radisson Blu Hotel is located on the west side of Nice, about a 10 minute tram ride from Avenue Jean Médecin in the city center. Like Le Méridien, Radisson Blu sits on the Promenade des Anglais which means there are no buildings standing between you and the sea.
Radisson Blu's rooftop has a pool, bar and restaurant. The restaurant, located on the other end of the rooftop, has indoor and outdoor seating. Outdoor seating is available with couches, making for a relaxed setting to eat and enjoy yourself.
Address: 223 Promenade des Anglais, Nice 06200 France
Visiting Nice? Consider a visit to Monte Carlo, Monaco!
Beach clubs in Nice
When it comes to finding some of the best sea views in Nice, you can't really get much better than the beach clubs which dot along the coastline. While most of the beach clubs are only open in the summer, there are a few which remain open throughout the year.
During summer, you can choose to rent a sun bed if all you want to do is lounge. Otherwise, you can visit their bar or restaurant to enjoy lunch, dinner, or an aperitif.
Some beach clubs worth visiting in the summer are Cocoon Beach, Plage Beau Rivage, and Castel.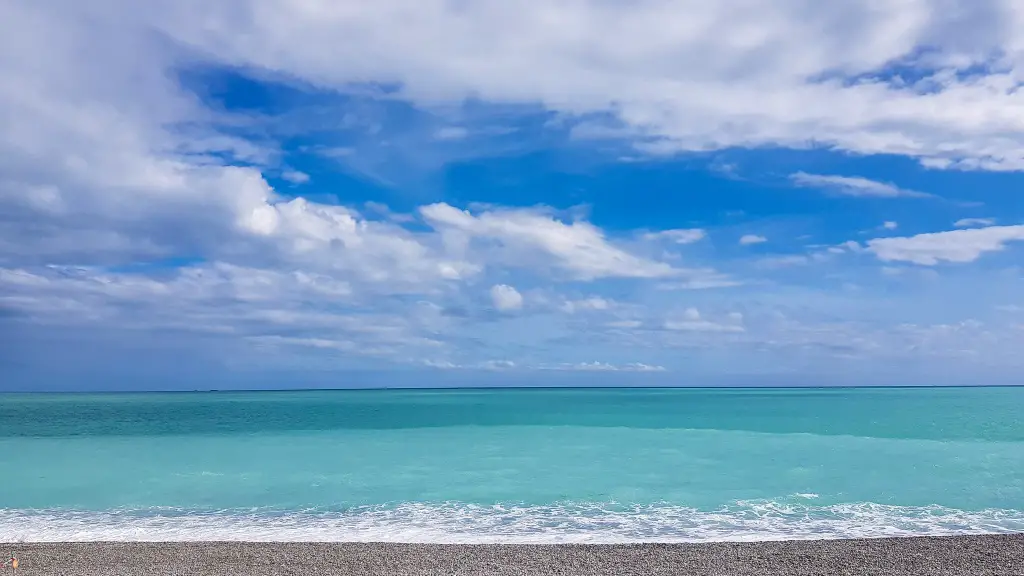 Public beaches
Okay so the public beach is not a beach club, but it definitely is the locals' favorite sea view bar in Nice. Day or night, no matter the season, the public beach is open to everyone. I encourage you to have an impromptu picnic on the beach with food, drinks and your favorite form of entertainment.
Seafront bars in Nice
During the summer, the numerous beach clubs found on Nice's pebbled beaches are open both day and night. Seaside bars though, unlike Nice's beach clubs, are open all year round.
Since there aren't many tall buildings in Nice, most of the best sea view bars can be found along both the Promenade des Anglais, where only palm trees and the city's main road stand between you and the sea, and the port, where you could admire the yachts.
Le Plongeoir
Le Plongeoir in Nice offers views unlike any of the bars I've mentioned in this article. This restaurant and bar is tucked away from the usual hot spots like Old Town and the Promenade des Anglais. In fact, you'll have to venture out east past Nice's port.
To come to Le Plongeoir is to come for a different view of the Mediterranean Sea. It's a view not set against Old Town, but one with seclusion and a glimpse of a few cliff side homes. Few people come to this side of Nice, which makes for a good escape from the summer crowds.
Le Plongeoir is the most expensive bar and restaurant on this list, but then again, its view is unmatched.
Address: 60 Boulevard Franck Pilatte, 06300 Nice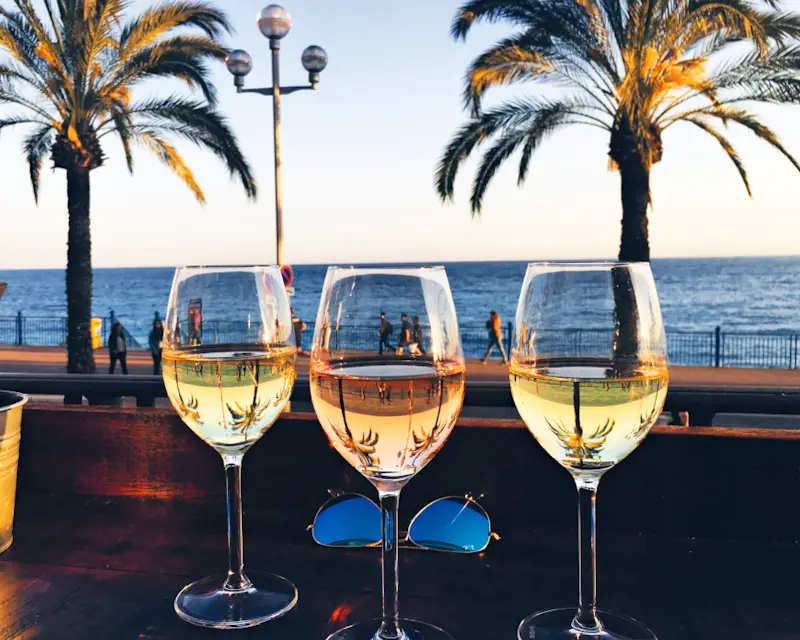 Movida
This tapas bar and restaurant is one of my favorite local spots. If you are looking for a gorgeous sea view, good music, French-inspired tasty tapas, and a collection of wine and cocktails then you should visit Movida.
Although Movida is open all day, the best time to visit for the view is during sunset. Movida is a highly sought out bar for sunsets so I really recommend you get there early to grab a seat on the upstairs terrace. When day turns into night, the music becomes more hype so as to liven the mood for both socializing and dancing. You can expect to hear pop, hip hop, electro, and reggaeton.
You will find Movida at the very eastern end of the Promenade des Anglais, near the entrance of the Parc de la Colline du Château.
Address: 37-39 Quai des États-Unis, 06300 Nice
Waka Bar
Waka Bar is an Australian bar which has captured the hearts of some locals. Situated near Movida, Waka Bar sits on the Promenade des Anglais where the Old Nice meets the Mediterranean Sea.
During the day, Waka Bar is a great place to grab a few drinks and a bite to eat while enjoying the sun kiss your skin. But at night? This laid back bar instantly transforms to a party! They play all the current and classics in hip hop, reggae, reggaeton, and pop. It's so good that you'll find many locals here drinking the reasonably-priced cocktails (in Nice, this is important!) and dancing the night away.
Address: 57 Quai des États-Unis, 06300 Nice