Luberon is an off-the-beaten path destination in an otherwise touristic region in France. Located in Provence, Luberon makes for an ideal short stay on your dreamy Provence road trip holiday. If you're ever in the south of France, consider adding Luberon to your itinerary!
Why you should visit Luberon
By visiting Luberon, you'll have the chance to explore villages and natural attractions that are still primarily visited by French tourists. You won't find many large hotels or even infrastructure fit to handle so many international tourists. 
What also makes the Luberon region so special is its unique landscape. Luberon is known for its ochre, a natural clay and sand mixture found in the earth that produces spectacular colors such as yellow, orange, and red.
If you've dreamed of traveling through the Provençal landscape and want to skip the usual tourist hotspots, then consider a visit to Luberon!
The best time to visit Luberon
Summer will always be the busiest time of year in Provence. Local and international tourists fly daily into the international airports in Marseille and Nice and embark on road trips to take in Provence's beauty. 
For this reason, I recommend visiting Luberon in Spring or Autumn aka shoulder season. The weather is fantastic and the crowds are few.
However, if you can only visit in the summer, be prepared to deal with traffic jams on the road and crowds in villages and the parks. If you visit Luberon in the summer, you could get lucky and come across some lavender fields.
Things to do in Luberon in 2-3 days
By spending at least 2 days in Luberon, you'll have the chance to experience the diversity the region has to offer. 
The top six places I recommend you visit in Luberon are:
Roussillon 
Le Sentier des Ocres (located in Roussillon)
Gordes
Le Colorado Provençal
Forêt des Cèdres
Abbaye Notre-Dame de Sénanque for lavender fields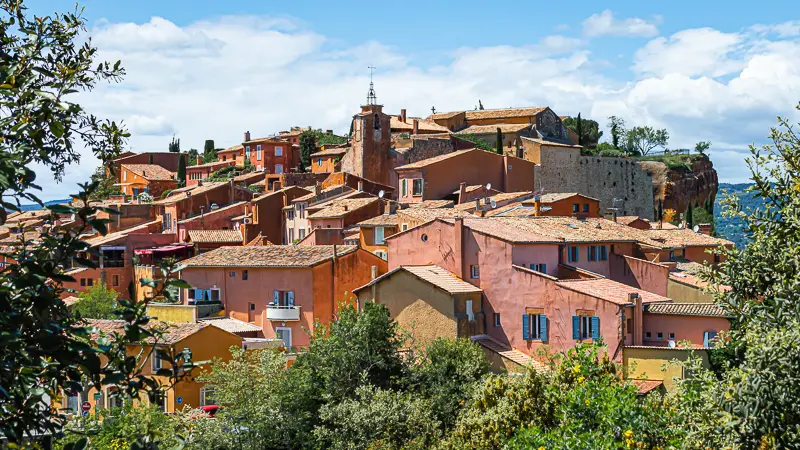 Roussillon
Roussillon is one of the most beautiful villages in France! It sits on top of a cliff where the town's edge offers you views of the surrounding dramatic cliffs and the valley below.
What makes Roussillon so unique though is ochre. The buildings in the village's center are covered in red ochre. Under the sun, the buildings are a bright red but as the sun sets or when it's a cloudy day, they appear pale red – almost even pink.
When in Roussillon, be sure to take time to wander the streets and take in the dramatic landscapes from the various viewpoints.
Le Sentier des Ocres
Le Sentier des Ocres translates to the Ochre Trail in English. This is a must-do activity in Luberon; I seriously cannot recommend it enough!
This trail was once home to an ochre quarry that has now been transformed to a trail. Le Sentier des Ochre is a protected site so extracting the ochre is no longer allowed.
Walking the Ochre Trail, I realized I'd never experienced anything like the colors and funky rock formations I saw. The way the red, yellow, and orange shades of ochre swirl and blend in with one another was really a sight to behold. You won't stop taking pictures!
The entrance to the ochre trail is in Roussillon. You have to pay an entrance fee but it's not expensive, and (again) it's totally worth it. You'll be given a map to see where to go. The path types on the trail vary from dirt to wooden walkways to stairs.
It's not a long walk by any means and the trail can be done as part of your half day visit to Roussillon.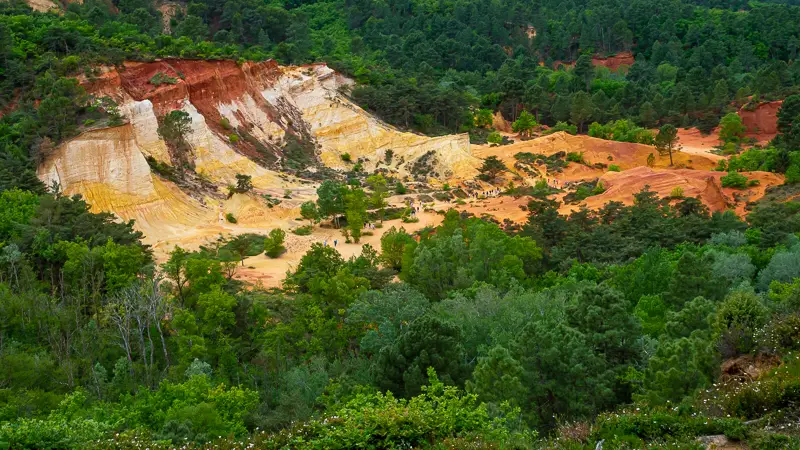 Le Colorado Provençal
Like Le Sentier des Ocres, Le Colorado Provençal was a very important ochre quarry. Today, you can visit this otherworldly landscape with its yellows, pinks, whites, and oranges following a dedicated trail. 
The path at Le Colorado Provençal is longer than the one at Le Sentier des Ocres. You'll be walking not just through the ochre quarries but through the forest too. At the start of the path, you'll be up close to the high cliffs and hills that were part of the quarry. The trail goes on and if you choose to do so too, you'll enter the forest and start ascending. Along the way, you'll come across different viewpoints of the colorful cliffs. 
Bring shoes you won't care if they get dirty since you'll be walking in dirt. It's also worth noting there are no water fountains or public toilets available so bring water to stay hydrated. 
Visit the park's website to see the cost of entry per vehicle type.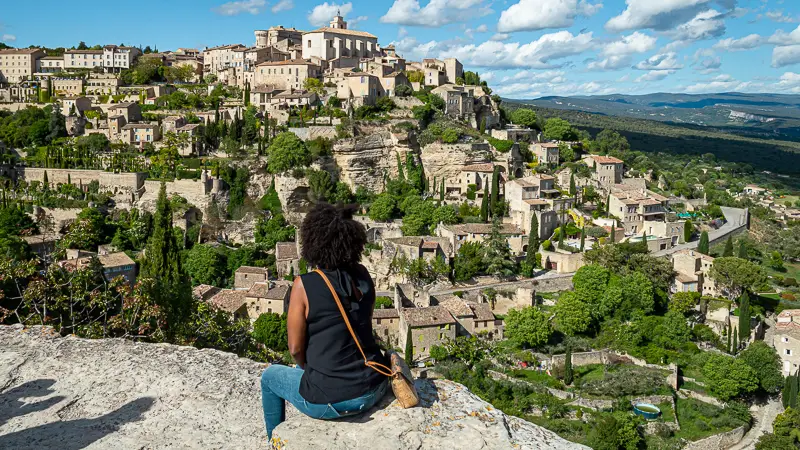 Gordes
Gordes is nothing like Roussillon. The village is much larger and its architecture contrasts that which is found in Roussillon. Whereas Roussillon has its reds, oranges and pinks, Gordes' beauty is in its white and grey stones. 
Gordes doesn't just sit on a cliff's edge, it also dominates the cliff's slope. One of the best ways to see this village is from this vantage point just outside the town perimeters.
Bring your camera because it's truly remarkable to see the intricate ways the village was built into the cliff and how it continues to the valley below.
Set aside some time to walk through Gordes' narrow pedestrian pathways made of cobblestones. Wear comfortable shoes as the paths aren't completely flat.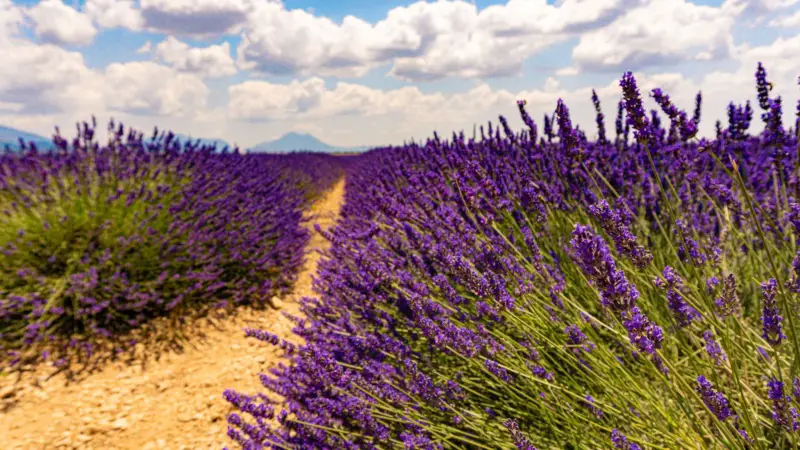 Abbaye Notre-Dame de Sénanque
Lavender fields in Provence are the most prominent in Valensole. However, if you're visiting Luberon during lavender season, you're in luck! There are many lavender fields to visit, some of which you can visit around Roussillon, Gordes, and Bonnieux.
The Abbaye Notre-Dame de Sénanque is a great place to visit during lavender season. The lavender are grown and harvested by the monks who live at the abbey. You have to pay to enter but proceeds go towards maintaining the abbey.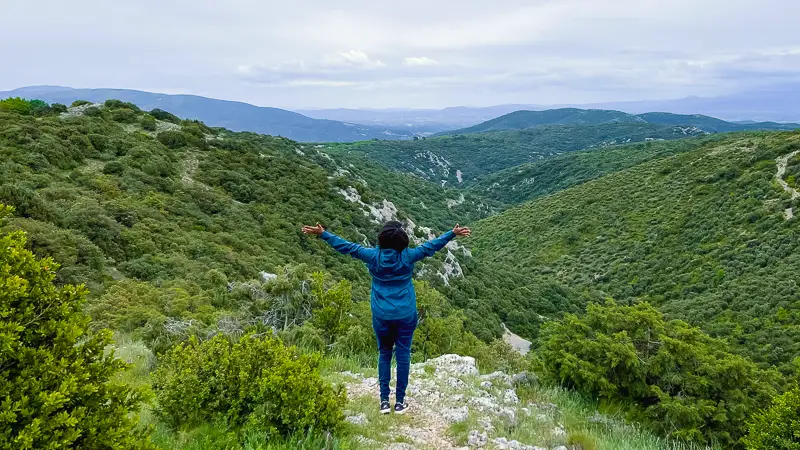 Forêt des Cèdres
If you love spending time in nature or hiking, then consider a visit to the Cedar Forest in Luberon. The forest sits on a massif and requires a lot of ascended driving in order to reach the parking lot. 
The cedar trees here were planted in the 1800s and today, they stand tall and magnificent. There are several paved and dirt paths through the forest, some longer than others and with varying levels of difficulty, which makes the Forêt des Cèdres a nice place for nearly everyone.
There are no facilities in the forest, so bring water and snacks.
Where to stay in Luberon
Luberon is dotted with towns and villages, but I believe its main beauty lies in the natural landscape. If you enjoy being surrounded by nature, you'll find many cottages, or gîtes in French, to stay in.
If you prefer to stay in town and have easier access to bakeries, restaurants, and sights, then consider a stay in any of the Luberon villages like Apt, Gordes, Roussillon, Lacoste, or Lourmarine.
I stayed at Appel du Luberon in the town of Mérindol during my stay in Luberon. I was surrounded by trees, had no neighbors, but was still close enough to the town where I can drive less than 5 minutes if I needed something. Moreover, Appel du Luberon has a pool, jacuzzi, and sauna at the guests' disposal!
I hope you found this article helpful for planning your visit to Luberon. Any questions? Feel free to reach out.
Bisous.
Disclosure: This post contains affiliate link(s). An affiliate link means I may receive a commission or referral fees if you click through and make a purchase through my link, at no additional cost to you.